International Dog Day: Everything you should know about Road Tripping with your Pooch
---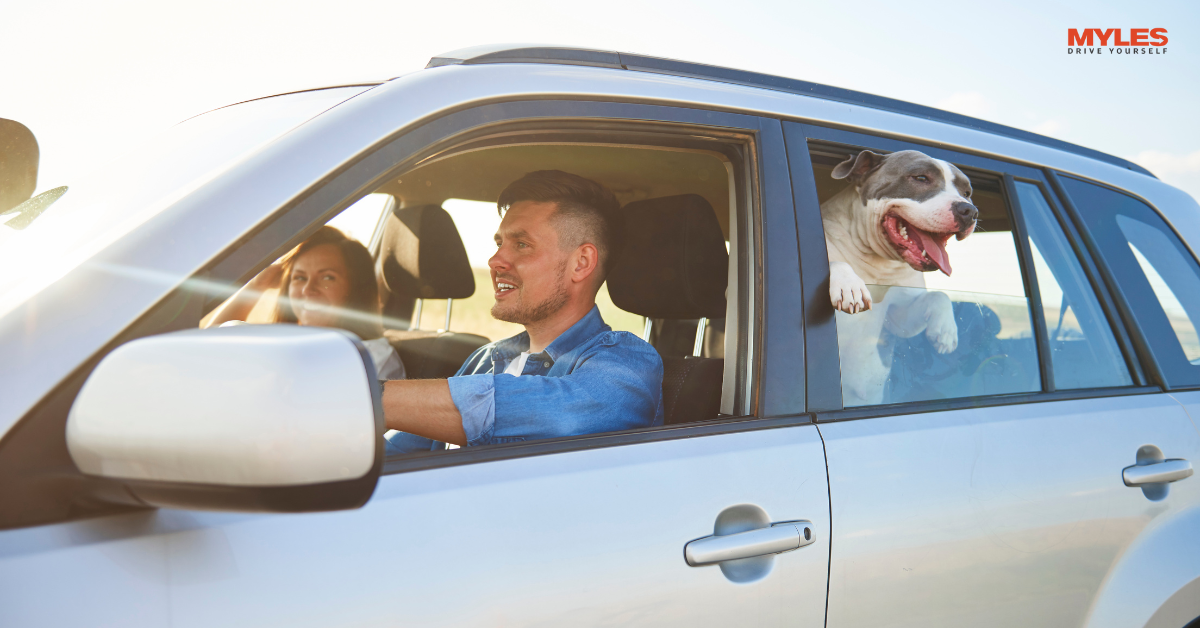 … as with any journey, who you travel with can be more important than your destination. Said rightly, and if travelling with your pooch makes the experience more memorable. Road Trips are a great way to spend quality time with your dog; you don't need to leave your dog behind and worry.
Road trips are an ideal way for travel-loving paw parents to have a vacation they always dreamt of with their pooch. Remember these things to have an enjoyable and epic road trip with your four-legged ones and Myles self-drive, and prepare well.
Make them Drive Friendly
Before you start your ultimate road trip with your pooch, prepare them well. Get your dog used to car rides. Start with short trips and gradually increase the trip duration. The practice helps you to know your dog as a travel partner and what they need during the journey. How soon do they relieve themselves? Do they get motion sickness? Do they paw at you while driving? How many stops do you need to take? Knowing these things will help a lot.
Plan Routes & Pit Stops
While travelling with a dog, you must plan your routes and pit stops well in advance. It offers appropriate breaks and minimises confusion on the road during the journey. You need to look for pet-friendly cafes, hotels if it is a long trip, favourable spots with a lot of open ground and more. If you are sleeping in the car, make sure to park the car in a safe spot. Also, make a list of the animal clinic, pet stores and medical stores along the route.
Check-up is Important!
To have a dog-friendly trip, it is essential to look after your dog's health. Take your pooch to the vet before your road trip for a complete health check-up. If your dog has recovered from an illness, the check-up gives you an idea of whether they need special travel arrangements. If your dog goes through car sickness, your vet also prescribes medication or advises you to follow a special diet for them.
Pack the Essentials
One of the most important points to follow while travelling with your furry buddy is to pack essentials. Carry with your dog food, ample amount of water, medications prescribed by the vet, their favourite treats and toys, wipes to clean, other utility items for cleaning, hairbrush and towel, dog boots, neck cone, and raincoat, a lightweight T-shirt, and most importantly a first-aid kit.
Make your Car Dog Friendly
Another major tip is to prepare your car well for your four-legged buddy. You need to use a soft sheet or mat or blanket to line the car seat, do not use a leash inside the car; instead, put a collar. You can adjust your car for your pooch, and to relax them, add a few drops of lavender oil in a tissue and place it in the AC vent.
Others:
Keep giving them water
Feed them 2-3 hours before you start the ride
Keep the windows a bit rolled down
Give them enough time off the road
Walk breaks every hour
Start early for cooler rides
GPS Callers are the saviour
Keep a travel crate or carrier, if required
Calming aid and supplements
You can now take them on a relaxing road trip with Myles without the guilt of leaving your dog back.
To book your self-drive car for an upcoming road trip or to explore your city, visit: https://bit.ly/3YFzwHc
Tags:
book self drive car rental in Delhi
,
Dog Friendly
,
highway diaries
,
India travel
,
International
,
International Dog Day
,
Myles
,
Myles Cars
,
Myles Self Drive
,
road trip
,
road trip with dog
,
self-drive cars in India