Self Drive - Car Rental in Chandigarh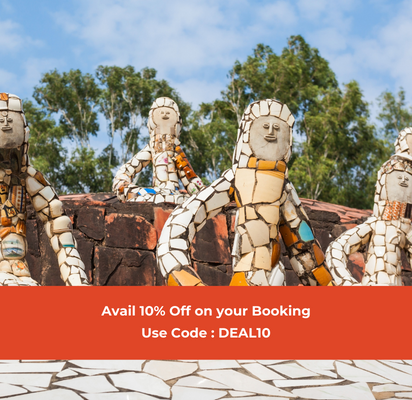 Explore Chandigarh with Myles
Chandigarh is a city that reflects India's growing developments with its chic, comfortable and cosmopolitan vibe. Whether you are planning a short weekend vacation or making a pit-stop while traveling towards the Himalayas, Chandigarh is a place that you shouldn't miss. With incredible opportunities for businessmen, it's a perfect destination for everyone. But to make your experience even better, you need a comfortable mode of conveyance, and that's where Myles, the car rental service comes into play!
Self-Drive Rental Services by Myles
With Myles, commuting through Chandigarh becomes a hassle-free, comfortable experience. Whether you want to explore different sectors, visit the Nek Chand Rock Garden, explore the Capital Complex or enjoy lip-smacking delicacies in the city's restaurants and Dhabas, Myles' self-drive rental service makes it all possible.
Wide Selection of Cars for Business Trips and More
For businessmen, Myles offers the widest selection of cars with newer models, ensuring that you leave a positive impression on potential clients. It's an excellent option for lunches and dinners. The cars are available at affordable prices, with special discounts for those who hire it on daily, weekly or even monthly purposes. Even if you're a local, you'll find it cost-effective for regular usage.
No Hidden Charges, Only Comfortable Commute
Myles doesn't levy any hidden charges, so you don't need to worry about fuel or extra prices for maintenance as they're already included in the rates. All you need to do is choose a car, visit a pickup location and enjoy the commute!
In conclusion, whether you are vacationing in Chandigarh, visiting for a business trip, or have been living here for years, Myles' car rental service ensures a comfortable and hassle-free mode of transportation. So why wait? Book your ride today and explore Chandigarh like never before!
FAQs

What is Myles Self-Drive Rental Plan in Chandigarh?
Myles Self-Drive in Chandigarh offers rental cars on an hourly, daily, weekly, or monthly basis with zero maintenance, insurance cost along with Roadside assistance.
What is included in Myles Self-Drive Rental in Chandigarh?
Myles Self-Drive Rental in Chandigarh may include maintenance, insurance, roadside assistance, and other perks.
What are the benefits of Myles Self-Drive Rental in Chandigarh?
Myles Self-Drive rental in Chandigarh provides 38+ car models, Transparent Pricing, 24/7 Support, Easy Booking Process, Minimal Paperwork.
What is the policy for the security deposit in Chandigarh?
We accept credit cards, debit cards, and net banking for the security deposit in Chandigarh. You can choose to pay the security amount before car pick-up, and the refund will be initiated once the car is returned.
How do you calculate the charges for different kilometer packages in Chandigarh?
Our pricing plans for different kilometer packages in Chandigarh are based on factors like car mileage, wear and tear, and rental cost. You can select the package that best suits your needs. If you exceed the allocated kilometers, you will be charged extra based on the "additional km charge" for the specific car model and city.
Are there any taxes on the rental amount in Chandigarh?
Yes, GST will be charged on the rental amount in Chandigarh.
Why do you give cars with a commercial number plate in Chandigarh?
According to the Motor Vehicles Act (MVA), privately registered cars cannot be used for commercial purposes. Insurance does not cover any eventuality if a private car is used for commercial purposes. Therefore, we provide cars with commercial number plates in Chandigarh to comply with the law and ensure proper insurance coverage.
Can the police bother me for renting a car in Chandigarh?
No, we provide you with all the necessary legal documents required to drive a self-drive registered car in Chandigarh. You can drive without any concerns about police interference.