Myles Subscription offers a hassle-free way to own your dream car. Say farewell to down payments, insurance costs, and maintenance hassles. With our convenient fixed monthly plans, your financial management becomes a breeze. We provide 24*7 Roadside Assistance, ensuring that you're always covered in the event of an emergency. Discover the joy of driving without the usual burdens, and embrace a new era of flexible and carefree car ownership with Myles!
Why Choose Myles Subscription?
Zero Risks, Zero Stress and Zero Commitment with Myles Cars. Just select a car, share your documents and complete the payment to start driving your personal car. No more delays or hassles - that's how Myles Subscription works!
Privately
Registered Cars
Flexible
Ownership
Tax Saving
Benefits
24/7
Roadside Asssistance
Easy
Subscription Process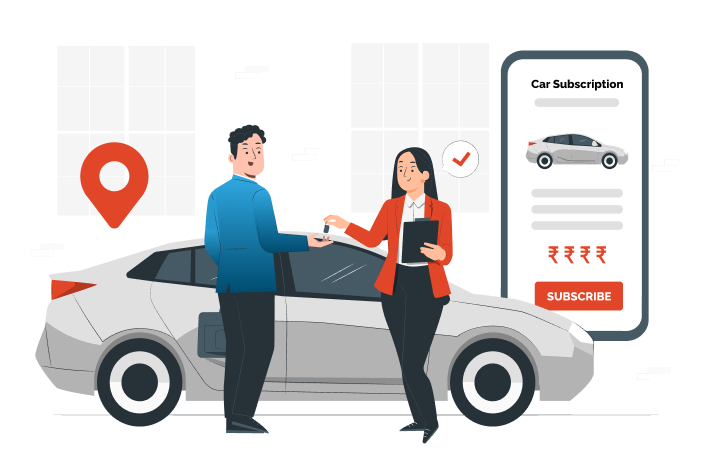 Eligibility & Documentation
For Individuals & Proprietors/ Self-Employed
Smart
Smart Plus
Occupation
Only for Salaried Professionals
Salaried & Self Employed
Documents
Form 16/ ITR OF 2 Yrs
ITR of 2 Years
Statement of Salary Account- 6 Months
Bank Statement
Salary Slips of 3 Months
Salary slips if Salaried
PAN Card
PAN Card
Experian
Above 750
Above 600
For Corporates/ Pvt Ltd & MSMEs
Smart
Smart Plus
Documents
NA
Bank Statement of 6 Months
NA
Company Pan Card
NA
GST Certificate
NA
Audited Financials for 2 Years
NA
Certificate of Incorporation
NA
Nature of Business
NA
In case of Pvt Ltd, Please also provide a share holding pattern
Note: Currently Smart Program is NA- Not Applicable for Corporates/ Pvt Ltd & MSMEs
5 People
Petrol
= $car['Mileage'] ?> km / 1-litre
Automatic
5 People
Petrol
= $car['Mileage'] ?> km / 1-litre
Manual
5 People
Petrol
= $car['Mileage'] ?> km / 1-litre
Manual
5 People
Petrol
= $carflexi['Mileage'] ?> km / 1-litre
Manual
FAQ's
Smart Subscription plan by Myles is a Fractional Ownership product where new cars can be subscribed for a period of 12-48 Months.
Smart Plus Subscription plan by Myles is a Flexible subscription where New/Used cars can be taken for Modular tenure of 3 Months & go up to 48 Months.
Myles Subscription is active in Delhi NCR, Mumbai, Bengaluru, Pune, and Hyderabad. 
Myles Self-Drive rental provides 38+ car models, Transparent Pricing, 24/7 Support, Easy Booking Process, Minimal Paperwork.
We accept credit cards, debit cards, and net banking for the security deposit. You can choose to pay the security amount before car pick-up, and the refund will be initiated once the car is returned.
Our pricing plans for different kilometer packages are based on factors like car mileage, wear and tear, and rental cost. You can select the package that best suits your needs. If you exceed the allocated kilometers, you will be charged extra based on the "additional km charge" for the specific car model and city
Yes, GST will be charged on the rental amount.