National Pollution Control Day: How Electric Car Subscription Helps the Environment?
---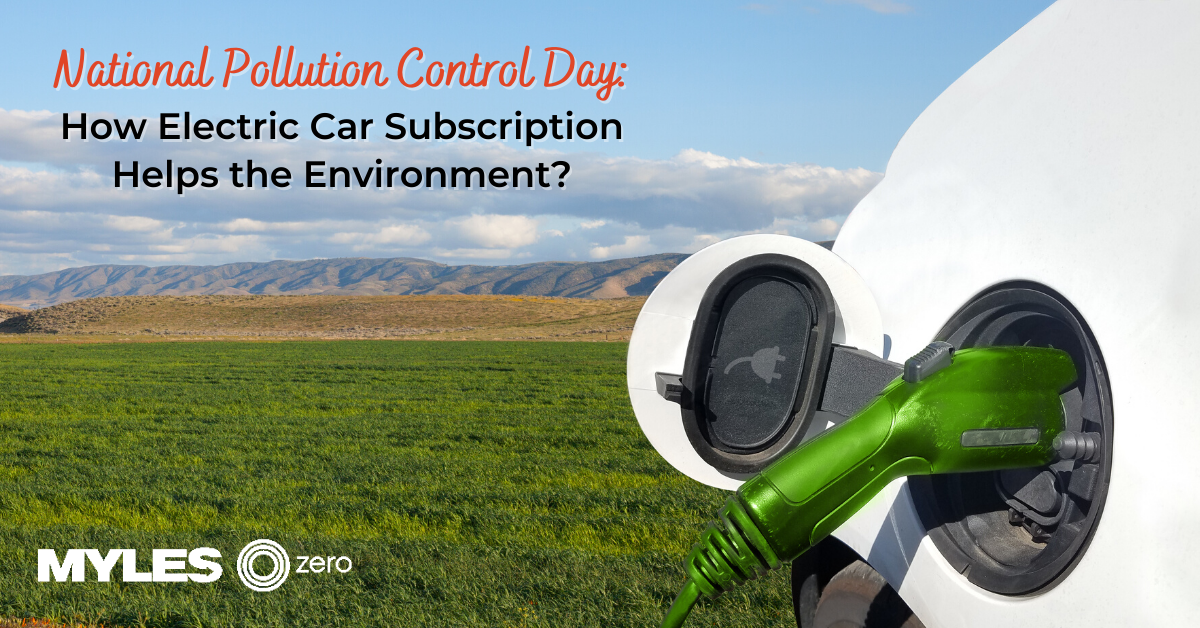 "Environment pollution is an incurable disease. It can only be prevented."
– Barry Commoner
Air and water are two essential sources on which life depends, and today, it has become global garbage cans. Thanks to all of us, as we all are responsible for this earth abuse. Still, it is not too late to control the pollution we all emit in our environment and make this world a better place to breathe and live.
On this National Pollution Control Day, let us understand the effects of pollution and how we can help our governments prevent it by making the biggest change of switching to Electric Vehicles.
Why Electric Vehicles?
EVs are electric-run vehicles that emit fewer greenhouse gases and air pollutants than fossil fuel-run vehicles. Undoubtedly, electric cars give us cleaner streets, making the air quality better.
Research has shown that EVs are better for the environment, and the government also claims to make the country a 100% electric vehicle nation. As per the government, it is said, by 2030, India has set a target of 30% EV sales penetration for private cars, 70% for commercial vehicles, 40% for buses, and 80% for two and three-wheelers.
Electric Car Subscription for Environment
Go Electric. Go Cost-Efficient
Electric cars are making their way rapidly in the Indian market. But many are keen to go electric but have concerns about the buying cost, maintenance, and further unknown charges. Studies have shown that shifting to EVs are a real gamer changer when it comes to money. But to save more on it, an EV car subscription is available for the customer.
Car Subscription is always a better option than car buying. It involves zero down payment, no loan and EMIs, zero maintenance charges, insurance fees, and roadside assistance charges, flexible ownership, and much more.
Zero Carbon. Zero Liability
Climate Change is a real concern and will become irreversible if we all don't change the pattern we are building now. Switching to an electric vehicle is the best way to reduce carbon footprint up to a greater level. It is said that over a year, a single electric car on the roads can save an average of 1.5 million grams of CO2.
Electric car subscription means zero carbon and zero liability. Electric cars are zero-emission vehicles, and getting them on the subscription offer flexible ownership with zero liability benefits. You own an eco-friendly vehicle without worrying about loans and EMIs, maintenance charges, insurance costs, and re-selling it.
Better Future. Better Investment
Electric Car Subscription is not only good for the environment but also for your pocket. Switching to electric mobility is a way to a cleaner and greener tomorrow, and subscriptions make you save a lot. EV Subscription comes with zero investment, which means you don't have to pay down payments or take loans and EMIs.
Why invest a hefty amount from your savings when you have a practical choice? Invest better today for a better future. Electric Car Subscription is all you can look up to in 2022. EV is like good, adding good value to your life and the environment.
Myles Zero offer a flexible EV Subscription starting from 6 to 60 months. Book your Electric Car and drive towards a greener tomorrow.
To know more about electric car subscription, call: 0888 222 2222/ +91 – 11 – 43083000 or write help@mylescars.com.
Tags:
Car Subscription
,
Car Subscription in India
,
electric car
,
Electric Car Subscription
,
electric cars
,
Electric Vehicles
,
EV Car Subscription
,
EVs
,
Myles Car Subscription
,
Myles Cars
,
Myles Zero
,
National Pollution Control Day