Road Trip Near Bangalore On Long Weekend
---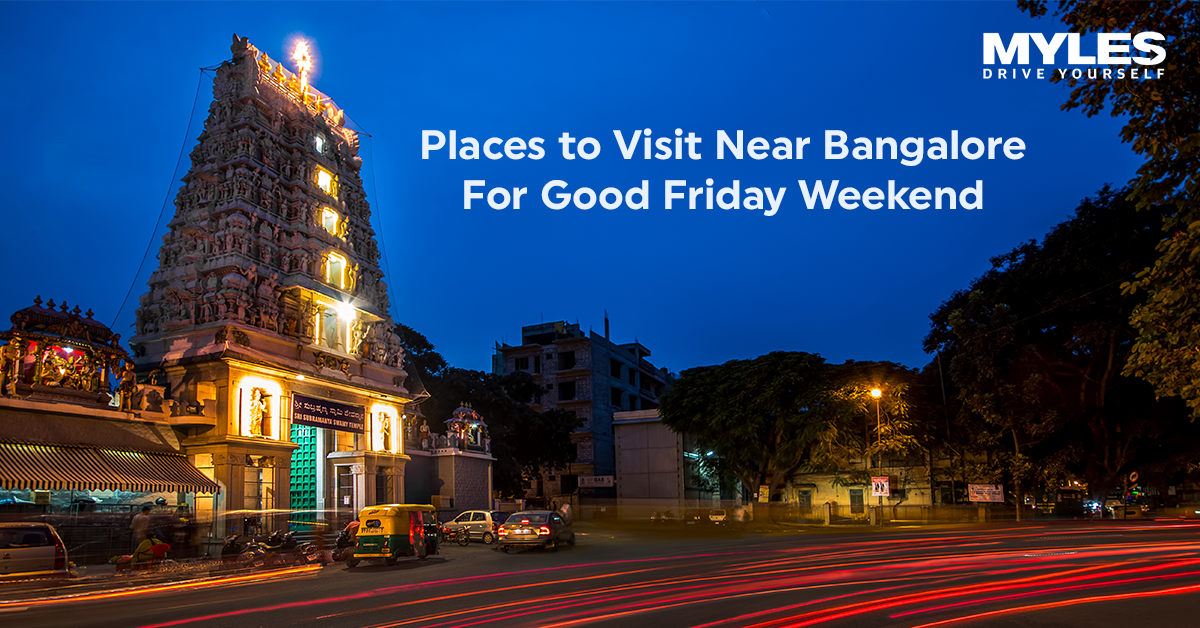 Did you plan a trip yet?
Here is a list of Road Trip near Bangalore
Shivanasamudra Falls
Distance from Bangalore – Approx. 130 km
If you are planning a short trip near Bangalore, Shivanasamudra Falls is the destination you should pick. Shivanasamudra Falls is a popular waterfall dotted in the Mandya District of Karnataka state. Situated on Kaveri River, this waterfall is segmented, with several parallel streams formed adjacent to each other. The view of the waterfall is breathtaking. This place is perfect for those seeking a quick and quaint getaway close to the city.
One thing you should avoid doing here is, swimming.
Nandi Hills
Distance from Bangalore – Nearly 61 Km
Nandi Hills, also known as Nandidurg, is a hill fortress in the southern state of Karnataka, India. It is best to reach here early around 6 a.m. or 7 a.m. to enjoy the weather and places. To reach here early, the best option would be to rent a car in Bangalore. Nandi Hills is a great place for nature lovers. For sightseeing in Nandi Hills, you can visit the two Nandi temples & the temple dedicated to Yogi Nandeeshwara. You can also take a tour of the famous fort restored by Tippu Sultan. Trekking and cycling are two more things you can try here.
Bheemeshwari
Distance from Bangalore – Nearly 9 km
Bheemeshwari is a small town in the Mandya district of the south Indian state, Karnataka. This place is an ideal destination for anyone seeking an escape and just wants to experience Mother Nature at its best. Trekking, coracle ride, camping, river crossing, and river rafting are the few activities you can indulge in. You can enjoy and stay in jungle lodges here.
Kabini River
Distance from Bangalore – Around 200 km
A short trip to Kabini from Bangalore is probably the best way to move away from the hustle and bustle of the city life. Jungle stays are quite popular here. There are many resorts you can choose from like Orange County, Serai, JLR Kabini River Lodge, and Red Earth etc. You can opt for a boat safari or a jeep safari.
 Ooty
Distance from Bangalore – Nearly 274 km
Often times recognized as Udhagamandalam, Ooty is a hill station in Tamil Nadu. Here you can take a joyride in the Nilgiri Mountain Toy Train, visit the Botanical gardens, take your self driven car to Dolphin's Nose, trek up to Doddabetta Peak or visit the tea museum. In short, there are plenty of things to do in Ooty.
 Yercaud
Distance from Bangalore – 230 km
Yercaud is a popular hill station town in the Tamil Nadu. The place is dotted in the Shevaroy Hills, famous for their orange groves, coffee & spice plantations. Yercaud boasts of verdant peaks, lakes, gardens, waterfalls, and many beautiful landmarks. You can visit the Yercaud Lake, Pagoda Point, Silk Farm and Rose Garden, bear's cave, etc.
Wayanad
Distance from Bangalore – 277 km
There are plenty of things to do in Wayanad – Night Camping, Visit the Edakkal Caves, trekking, cycling and camping Tour, Trek to Neelimala View Point and Wildlife Safari at Tholpetty Wildlife Sanctuary. Wayanad is a great place to visit near Bangalore for a short trip into Mother Nature's lap.
Skandagiri
Distance from Bangalore – 60 km
Skandagiri also is known as Kalavara Durga, is a mountain fortress. It is located in the Indian state of Karnataka. The most popular activity here is trekking. The trek takes you through a spectacular journey into the wilderness. You can opt to camp at the hilltop.
Coorg
Distance from Bangalore – 265 km
Coorg is a picturesque place in the state of Karnataka, India. It is also known as Kodagu. Here you can enjoy trekking & camping, barapole river rafting, sunset jeep drive at Mandalpatti or visit Abbey Falls. The place is ideal for both adventure enthusiasts and peace seekers.
Biligiriranga Hills
Distance from Bangalore – 170 km
The Biligiriranga Hills, also known as the BR Hills, is a hill range located in south-eastern Karnataka. You can visit BRT Wildlife Sanctuary and Biligiri Rangaswamy Temple or indulge in river rafting and trekking.
Coonoor
Distance from Bangalore – Nearly 290 km
Coonoor, the popular hill station in the southern state of Tamil Nadu, is known for its tea estates (in the surrounding Nilgiri hills). The unparalleled beauty of this place draws tourists all along the year. Here is a list of thrilling things to do in Coonoor for a fun vacay – Enjoy Nilgiri Mountain Railways Joyride, trek to the hidden valley, hike to the Law's Falul and explore Droog Fort.
Puducherry
Distance from Bangalore – 312 km
Puducherry was formerly known as Pondicherry. The place is a perfect destination for tourists seeking peace and quiet. The place has plenty to serve all kinds of tourists. Right from lazing around at the beach to going places for sightseeing, the place never falls short of things to be explored. You can enjoy a boat ride, scuba diving, surfing, houseboat ride, cycling, sightseeing, etc.
Bandipur National Park
Distance from Bangalore – 219 km
Bandipur National Park is a forested reserve spread across 874 sq. km area in the southern Indian state of Karnataka. It is known for its small population of tigers. If you want to indulge in the adventures of safari, this is the place to be.
Happy Traveling!
Need a ride to any of these places, rent a car in Bangalore with Mylescars.com
Tags:
Bangalore car rental
,
bangalore places to visit
,
bangalore things to do
,
car rental bangalore
,
places to visit near bangalore
,
rent a car in bangalore
,
Road trip in India
,
road trip near bangalore
,
self drive car in bangalore
,
self driven car bangalore