Smart Ownership: Why are people in India opting for a car subscription?
---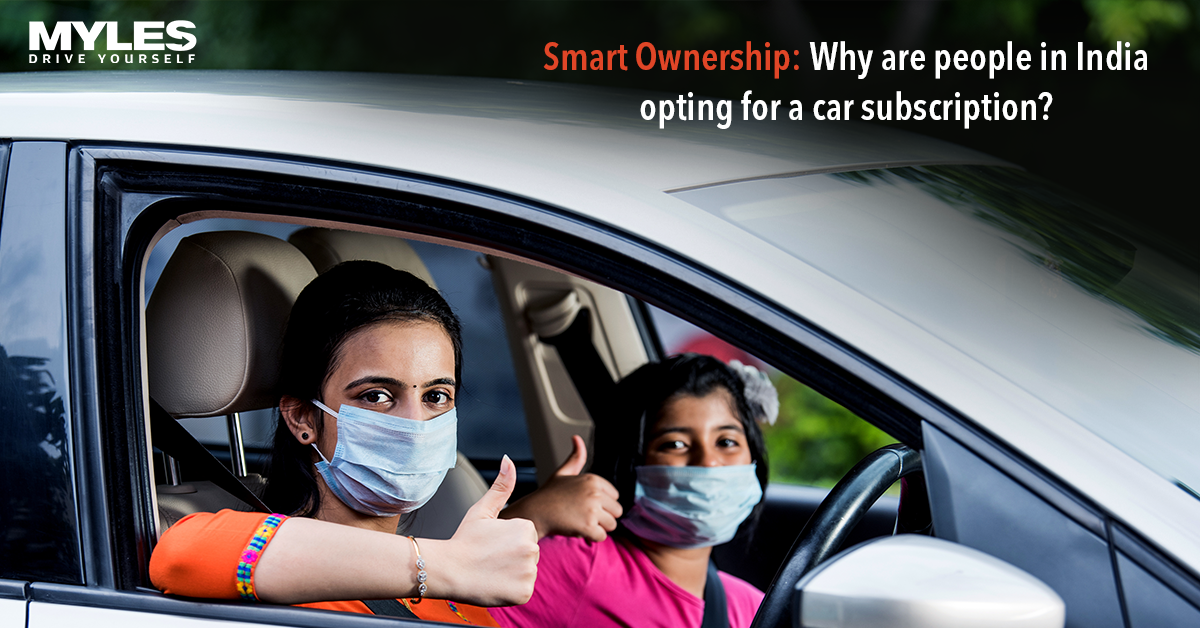 Car Subscription is the latest way of owning a car. It is a trend that has taken the automotive market in India by storm. It has shifted the buyer's decision over car ownership, which affects the market. While the traditional way of car buying has always been a top matter of prestige, the new paradigm has shifted their choices to more value-oriented options trending in the market.
The customers are receiving more benefits through a car subscription by paying an all-inclusive monthly fee that includes maintenance, insurance, road taxes, road assistance, and other ancillary costs is included when you buy a car. Car subscription is accessible, more simple, convenient, flexible and comes with various options, zero commitment and hefty down payments.
What makes a subscription a new favourite car buying option?
Subscribing a car is a new and flexible way of owning a vehicle. It is turning out to be immensely popular in the Indian market, especially among youngsters, small and medium-sized enterprises, and start-ups. They don't want to make such a massive investment on a rapidly depreciating asset or put in all their savings as down payments and get into the hassle of loans and EMIs.
Car Subscription is an accessible and flexible way of owning a car that includes maintenance, road taxes, insurance, and road assistance services covered in monthly fees. It gives the customers to experiment with different cars and colours for short and longer periods. Of course, it is a trendy, new, and easier way to own a car for people who have wanted one for a long time.
Many prominent car rental services in India, like Myles, also provide roadside assistance, pick and drop facilities for regular service routines, and other services for their customers.
How is it different from leasing a vehicle?
Many potential customers always raised the question of how car subscription is different from leasing.
A car subscription seems to like leasing a vehicle, but it is much different than leasing. Car leasing also involves owning a car without transferring the ownership, but a car subscription is more than this. There is no limit on miles per month in a car subscription, and maintenance is completely covered under a subscription. In leasing, if you decide to return the vehicle before the termination period, unlike the subscription that offers easy termination by paying pre-determined charges.
Car Subscription Vs. Car Rental
Another question people got confused about is that how a subscription is different from a car rental. Car rental is the service where a vehicle is given to the customer on rent for a short period of 2 days to 2 weeks. Car Rental comes with limitations on KMs, but some companies offer flexibility on driving the vehicle.
Also, the rental amount turns out to be more than the car subscription monthly fee, making car rental a costly affair for those who want a vehicle for a longer time for a daily commute, travelling, and other purposes.
How to choose the right Car Subscription Service?
Car Subscription is a new way of owning a car, and before opting for one, you need to do research and careful consideration. You can't simply browse the random car subscription service option to subscribe to the vehicle. Myles is a premium car subscription company that offers flexible, trustworthy, efficient and cost-effective subscription services in the country.
You love Myles features when it comes to subscribing to a vehicle:
Flexible ownership that starts from 6 months to 60 months.
Easy before time termination, upgrade, and extension of the car.
Deeply cleansed and a fully sanitized car to your doorstep.
24/7 roadside assistance and safety.
An all-inclusive deal that covers maintenance, insurance, road taxes, and roadside assistance.
The flexibility of driving a car and take it anywhere with unlimited miles.
Pick and drop off the vehicle during regular service routine.
Car Subscription is meant for this century. The trend is here to stay and make car owners' lives more effortless and debt-free.
To book a car subscription, visit: https://bit.ly/3OF6Wko
Tags:
car rental in Mumbai
,
Car Subscription
,
Car Subscription in Delhi
,
Car Subscription in India
,
Car Subscription Vs Leasing
,
Myles
,
Myles Subscription
,
Myles Zero
,
Safe Ride
,
Sanitized Car
,
Smart Ownership
,
Vehicle Subscription