India Travel: 11 Best Religious Places in India to Attain Ecstasy
---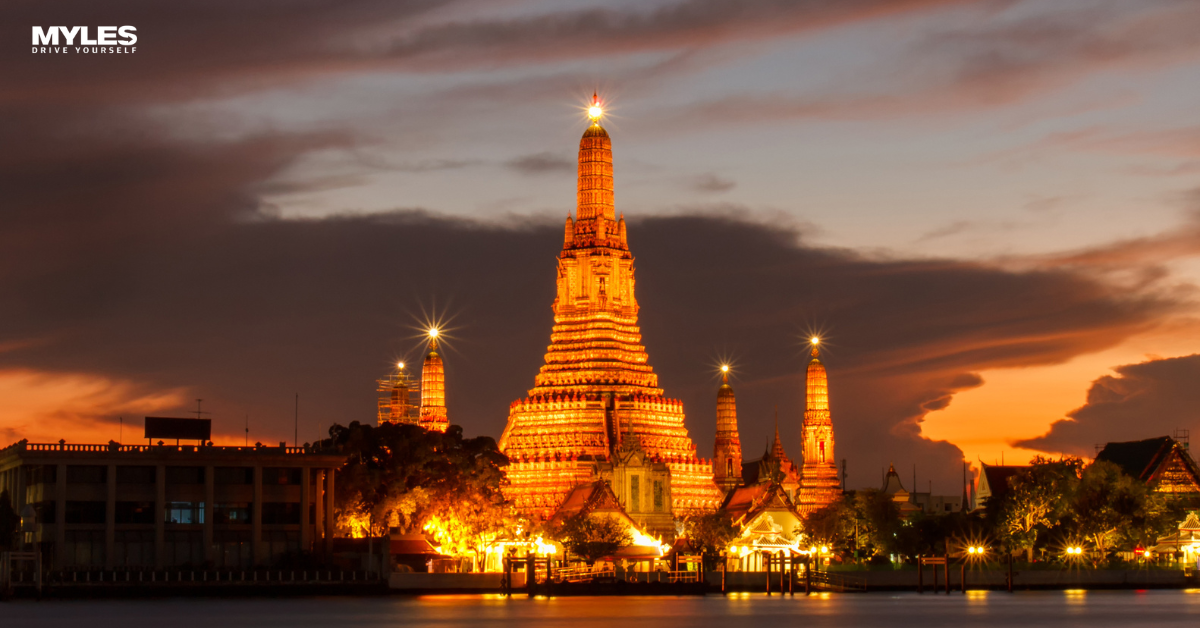 India is a country of many religions and rich culture, tradition, and history. Plenty of religions originated in the homeland itself, and the faith gave birth to several popular and sacred destinations. These places maximise spiritual enlightenment and provide an ode to ancient and modern architectural marvels.
This festive season takes a spiritual break to these famous religious places across the country with Myles. Book a self-drive and commence your journey of peace, enlightenment, calmness, and ecstasy.
Vaishnodevi- Jammu
The most famous religious destination in India is the Mata Vaishno Devi Shrine in Jammu, situated on the Trikoot Parvat. Vaishnodevi witnessed thousands of pilgrims visiting the temple across the globe. The shrine in the cave is the three different natural rock formations known as Pindis. This sacred place is surrounded by a panoramic view, chants of Jai Mata Di, and mesmerising sights to behold. You can drive to Vaishnodevi. Hire a self-driving car in Amritsar, Chandigarh, or Delhi.
When in Vaishnodevi: After the divine darshan of Pindis, you can explore Baba Dhansar temple, cave and sacred pool, Chenab Rail Bridge, Bhimgarh Fort, Bhairon Mandir, and explore the local market of Katra.
Amritsar- Punjab
The land is soaked in divinity & bravery. It is believed that the waters of the lake of Amritsar have healing powers. The Holy City of Amritsar is famous worldwide, crediting to the divine shrine of Golden Temple or Sri Darbar Sahib- a religious place of the Sikh community. The gurudwara witnesses hundreds of devotees visiting it to seek peace and blessings every year. Book a self-drive car in Chandigarh and take a surreal road trip to the Golden City.
When in Amritsar: After seeking blessings from Sri Darbar Sahib, don't forget to eat the Guru ka Langar inside the complex. Next, you visit Jaliawala Bagh, Wagh-Atari Border, ISKCON, local market, and end your day with soulful Amritsari food at Dhabas.
Rishikesh-Haridwar- Uttarakhand
Haridwar-Rishikesh is among the holiest places of Hindus, situated in the lap of the Himalayas beside the Holy River Ganges in Uttarakhand. These sacred towns have been frequently mentioned in ancient scripts. Where Hardiwar means Gateway of God, Rishikesh is the land of yogis, saints, sadhus, gurus and seers. These cities open the door to a different level of spirituality and are home to magnificent ancient temples. Another thing these cities are known for is Ganga Aarti by the shores in the evening.
When in Haridwar-Rishikesh:  Hire a car rental in Delhi and start your journey to Haridwar. Take a holy dip and try yummy local food. Through cable car, reach Mansa Devi Temple and Chandi Devi Temple, and then witness mesmerising Ganga Aarti by Har Ki Paudi. The next day, early morning, leave for Rishikesh and go for White Water River Rafting, and then visit temples, Bhavans, Parmarth Niketan, Beatles Ashram, Cafes, and more. You can also attend yoga and meditation retreats.
Mathura-Vrindavan- Uttar Pradesh
For all the Lord Krishna Devotees, one of the most adored deities, these two cities are must-visit and are very near to Delhi and Agra. Mathura is the birthplace of Lord Krishna, whereas he spends his childhood in Vrindavan and offers a glimpse of the Lord's journey from Bal Gopal to becoming Kanha and then Krishna. In Mathura, twenty-five ghats line the Yamuna River and look stunning at dawn. Vrindavan is embellished with beautiful ornate temples and reflects heritage value.
When in Mathura-Vrindavan: The cities reflect the holiness at every corner and make your experience spiritual illumination. There is a lot to explore and witness in the town, such as Krishna Janmabhoomi Temple, ISCKON, Govardhan Hill, Banke Bihari Temple, Seva Kunj, Prem Mandir and more. Don't try to relish the flavours of famous pedas, street food-chaat, lassi, etc.
Bodh Gaya- Bihar
Bodh Gaya is a popular religious destination site for Buddhists and Hindus. The Mahabodhi Temple in Gaya Ji is a UNESCO World Heritage Site credited to its 80-feet tall statue of the Buddha. The place is known for its peaceful environment, monasteries, meditation retreats and Buddhist philosophy classes at centres for spiritual pursuits.
When in Bodh Gaya: You can visit places such as Mahabodhi Temple, Dungeshwari, The Royal Bhutan Monastery, Archaeological Museum Bodhgaya, Thai Monastery, Bodhi Tree, Royal Bhutan Monastery and Metta Buddharam Temple. Don't miss the meditation retreat to attain complete ecstasy.
Ajmer- Rajasthan
The Dargah of Ajmer Sharif is another popular religious destination in the country, which is visited by both Muslims and Hindus. It is the resting place of Sufi Saint Khwaja Moinuddin Chishti, and one feels a divine presence around. After visiting the Dargah, you can plan an extended getaway to Pushkar, which is also known for its beautiful temples and places of worship. Book a self-drive car rental in Delhi and commence an enlightening journey.
When in Ajmer: After visiting Dargah, you can visit Ana Sagar Lake, Adhai Din a Jhnpra, Akbar Palace & Museum, Jain Temples, Daulat Bagh, Jagat Palace, Lake Fy Sagar, Taragarh Fort, and lastly shop from the local bazaars.
Shirdi- Maharastra
A surreal land of fakir Shri Satchidanand Satguru Sainath Maharaj (Sai Baba or Shirdi Sai), Shridi is where people of different religions commence a spiritual journey. Sai Baba believed that there is only One Divine power, and he preached the same throughout his life. The place is famous for Sai Temple, a neem tree called Gurusthan (where he used to sit and meditate), and Dwarkamayi (the abandoned mosque where he lived).
When in Shirdi: Visit Shri Sai Baba Temple Shirdi, Dwardkamai Shirdi, Sai Teerth Devotional Theme Park, Sai Heritage Village, and Shree Saibaba Chavadi.
Auroville- Tamil Nadu
Known as the City of Dawn, Auroville is not your regular destination for religious travel but is deeply rooted in spirituality and conscious living. The place was founded in 1968, situated northwest of Puducherry, by 'the Mother', and is surrounded by the unspoiled natural beauty. In Auroville, people of around 52 nationalities reside peacefully. Book a self-drive car in Chennai and take the scenic East Coast Road to reach Auroville.
When in Auroville: Visit Maitri Mandir (dedicated to the Mother), Youth Center, Auroville Beach, Healing Center, Savitri Bhawan, Bodhi Beach, enrol for yoga and meditation retreat, shop at local stores- all things sustainable and made of natural products, and go for café hopping (Marc's Café, Bread & Chocolate, Auroville Bakery & Boulangerie, Tanto, etc., to name a few).
Nagapattinam- Velankanni Church- Tamil Nadu
Religious tours in India would be incomplete without visiting this gorgeous place of worship in Tamil Nadu- Velankanni Church. Situated in the Nagapattinam district, Velankanni Church is a beautiful gothic-style church with stunning architecture that attracts tourists across the globe. The church is known as one of the important pillars of faith.
When in Nagapattinam: Visit Nagre Dharga Shariff, Kayarohana Swami Temple, Nagapattinam Beach, Nagapattinam Temple Nagoor, Thirunagai Divya Desam 21, Sikkal Singaravelar Temple, Sattainathar Temple, Vaitheeswaran Kovil Shirin to Mars, Poompuhar Beach, Kodikkarai Wildlife Sanctuary, and more.          ,
Rameshwaram- Tamil Nadu
One of the four Char Dhams Yatra places in India, Rameshwaram is a quaint Hindu pilgrimage town embodied with unblemished natural beauty. The place has a deep-related spiritual and religious connection and is blessed with breathtaking beaches, picture-perfect landscapes, stunning underwater coral reefs, tropical weather, and much more.
When in Rameshwaram: Visit Sri Ramanathaswamy Temple, Kothanaramaswamy Temple, Lakshmana Tirtham, Agni Tirtham, Ariyaman Beach, Dhanuskodi Beach, Adam's Bridge, Kalam National Memorial, Thiruppullani, etc., to name a few.
Puri- Odisha
Puri is a famous Hindu pilgrimage spot in the Indian state of Odhisha and is also known as Jagannath Puri because of the Jagannath Temple. The place has a holistic vibe with a natural appeal. Jagannath Puri is one of the four pilgrimage places of the Char Dham Yatra. The pilgrimage is incomplete without visiting this place. Puri is blessed with the most serene beaches and is an ideal destination for those who love the sea, sun and sand.
When in Puri: Visit Jagannath Temple, Swargadwar Beach, Puri Beach, Raghurajpur Artist Village, Chilika Lake, Konark Beach, Daring Badi, and more. Try local delicacies of Puri such as Malpua, Khicede, Dalma, Chenna Poda, Chungdi Malai, Abadha, ad Ukhuda.
We're sure you're already thrilled and can't wait to begin your voyage towards these religious destinations for your next trip.
To book your self-drive car for an upcoming road trip or to explore your city, visit https://www.mylescars.com/.
Tags:
book self drive car rental in Delhi
,
Budget self-drive
,
Car rental in Amritsar
,
car rental in Chandigarh
,
Char Dhaam Yatra
,
highway diaries
,
India travel
,
Myles - Self Drive Car Rental
,
Myles Cars
,
Myles Self Drive
,
Religious Travel
,
Travel India