11 Movies That Will Give You Major Travel Goals
---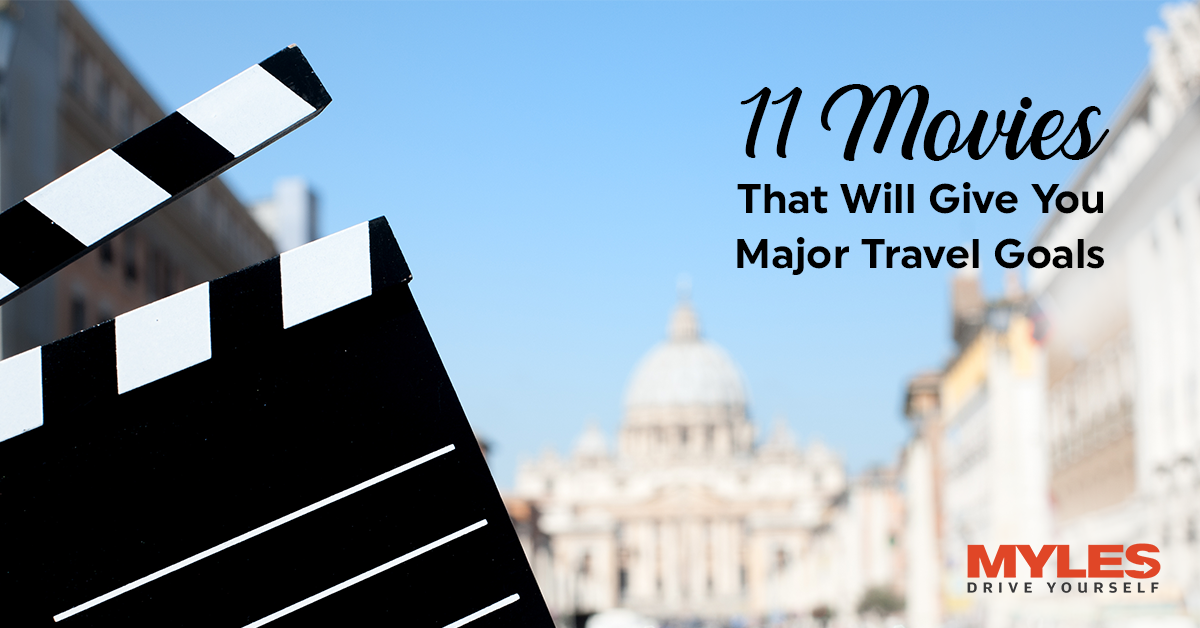 "Travel makes one modest. You see what a tiny place you occupy in the world." -Gustav Flaubert
The most awesome travel films are the ones that make you want to travel on a whim. Such movies make you long for adventure and escape daily life humdrum. These are some of the best travel movies that will inspire wanderlust in you.
Eat Pray Love
Eat Pray Love is an American biographical romantic comedy-drama film. The movie stars Julia Roberts as Elizabeth Gilbert and is based on Gilbert's best-selling book of the same name.
The movie features a married woman, who realizes how unhappy she is in her marriage, and that she needs a change and take her life in a different direction. After a painful divorce, she heads on a round-the-world journey to find herself.
Zindagi Na Milegi Dobara
Zindagi Na Milegi Dobara that translates to 'You won't get this life again' is an Indian-buddy road film that was directed by Zoya Akhtar. The film features an impressive cast – Hrithik Roshan, Farhan Akhtar, Abhay Deol, Katrina Kaif and Kalki Koechlin. The film was shot in Spain, India, Egypt, and the U.K.
The movie's story follows 3 friends – Arjun, Kabir, and Imraan, who have been inseparable since their childhood. They fly off to Spain on a bachelor trip and each one chooses a dangerous sport for the group to partake in. During their trip, they meet Katrina Kaif (Laila), who falls in love with Hrithik Roshan (Arjun) and helps him overcome his compulsion to work. Abhay Deol (Kabir) and his fiancée Kalki Koechlin (Natasha) experience significant misunderstandings.
Into the Wild
Into the Wild is an American biographical survival film that is an adaptation of Jon Krakauer's 1996 non-fiction book – Into the Wild. This Emile Hirsch as McCandless starrer film is based on the journey of Christopher McCandless across North America and his experiences in the Alaskan wilderness.
Plot – After graduating from Emory University, Christopher McCandless, top student and athlete abandons his possessions and gives his entire savings to charity. He then hitchhikes to Alaska to live in the wilderness. Along the way, Christopher encounters a series of characters, which shape his life.
Karwaan
Karwaan (translates to Caravan) is a 2018 Indian Hindi-language road film starring Irrfan Khan, Dulquer Salmaan and Mithila Palkar. The film is a light-hearted comedy and a road trip with a difference. It's not a story about three friends out on an adventure, but rather three misfits on a journey that goes a little too off track. It is a trip that neither of them wishes to be part of but end up enduring and loving it.
Before Sunrise
Released in the year 1995, Before Sunrise is an American romantic drama film directed by Richard Linklater. The film features Celine (Julie Delpy), a young French woman and Jesse (Ethan Hawke), a young American man. They meet on a train and disembark in Vienna. There they spend the night walking around the city and getting to know each other.
Highway
Highway is an Indian road drama film, written and directed by Imtiaz Ali. The movie stars Alia Bhatt and Randeep Hooda. It portrays the story of a girl (Alia Bhatt) finds herself abducted and held for ransom. It's on this journey that she discovers freedom after being kidnapped.
Queen
Queen is an Indian comedy-drama film directed by Vikas Bahl. The film features Kangana Ranaut in the lead role, with Lisa Haydon and Rajkummar Rao in supporting roles. The story is about Rani, an under-confident Punjabi girl from New Delhi, who embarks on her honeymoon to Paris and Amsterdam all by herself after her fiancé calls off their wedding.
Piku
Piku is an Indian comedy-drama film directed by Shoojit Sircar. It stars Deepika Padukone as the female protagonist and Amitabh Bachchan and Irrfan Khan, portraying supporting roles.
The movie tells the story of the short-tempered Piku Banerjee (Deepika) and her grumpy father Bhashkor (Amitabh) and Rana Chaudhary (Irrfan), who gets stuck between the father-daughter duo, as they embark on a journey from Delhi-Kolkata.
Wild
Released in the year 2014, Wild is an American biographical adventure drama film based on Cheryl Strayed's 2012 memoir Wild: From Lost to Found on the Pacific Crest Trail. The movie stars Reese Witherspoon as Strayed. Cheryl Strayed, a recently divorced woman, decides to start a new life by hiking along the 1100 mile-long Pacific Crest Trail. She begins to discover herself as she goes along her trek.
Tamasha
Tamasha is an Indian romantic comedy-drama film written and directed by Imtiaz Ali. It stars Ranbir Kapoor and Deepika Padukone in lead roles. Tamasha has been filmed briefly in Corsica, Shimla, Delhi, Gurgaon, Kolkata, and Tokyo.
Dil Dhadakne Do
Dil Dhadakne Do (transl. Let the heartbeat) is an Indian comedy-drama film directed by Zoya Akhtar. The film stars Anil Kapoor, Shefali Shah, Priyanka Chopra, Ranveer Singh, Anushka Sharma, and Farhan Akhtar. The movie also has a voice-over performance by Aamir Khan as the family dog Pluto, who narrates the film. The film tells the story of the Mehras, a dysfunctional Punjabi family who invite their family and friends on a cruise trip to celebrate the parents' 30th wedding anniversary.
Need a ride to travel in India, rent a car with Mylescars.com
Tags:
before sunrise
,
car on rent
,
cars on rent in India
,
dil dhadakne do
,
eat pray love
,
highway
,
India travel
,
into the wild
,
karwaan
,
movie quotes on travel
,
mylescars
,
Piku
,
queen
,
rent a car india
,
rental cars
,
self drive car rentals
,
self drive cars on rent
,
tamasha
,
Travel
,
travel goals
,
travel quotes
,
wild
,
zindagi na milegi dobara