Myles- Road trip myths debunked!
---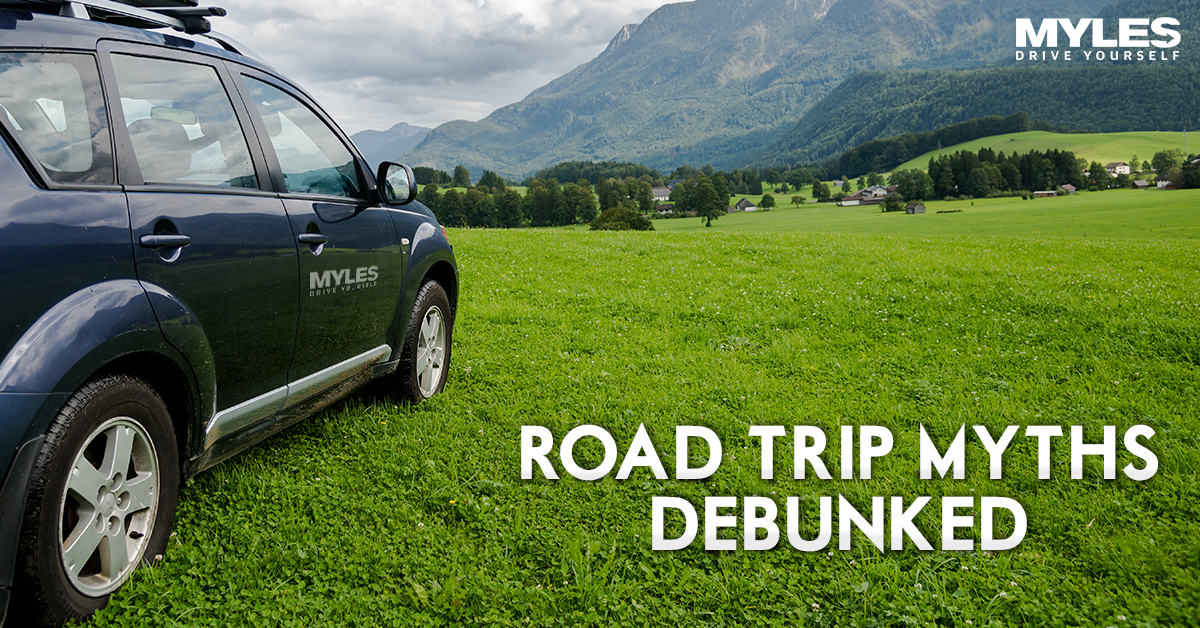 Road trip myths debunked!
Vacation days are precious in this day and age. It is difficult to go on week-long trips all the time. Given that there is so much to explore and so little time, weekend trips are becoming increasingly common. Whether you are planning a trip with family, friends or even solo, the easiest way to travel is road trips. Just imagine, discovering a new place every weekend or even every alternate weekend. No matter where you live in India, there are beautiful places within the 300 km radius that you can check out on a long weekend. There are some interesting sites out there, but here is one which lets you search for road trips near you.
Planning a trip? Why not go on a road trip?
Road Trips give you a respite from these fast-paced times and help you truly enjoy travelling at your own pace. Whether you are headed to the mountains, beaches or jungles, it is most convenient to hit the roads than chase the train/bus/flight schedules. With new age road trip planning platforms like ScoutMyTrip, the guesswork about road conditions, locations of petrol pumps and availability of toilets have all become a thing of the past. Planning a trip to anywhere in India is simple with so much information now available just a click away.
Road Trips are also an easier way to travel if you are a pet parent or travelling with young kids/older relatives. It gives you the freedom to take a break every few hours, at dhabas or lots of hidden gems along the route. You can actually reach out to the Travel Community on the go, to find out places worth taking a detour for along your route. Click that perfect Instagram shot or shop to your heart's content at the local vendors.
While a lot of things check out for road trips, there are still some myths around road trips which we'd like to debunk in this post.
Myth 1: Exploring far off places is not recommended over road trips
A common misconception is that road trips mean that you have to travel all the way from your house to your destination by road. You can fly/take a train to the starting point of your vacation and plan a road trip from there. With self-drive cars like ours, it is becoming easier to rent at all major tourist hubs, you don't even have to own a car or put up with nosy drivers. You can fly to Kochi and drive through God's Own Country. Or take a train to New Jalpaiguri station and plan a road trip to Darjeeling & Gangtok. Once you are on the road, trip planning possibilities are endless. Did you know that Mylescars are available in 21 cities with 38 variants?
Myth 2: I would not get help to plan a road trip. There is too much research to do.
That is partially true, but there are road trip communities which make this process both fun and a learning experience. So next time you have the travel itch, don't fret all the research you will have to do. Road trip planning has never been easier, especially when you have a travel community to ask any question. So, when are you going on your next road trip? And for those who are looking for very unique experiences, there is the option of road trip tours and packages which bundle in stays, a self-drive car from Myles, remote assistance on the road trip with community support and even meals!
Myth 3: It's too dangerous and I won't find help in case of breakdowns
Indian highways and roads have come a long way in this decade. With over 1500 kms in expressways and addition of close to 30 km of highways in a single day, road tripping has become safer each passing day. Having said that when on a road trip, you have two options to cover yourself. One is to opt for Mylescars which comes with break down assistance. The other is to buy a breakdown insurance cover for your vehicle.
Myth 4: Roads will be extremely uncomfortable especially for families and pets
Not true at all. In fact, happy families are ones which road trip together! Today, every fuel station has a functioning bathroom. The larger ones or the company owned petrol pumps have spacious, neat and clean bathrooms which women and kids can use comfortably. Here is where road trip planners like ScoutMyTrip also help in mapping out toilets to keep handy on a road trip. Coming to travelling with pets, think about it. Wouldn't you want your lovable four-legged friend to be comfortable instead of being packed in the luggage compartment of a train or a flight? Do check this very useful article about road tripping with pets.
Myth 5: You can find hotels and stay options on the go
This is true. You surely can on most Indian highways, but will they be safe, clean and have hygienic food? For this reason, we recommend you find hotels along highways on the route you plan to take for the road trip in advance. This helps you take a more informed decision, and even get better rates.
While we debunk the myths around road trips, we'd leave you with one thought – it's you who eventually decides how good or bad the road trip is. So, drive safe, and drive within your human limits. Man didn't reach the moon in a single day. Spend time to plan your road trip either with communities or yourself!
Tags:
myths
,
road trip
,
short trips
,
trips