Getting Married: Reduce Expenses by Opting for a Car Subscription
---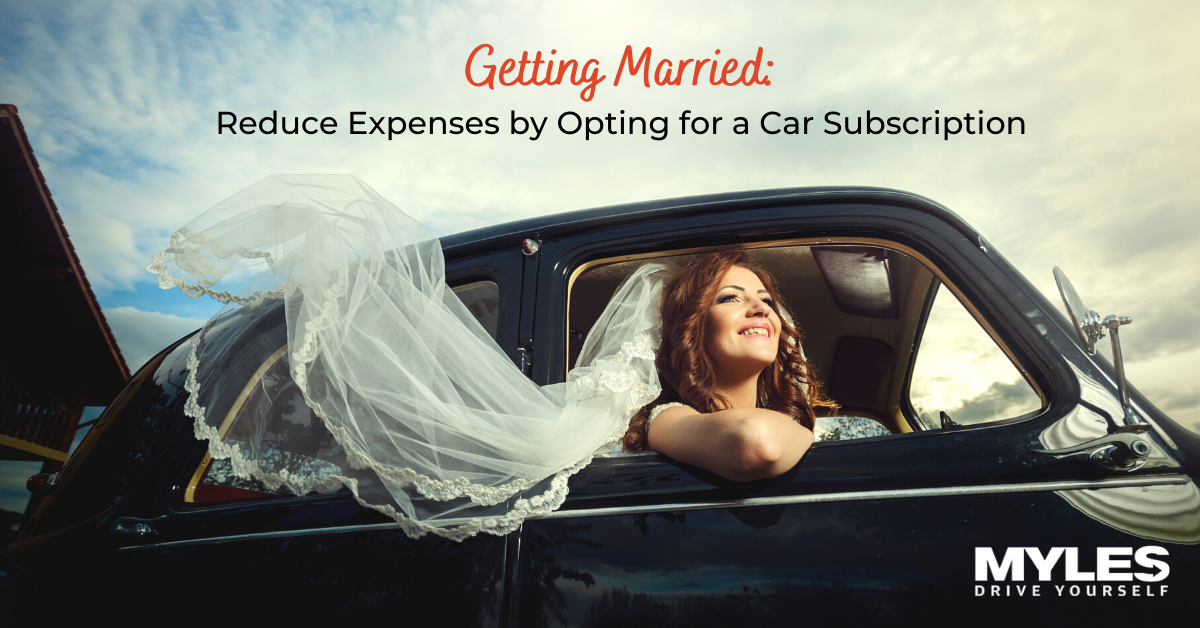 Wedding Season is on in India, which means it's time for multiple industries like retail, real estate, automotive, etc., to do big business. We have often seen that the bride and groom's families hire luxurious cars for the event and even gift them to each other during the wedding season. It automatically increases the wedding cost, putting the bride and groom under excessive financial burden.
Weddings are meant to have fun and take the step of togetherness, and not stress. If you're getting married, opt for a car subscription to reduce expenses. Drive a car of your dream without making a giant hole in your pocket with Myles Car Subscription.
Why a car subscription this Wedding Season?
Don't Rent but Subscribe to a Car
Wedding Season pushes for high-end car rental demands, as Indian weddings are about everything grand. This season also gives you a chance to car subscription and save yourself money. Car Subscription is available from 1 month to 60 months, and even rental companies customize packages as per your requirement. Myles offers a wide range of fleet to choose from, making your every wedding wish come true.
Wedding Preparation with Comfort
As informed, a car subscription offers flexible ownership, which means you can subscribe to a vehicle of your choice months before the D-Day to accomplish wedding preparations in advance. Public transport can be tiring and inconvenient, and a cab can cost you a fortune. Get your car to shop for the wedding, send the invites, pick up guests, and much more.
Don't Invest your Saving on Down Payment
Wedding season sees a crazy increase in demand for car rentals, and even the sales got really high. Buying a car is a huge investment, and so is the wedding. Cut your expenses by opting for a subscription, and get everything covered in the monthly charges. Our monthly car subscription comes with zero down payment, no EMIs and car loans, and zero commitment. It covers insurance, maintenance, services and repair, and roadside assistance.
A Gift that can be Upgraded
Bride and Groom's family often gift them a car at their wedding. This time you get them a subscribed car of their choice without stressing over budget and finances. It is a gift they always cherish and can upgrade whenever they want. Car Subscription is available from 1 month to 48 months and can be returned, upgraded, or extended at any time. Even you can repurchase it.
For an Adventurous Honeymoon Getaway
Honeymoon is about spending leisure time with one another, but no one really likes the idea of a long train journey or waiting in the long queue for boarding. How about an adventurous road trip to your honeymoon destination? With a car subscription, sort not just your Honeymoon but all the travel plans you wish to take with your spouse. It is easy, comfortable, relaxing, and budget-friendly.
Get wedding ready without spending a fortune with Myles Car Subscription. Subscribe to your dream vehicle, subscribe to happiness and comfort.
Happy Travelling!
Tags:
6 months car subscription
,
Budget car subscription
,
Car Subscription for Wedding
,
Car Subscription in India
,
Myles Car Subscription
,
Myles Zero
,
Wedding Ready
,
wedding season
,
zero down payment