International Men's Day: Celebrate with your Boys and Take an Adventurous Road Trip
---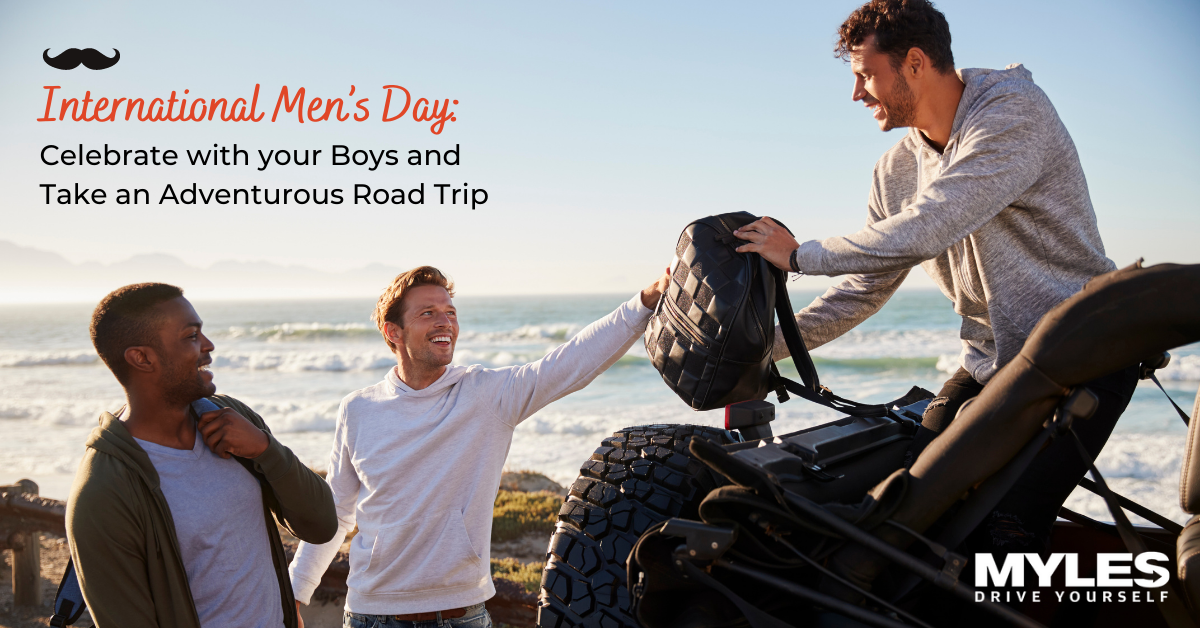 To celebrate men's cultural, socioeconomic, and political achievements and how they bring value to the world, International Men's Day celebrates worldwide on the 19th of November.  It is all about adding positivity, raising awareness of men's well-being, and improving gender relations and equality in society.
Make it a more fun day for yourself. How about travelling with your gang this Men's Day and enjoying, forgetting all the worries, stress, and responsibilities that lies on your shoulder. This Men's Day, take a fun-filled and adventurous getaway with your friends to these exotic lands in India.
Leh Ladak
No boy's gang hasn't planned a road trip to Leh Ladak for a thrilling experience. You can book a Myles self-drive car rental to Ladak to witness beautiful snow-cladded mountains, stupas, fluttering prayer flags, and ecstasy. Get your boys ready for an unforgettable trip crossing the gushing stream, narrow footpath, charming settlements, and more. So, it's time to take the much-awaited road trip to Leh Ladak and fall in love with the place. Myles cars offer a special vehicle for your Ladak travel.
Rishikesh, Uttarakhand
It's time to plan an adventure trip like Kabir, Arjun, and Imran from ZNMD. But amidst the pandemic, it can be challenging to travel overseas. But how about having a road trip to India's adventure capital, Rishikesh. Nestled in the Himalayan foothills beside Rivers Ganges, Rishikesh is known for Yoga and Meditation retreats, White Water River Rafting, Bungee Jumping, Trekking, Waterfall Hiking, Camping, and a lot more. Book a self-drive car rental in Delhi, and have a fun getaway.
Manali, Himachal Pradesh
Friendship is the only family we choose for ourselves and exploring new things with them fill our lives with experiences and memories.  Manali is always on the mind of the boy gang after they saw Bunny and Avi's power-packed friendship in Yeh Jawani Hai Deewani. A trip to this breathtaking place like Manali should be on your list this weekend. Get ready for an adventurous road trip and sign-up for amazing treks, camping under the open sky, lighten up with stars, and adrenaline-gushing thrilling activities.
Goa
Golden sand beaches, stunning sunsets, scenic views, and full moon parties, Goa is a paradisal land and a popular vacay spot for youngsters across the globe. This International Men's Day, go for a relaxing vacation and explore Goa like Sid, Sameer, and Akash did in Dil Chahta Hai. Gather your boys, book a self-drive car and go for an exciting trip this weekend. Hire a self-drive car rental in Mumbai, Pune or Bangalore, and Go Goa with your boys.
Gokarna, Karnataka
If you are looking for a beach getaway minus all the crowd, Gokarna is your place. Gokarna is known for its idyllic beaches, peaceful shores, and pristine waters. It is a laid-back version of Goa for you, which has become quite popular in the past couple of years. Take a short trip with your boy gang this weekend for International Men's Day and celebrate the value men brings to this world, communities, and family. Enjoy with your homies, book a self-drive car in Bangalore and have a memorable road trip to Gokarna.
Alleppey, Kerala
Having a weekend getaway with your boy gang is not always about parties or adventure sports. It can be therapeutic and calming. The backwaters of Alleppey are a great place to be with your homies. Stay at the houseboat for a relaxing and soothing holiday experience. You can go canoeing and kayaking to be closer to nature. Alleppey is also known as the Venice of the East, and this charming place can't be missed.
Tsomgo Lake, Sikkim
Changgu Lake or Tsongmo Lake is known for the gorgeous view embodied with the reflections of the surrounding snow-capped hills on the water. Imagine sipping a hot cup of tea with your boys at a high altitude of 12,000 ft., overlooking the sheer beauty of a lake. A road trip to Tsomgo will be a journey to remember as roads in Sikkhim's Valley are embellished with cascading waterfalls, magical views, and much more. We say you should witness the East of India for an elevating experience.
Why do boys have all the fun? You deserve to have an adventurous vacation with your gang. These places are meant for you. Channel your inner wanderlust and get ready for a Myles driven road trip.
Happy Men's Day!
Happy Travelling!
To book your self-drive car for an upcoming road trip or to explore your city, visit https://www.mylescars.com/.
Tags:
Adventure
,
book self drive car rental in Delhi
,
gender equality
,
goa
,
Happy Men's Day
,
hire a self drive car rental in Mumbai
,
International Men's Day
,
Ladak road trip
,
Leh Ladak
,
manali
,
Myles
,
Myles - Self Drive Car Rental
,
Myles Cars
,
Myles Self Drive
,
rishikesh
,
road trip
,
Travel India
,
white water river rafting
,
Yeh Jawani Hai Deewani
,
ZNMD