5 Things to Remember Before Going on a Road Trip in Winters
---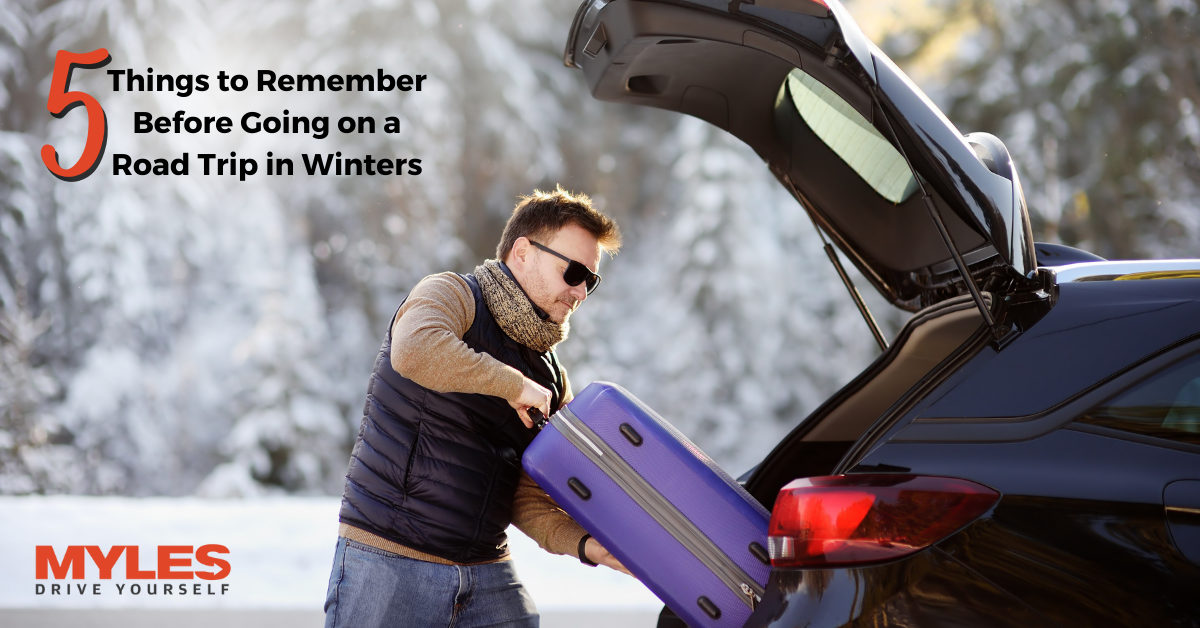 Winter is the happy season! It is all about snuggling in cosy blankets, sipping hot chocolate, baking winter delicacies, preparing for New Year, good skin, and everything Christmassy around. The season is also known for holidays and travel.
Winter travel promises a much-needed escape, whether you are looking for a road trip with friends or snowy retreat with family, beach vacation with bae or thing for an adventurous solo trip. But before you begin the voyage to your dream destination, remember these things before going on a road trip in winter.
Winter Voyage- Prepare Your Car
Taking a road trip in winter is a surreal experience. Don't drive off until you prepare your car for it. Before setting the winter voyage, you must have a checklist of things you need to do to your vehicle. Test your batteries, nothing worse than the car not starting. Check your light to see clearly on gloomy and dark winters. Measure air pressure in your tires for a smooth and safe ride, and if you have to drive in the snow, get things done accordingly. The other important thing is to check wiper blades and fluid levels. Ensure they can clean the windshield or replace it. Keep coolant in case you need it.
Winter Travel- Snow Check the Route
Winter is a beautiful time to engage in new hobbies, activities, a cosy night in bed with hot chocolate, a café hopping with friends, or going for a holiday season vacation. Winter travel always excites and before you commence your expedition, always checks the route, especially if you are travelling to a hill station. Check the area condition like road, weather, and stay prepared. Amidst the pandemic, also go through COVID Travel guidelines state-wise before travelling. Keep your phone charged because Google Maps for the route.
Winter and Food- Keep your Car Snacked up
Travelling and Vacation are incomplete without food and a lot of fun. During your road trip, keep the car snacked up with water, food, and warm drinks like coffee or tea. You can obviously stop at chic cafes or Dhabas on the highway, but what if you don't like the food or run out of time. This tip should be considered when travelling with family, kids, and travelling late at night.
Winter Drives- Learn Winter Driving Techniques
If travelling to cold regions, brush up your driving techniques for snow, icy conditions and slopes or steep routes. Also, check for the road conditions for a safe driving experience. Make sure you leave extra space between the vehicles in front of you to avoid slamming on the break, especially on the switchback roads.
What Else? Keep Winter Car Kit
You must be excited about an adventurous winter road trip. You got your car serviced and also prepared it well for the voyage. But what about Winter Car Kit? Not keeping emergency tools or kit is the biggest mistake most of us make when planning a winter road trip. The Car Kit should include flashlights, extra batteries, a first aid kit, jumper cables, plastic bags or new paper for sanitation, rain gear, a small shovel, basic car tools, booster cables, and a personal kit.
Being on the road can be tricky. Being well prepared is what you can do to overcome a rough patch during travel. Make this holiday season memorable by travelling to your favourite destination with Myles.
Happy Winters!
Happy Travelling!
To book your self-drive car for an upcoming road trip or to explore your city, visit https://www.mylescars.com/
Tags:
beaches
,
Budget self-drive
,
Car Care Tips
,
Car Subscription
,
Car Subscription India
,
christmas
,
Holiday Season
,
Ladakh Road Trip
,
Mountains
,
Myles
,
Myles Cars
,
Myles Zero
,
new year
,
road trip
,
Snowfall
,
Travel India
,
Winter Car Care
,
Winter Season
,
Winter Travel