A crazy road trip from Bangalore to Goa
---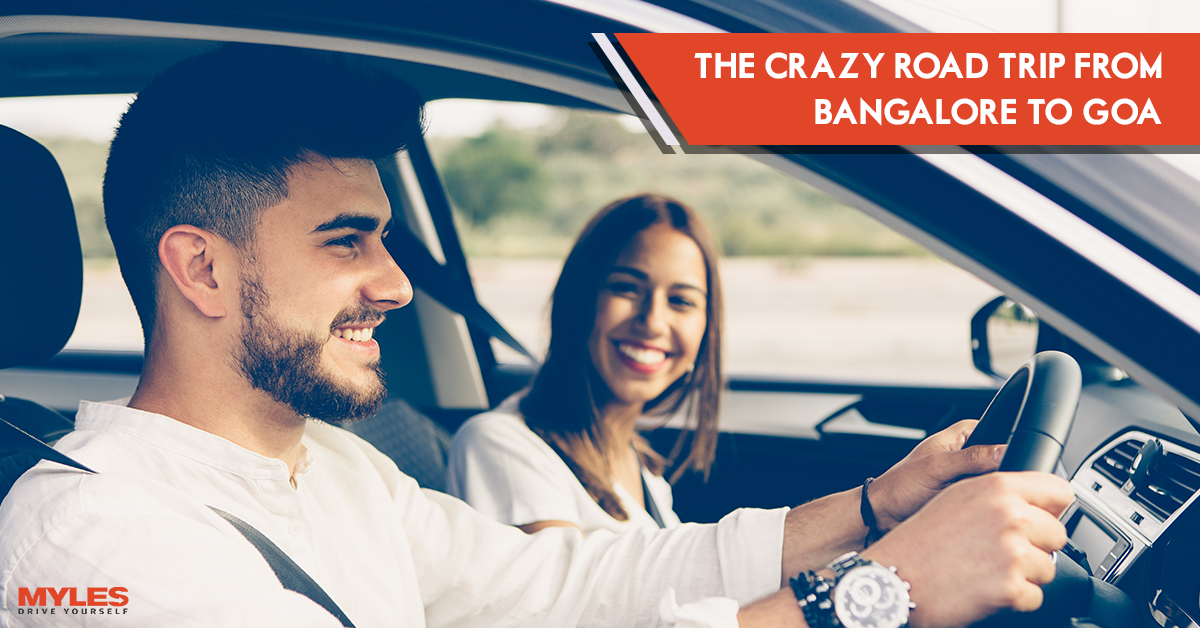 So we had been planning a road trip to goa from our hometown Bangalore for almost 2-3 years now but every time that we thought of it, the very idea of renting a cab looked like a little inconvenient and disinteresting. So Parth came up with an idea of renting a self-drive car from Myles as he had heard good stuff about this service; from his friends. I wasn't sure about it but since he sounded so confident, we decided to finally give it a shot.
The Eid long weekend was coming up so we decided to take advantage of the same (giggles). We planned it all and so finally; Goa it was. The distance is of almost 650 km door-to-door, from our home in Bangalore to the resort in Goa that we had chosen for the stay.
We booked with Myles self-drive service for the unlimited km package and selected a red Nexa Baleno. We decided to follow the Bangalore-Tumkur-Hubli-Belgaum-Chorla Ghats-Goa route and thus, on 15th June, we braced ourselves for a journey that we knew to be very long and therefore started off at 6.00 am.
And while I keep penning it down, you will be able to sense how serene I felt throughout the journey as my words will spell only pleasure minced with excitement.
As we proceeded through Tumkur that is nearly one and a half hour away from Bangalore I could sense the road getting wider and beautiful. And as the sun was embracing the surface of the sky; the feeling was extremely ecstatic.
The weather was totally supporting us and the winds were amiable too. We stopped by a local dhaba for having tea and then we again started for Hubli. It's a beautiful town that is 350km away from Tumkur and it took us around 4.5 hours to cover the same. But honestly? Who cares? We were on a road that looked like it was meant for us.
As we crossed through Hubli and Belgaum, none of us realized that it had been almost 7 hours that we have been driving through so I finally suggested to stop by a little food place amidst Belgaum and Chorla Ghats. There was this totally different vibe that I and Parth were into and so everything seemed so smooth and nice.
While 3/4th of the journey presented to us beautiful vistas of giant windmills atop hills and golden fields, ready for harvest, the best part of it was to come in the last leg. The Chorla Ghats. I would rather show the sight out there through this immensely beautiful picture and not say anything, because I believe that the beauty of the place cannot be expressed through words.
Finally, we were there, yes right there in Goa. We could hardly believe ourselves when we saw that we had clocked just 9.5 hours (including two food halts) to cover those 650 kms that had seemed so long and tiresome before the journey.
Can surely not end it without saying a big thank you to Myles for letting us experience it all by ourselves. It was a happy ending and a happy myling; indeed.
Tags:
road trip
,
Self Drive