Adhere to the FIFA fever in the Namma City- Bangalore
---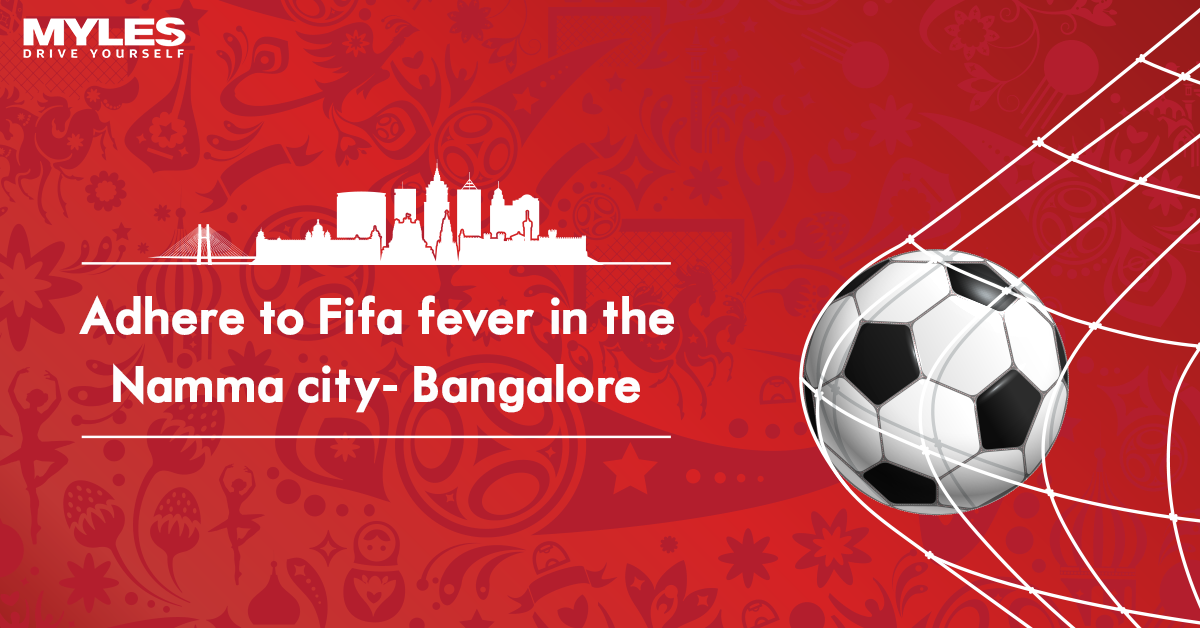 FIFA 2018 has finally begun on 14th June and the spirit of the game is hitting bang on; onto the people of "BANG" ALORE. This World Cup, if watching matches live on your 21-inch television set at home just won't cut it, the pubs and many other places have you covered. Though early morning matches have become a big deal for football enthusiasts, you can still catch the 9.30pm matches with big-screen TVs, World Cup-themed food & beverages and football contests at some of the city's most popular joints.
From quiet spots for the solid fan to pubs that will be all about the screaming and possibly swearing, we've got it sorted for you from now, until the finals on July 15 even if you didn't make it to Russia! So while you intend to explore all such places that are infilled with the passion of the game, make sure you book a self-drive ride for the weekends or whenever free to watch the matches and not let the spirit fade away.
Glocal Junction, Indiranagar
You don't need to go anywhere else to feel the excitement of the FIFA World Cup as Glocal Junction will be screening the matches live for all football fanatics. The Gastro-Pub will be providing a great setting and bustling atmosphere for the games accompanied with lip-smacking food and refreshing beverages. To entice crazy World Cup fans this FIFA season, Glocal Junction offers a Bucket of Beer along with Complimentary Pizza starting at Rs.799. This is not all – Buy one LIIT and get the 2nd one at 50% off! Munch on unlimited Nachos or Popcorn at Rs. 399 during the screening of matches or score Starters at Rs. 199 for every penalty. Be a part of this gastronomical journey while watching your favourite team play! So, self-drive to Glocal Junction and join the crowd to witness all the big moments with delicious food and drinks, and fabulous offers.
Monkey Bar, Ashok Nagar
This amazing Bar has literally got its menu named after the game. Precisely the crazy quotient is such that the bar has named one of its dishes as Halftime and includes fun bar bites and nibbles to help you stay focused, energized. For constant nibblers, there's the Football Farsan that comes with a mixture of curry and parmesan popcorn, chilli-rosemary peanuts, and foxnuts in a honey-togarashi coating and the Chicken Dip and Corn Chips. Trust us when we say you will need more of the corn chips! Kahn's Hot Dog and Mexican Wave, which are soft tortillas with chipotle chicken, are for all your halftime discussions. There is this one plus one free drink that this place offers to make things more exciting. So make sure that you include Monkey bar as you decide to self-drive towards this self- rejuvenation in this entire month.
Arbor Brewing Company, Ashok Road
When it comes to watching football, one of the most famous places that pop into one's head is the Arbor Brewing Company. Being the home pub of our very own Bengaluru FC, this place is where all the true fans head to. And the best part? There is respect for the game, and for competition. So if you're wearing Argentina colours when they play Iceland, and there's a Viking fan, all you need to do is buy the winner a beer, and banter takes the centre stage. It's like a cute little game that internally goes on inside this rocking pub. Of course, the Bangalore Bliss beer, the nachos, burgers with sweet potato fries and options to watch the game at five different screens, makes this our favourite.
 Other clubs have big plans too
Most clubs in the city are screening the matches. The Bowring Institute has a schedule announced on their social media handles. Top restaurants too are planning to join the fiesta from the knock-out stage by churning out cuisines from respective countries. Namely, Alliance Francaise in Vasanth Nagar and Max Mueller Bhavan in Indiranagar too are planning to screen a couple of matches involving their teams France and Germany and the final on July 15.