Best places in India to witness Ganpati Visarjan
---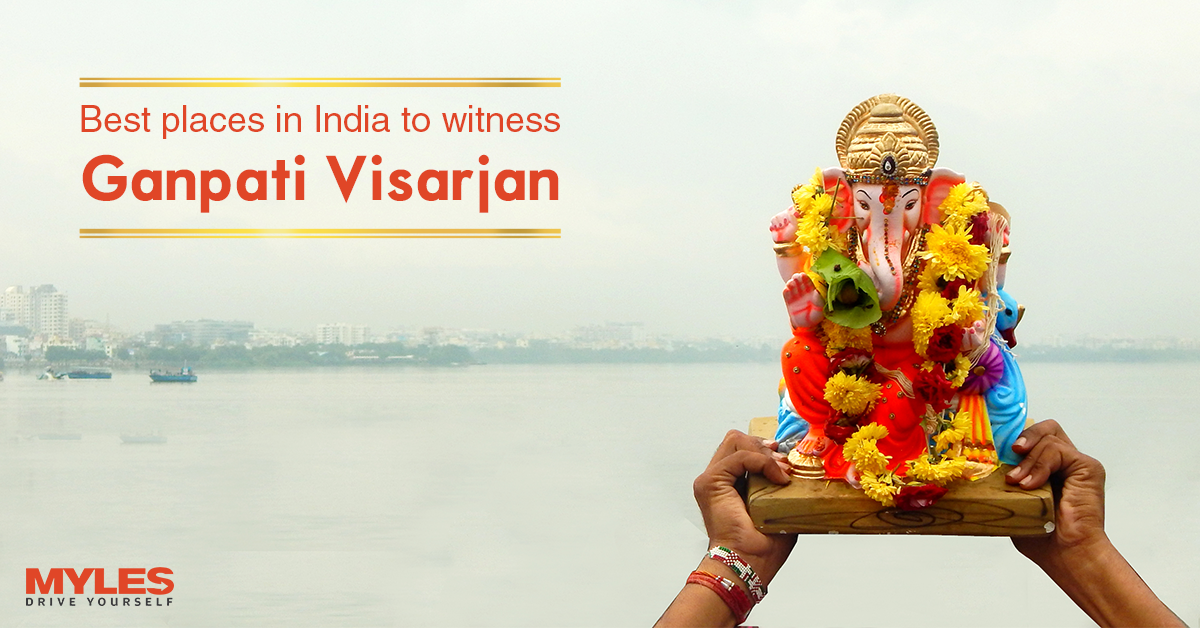 The month of September brings along the season of colorful celebrations as the festival of Ganesh Chaturthi celebrated in various parts of the country. The 10-day long festival is celebrated with gusto at various places and the 'visarjan' marks the end of the festival and is held on the eleventh day. During the immersion everyone bids a goodbye to their Bappa as loud chants of 'Ganpati Bappa Morya' fill the air. Ganesh Visarjan is a spectacle that is witnessed by many people in India, as people dance their heart out while carrying their Ganesha idols for the immersion. Here are top places in the country where you should drive to and witness a vibrant Ganesh Visarjan.
1. Girgaon Chowpatty, Mumbai
Girgaon Chowpatty in Mumbai is regarded as one of the most well-known beaches in the country. Located near Wilson College, the beach enjoins Marine Drive. During the Visarjan ceremony, hundreds of people head straight to Girgaon Chowpatty. As people gather in large numbers, the roads leading straight to the beach are closed to manage the crowd and the traffic.
2. Yamuna Ghats, Delhi
Delhi also sees a lot of excitement around Ganesh Chaturthi celebrations and the idol immersion ceremony. Arrangements for immersions at various Yamuna Ghats namely Kudesia Ghat, Geeta Ghat, Mayur Vihar Extn Ghat, Geeta Colony Ghat, Hathi Ghat and Shyam Ghat. Roads remain jammed as thousands of devotees dance their way to the Ghats displaying a high level of happiness and energy. The celebrations are attended by many people who travel to the capital city from various places in India.
3. Juhu Beach, Mumbai 
Named among one of the most popular beaches in Mumbai, Juhu beach is known for its fun-filled Ganesh Visarjan celebrations. On the 11 th day of the festival, devotees from various parts of Mumbai bring their Ganesh idols to the beach for immersion. The processions and the pomp start in the afternoon and go on until night. The sight of devotees dancing to the loud drumbeats adds to the charm of the festival. All roads leading to the beach are very crowded as idols are being carried for immersion.
If you wish the witness the immersion celebrations in these cities, you can always opt for a Myles car and enjoy the festival along with your friends or family members. If you're looking forward to visit Delhi, you can hire a car from Chandigarh or a neighboring city. However, if Mumbai is on your mind, you can always travel to the city from Pune or Goa and make the most of it.
Call or email us today and find out about the latest Myles deals.
Tags:
Delhi
,
festival
,
ganesh chaturthi
,
ganpati
,
goa
,
maharashtra
,
Mumbai
,
Pune