Budget Friendly Drives : Unveiling top 10 Kia Cars under 15 Lakhs
---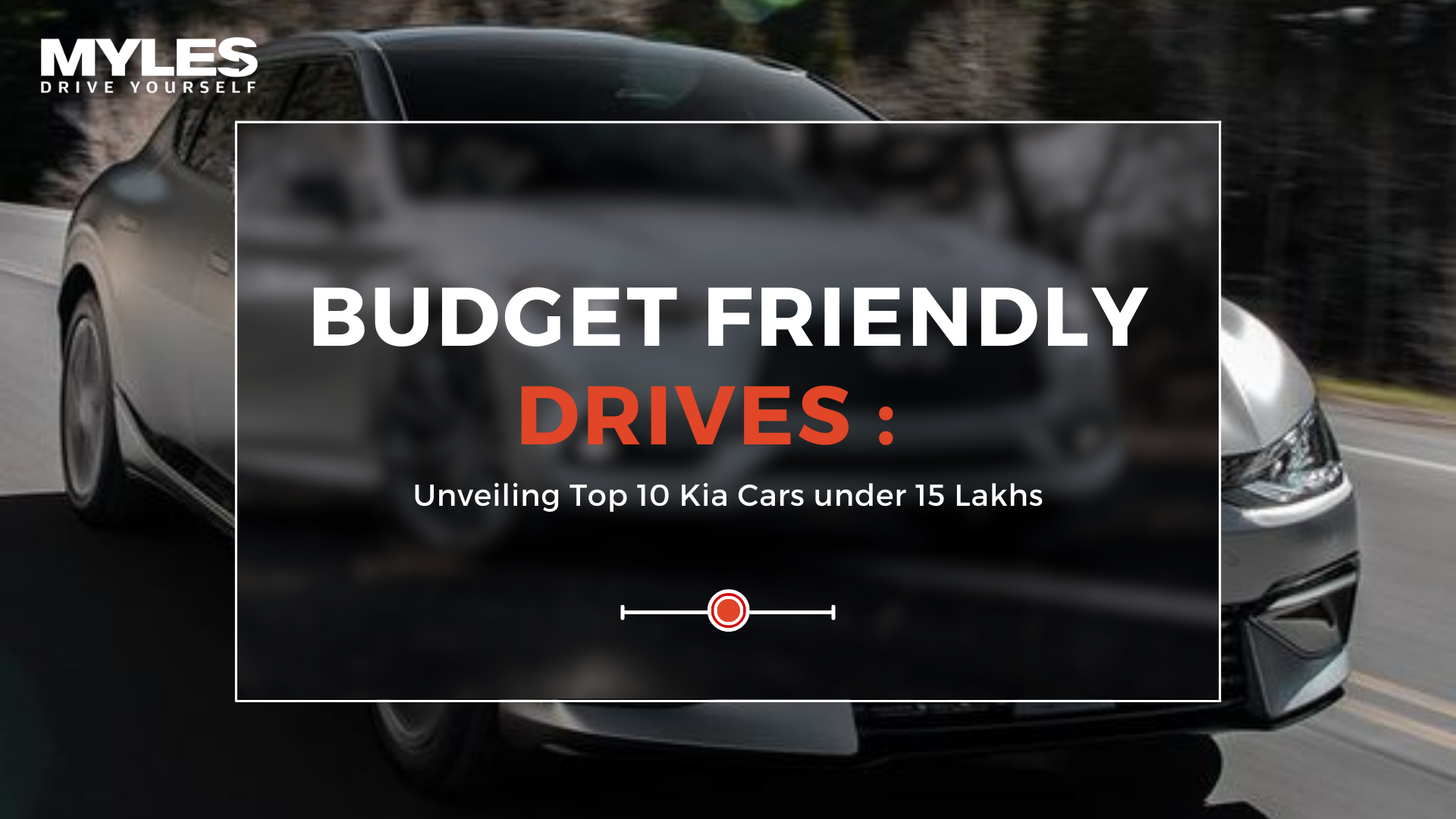 Kia Cars have captured the attention and admiration of the automotive realm since a few years down the road. From their striking design and cutting edge technology to its exceptional performance and affordability, Kia has positioned itself as a formidable force in the automotive industry, making it the talk of the town.
In a rapidly changing automotive world, Kia Motors has managed to establish a strong foothold by offering a diverse lineup of cars that strike a perfect balance between style, performance and affordability. For budget conscious buyers looking for quality vehicles under 15 lakhs, Kia presents an enticing array of options listed below.
Seltos : Priced at Rs 9.95 lakh, Seltos has been a top contender in the SUV segment for years and all for the best reason. It offers a stylish design, comfortable interiors, and an enjoyable driving experience. With its petrol and diesel options, Seltos is perfect for zipping through city traffic or embarking on long journeys. The stylish car also boasts advanced safety features like dual front airbags and ISOFIX child seat anchor. The best part is that you can drive this stylish car with Mylescars without even buying it.
Sonet : Priced at Rs 6.97 lakh, Sonet has quickly gained attention. With its attractive design, comfortable seating, and modern features, the Sonet stands out from its competitors. Equipped with a range of safety features such as ABS with EBD, the Sonet offers a secure ride and the affordable car is available in petrol and diesel options, allowing its customers to choose accordingly.
Carens : Priced at Rs 10.45 lakhs, Carens offers a range of engine options to suit different preferences. With its sleek exterior and feature packed interior, the Carens exudes sophistication. It is available in diesel and petrol variants With Myles, subscribe it at an even lower cost. Carens provides ample space, comfortable seating and a number of safety features ensuring a secure and enjoyable ride.
Seltos X Line : Priced at Rs 12.45 lakhs, Seltos X Line has sporty design and high ground clearance, the Seltos X Line can handle rough terrains with ease. It offers a powerful and efficient power engine, delivering a spirited driving experience. It also prioritizes safety features like hill launch assist.
Soul EV : Priced at Rs 10 lakhs, Soul EV has muscular and modern features along with spacious interior, Soul EV is a popular choice among Gen Z car buyers. It offers a range of engine options including petrol and turbocharged variants, delivering a perfect balance of power and fuel efficiency along with it also boasts a user friendly infotainment system and advanced safety features that makes it an appealing choice. Get this car without the hectic process of buying it and without any burdensome paperwork from Mylescars.
Rio : Priced at Rs 8 lakhs, Rio offers a comfortable and premium driving experience within a budget friendly range. With its elegant design, spacious interior and refined performance, it is also a popular choice among car enthusiasts. It comes with petrol and diesel options, providing flexibility in terms of power and fuel efficiency. The Rio also incorporates advanced features like rear parking sensors.
Niro EV : Priced at Rs 14 lakhs, Niro EV combines style, performance and affordability. With its bold looks, spacious cabin, and advanced features, it has gained immense popularity in the Indian market. Niro EV comes with a powerful petrol engine and offers a comfortable ride with good fuel efficiency. Get this car without even buying it from Mylescars and drive in style.
Forte : Priced at Rs 9 lakhs, Forte blends power,style and safety into a compelling package. With its bold and aggressive design, Forte makes a strong statement on the road. It offers both petrol and diesel options and places a strong emphasis on safety with its seven airbags and thus delivering an engaging yet secured driving experience.
Ceed : Priced at Rs 9 lakhs, Ceed has a contemporary design, spacious interiors, and host of features makes it an attractive option for its customers. It is equipped with safety features and provides efficient performance on city roads and highways. Be it long drives or a short vacation, subscribe to this alluring car without the burden of long term commitment with Mylescars.
Picanto : Priced at Rs 7 lakhs, Picanto is known for its timeless design, solid build quality and enjoyable driving dynamics. With its elegant styling and premium interiors, Picanto offers a touch of classiness in the Kia segment.
The hunt for an affordable and stylish car can be challenging, but with the help of this list, your search becomes less hectic. From stylish hatchbacks to practical yet ravishing Sedans and versatile SUVs, these options cater to a range of preferences in your budget. With its impressive features without compromising on your safety, these cars provide an enjoyable and pocket friendly driving experience. So, go ahead and choose the perfect ride with Mylescars that fits your needs without breaking the bank.
To Book a KIA Seltos on Subscription, visit: https://bit.ly/3OF6Wko
Tags:
Cars under 15 Lakhs
,
KIA Cars