Car Clash : Maruti Swift V/S Hyundai i20
---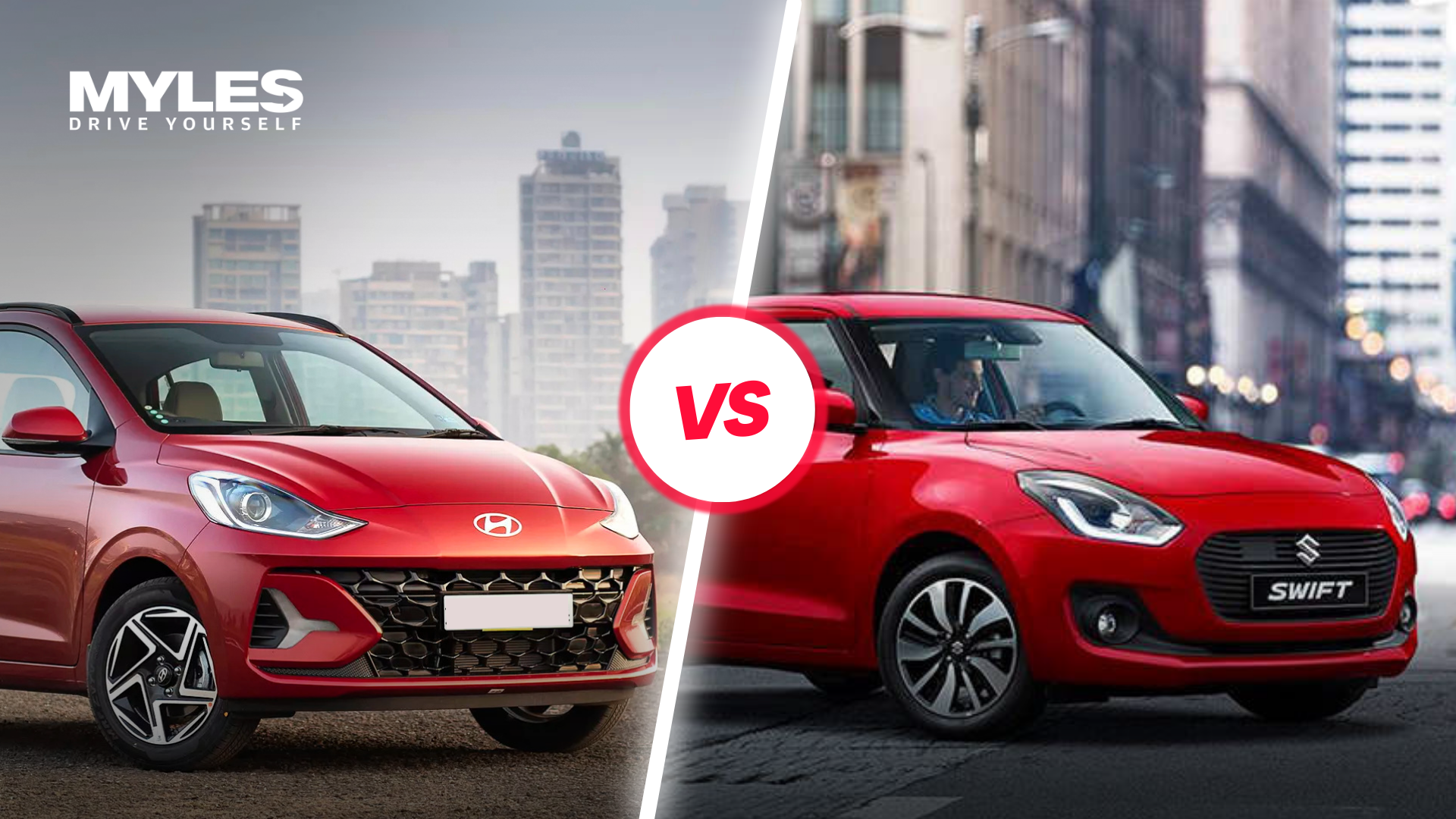 The automotive industry is constantly evolving with manufacturers vying to produce the most technologically advanced and feature packed vehicles. In this pursuit, two prominent contenders, Maruti Swift and Hyundai i20 have emerged promising to redefine the driving experience. Let's delve deeper and read on to find out which is an ideal choice.
Maruti Swift
Swift has been a top contender in the hatchback segment for years and all for the best reason. It offers a stylish design, comfortable interiors, and an enjoyable driving experience. With its petrol and diesel options, Swift is perfect for zipping through city traffic or embarking on long journeys. The stylish car also boasts advanced safety features like dual front airbags and ISOFIX child seat anchor.
Known for its comfortable rides, Swift offers a generous boot space that would allow you to carry your luggage with ease. Be it packing for a long getaway or carrying equipment for an outdoor activity, Swift provides you with enough space to accommodate your belongings without compromising on the room for passengers.
Hyundai i20
With its sleek exterior and feature packed interior, the i20 exudes sophistication. Available in diesel and petrol variants, it offers a range of engine options to suit different preferences. Its contemporary design, spacious interiors, and host of features makes it an attractive option for its customers. It is equipped with safety features and provides efficient performance on city roads and highways.
Hyundai has always been ahead of the design game, and it represents youthfulness. The future in automobile design is going towards minimalistic and radicalism combined, and nobody can run away from that fact and Hyundai is ruling with its minimalistic yet stylish design.
Car Conundrum – Maruti Swift or Hyundai i20
| | | |
| --- | --- | --- |
| Categories | Maruti Swift | Hyundai i20 |
| Price & Ratings | Rs.10,19,998 | Rs.13,81,753 |
| Engine Type | K Series Dual jet | 1.0 l Turbo GDi petrol |
| Fuel Type & Tank Capacity | Petrol with 37.0 (Litres) | Petrol with 37.0 (Litres) |
| Mileage | 22.56 kmpl | 21.60 kmpl |
| Body Type | Hatchback | Hatchback |
| Boot Space | 268 L | 311 L |
| Drive Type | AWD | FWD |
| Transmission Type | Manual | Automatic |
| Brake Assist | ✅ | – |
| Power Antenna | – | ✅ |
| Seating Capacity | 5 | 5 |
| Colors | ⚪ ? ? ⚫ | ⚪ ? ? ⚫ |
Conclusion
It is not easy to compare Maruti Swift and Hyundai i20 and come up with a clear winner. While Swift is more stylish and has many advanced features, i20 is more solid and offers a better driving experience. So, why not put the confusion to rest with Myles?
With  Myles, you can instantly subscribe to any vehicle of your choice for any duration you like. So, let's say, you can subscribe to Swift for a few months and then subscribe to i20 for another. Your experience of driving both vehicles on a regular basis will make the selection easier for you. And that's not all; you also have the option to extend your tenure if you believe you've found your dream car. Checkout more options available on Myles Now!             
To Book a Maruti Car on Subscription, visit: https://bit.ly/3OF6Wko                         
Tags:
Hyundai i20
,
Maruti Swift