Car Subscription: Bring your dream car home in 2022 with Myles Car Subscription
---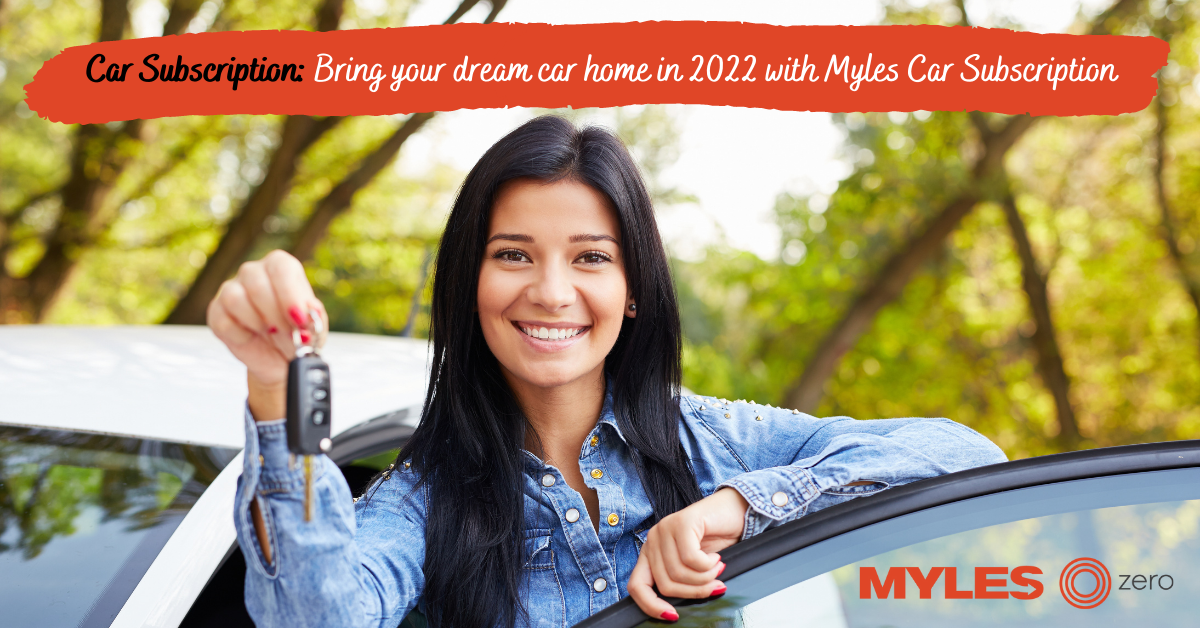 Have you ever felt like a kid when you see your dream car right next to you on a signal? A kid that wants the exact toy desperately, and soon enough, you realize that you are not a kid anymore and can't act like a brat, and ask your parents to get it. It's when you hold back ADULTHOOD and drive away from your dream car.
But what if we say you can get your dream car without stressing your finances?
The new way of getting a car make you do ADULTing right! Car Subscription is the modern and practical way of buying a luxury dream car on a budget. It is New Year; bring your dream car home in 2022 with Myles Car Subscription.
Know, how?
The Dream Car you want
We often hear people say that they want to own a luxury car. But when asked what exactly they desire in their vehicle, most people won't give a satisfying answer. Get the first step right to own a dream car by knowing what you genuinely desire. Even if you are confused, know what you want, line up a few options in your mind. Select the model, variant, colour, and then move to the next step.
Flexibility is what you Desire
Imagine you buy your dream car with all desired features you want, and then after six months or year, a new model comes that excite you to the core. It isn't easy to change cars often for many reasons, and budget is one. Car Subscription comes with zero commitment and a promise of flexible ownership. You can subscribe to your desired car for 6 months to 60 months and can change, upgrade or return anytime.
It offers Value of the Car
Buying a car takes a lot- your savings, paperwork, bank loan, and too much hassle. With a car subscription, you own a vehicle without any money risk. Myles Car Subscription comes with zero down payments and won't cost you a fortune. You don't have to go for bank loans and EMI. You just need to book a vehicle, choose tenure, and pay a monthly fee to drive your favourite car. Also, you don't have to stress about yearly depreciating value.
Car Subscription is All-Inclusive
Car Subscription is an all benefit deal! It comes with an all-inclusive package that incorporates maintenance, routine service, insurance cost, and roadside assistance. Yes, companies like Myles Car subscription offer an all-inclusive deal that includes such services and saves you a lot of money. Even agencies take your car from home to the service station, and once it is done, they drop it back.
It's a Magic Deal
Car Subscription is indeed a magic deal. It saves you money, fulfils your dream, and gives you the flexibility to change your vehicle whenever you want. Even if you don't plan to get an expensive lavish car, a car subscription let you live your dream. Refresh your car whenever you want. This zero down payment deal, quick delivery, money-saving offers, and inclusivity is no less than magic.
New Year 2022 comes with hope, dream, and achievement. Start by fulfilling them by getting your desired vehicle to drive risk-free in every situation.
See you rolling in your dream car soon with Myles!
Tags:
2022
,
Car Rental
,
car rental in india
,
Car Subscription
,
Car Subscription in India
,
covid-19
,
Myles Zero
,
mylescars
,
new year
,
New Year 2022
,
New Year New Car
,
roadtrip
,
Travel India