EV Car Subscription: This New Year Switch to Sustainability with EV Car Subscription
---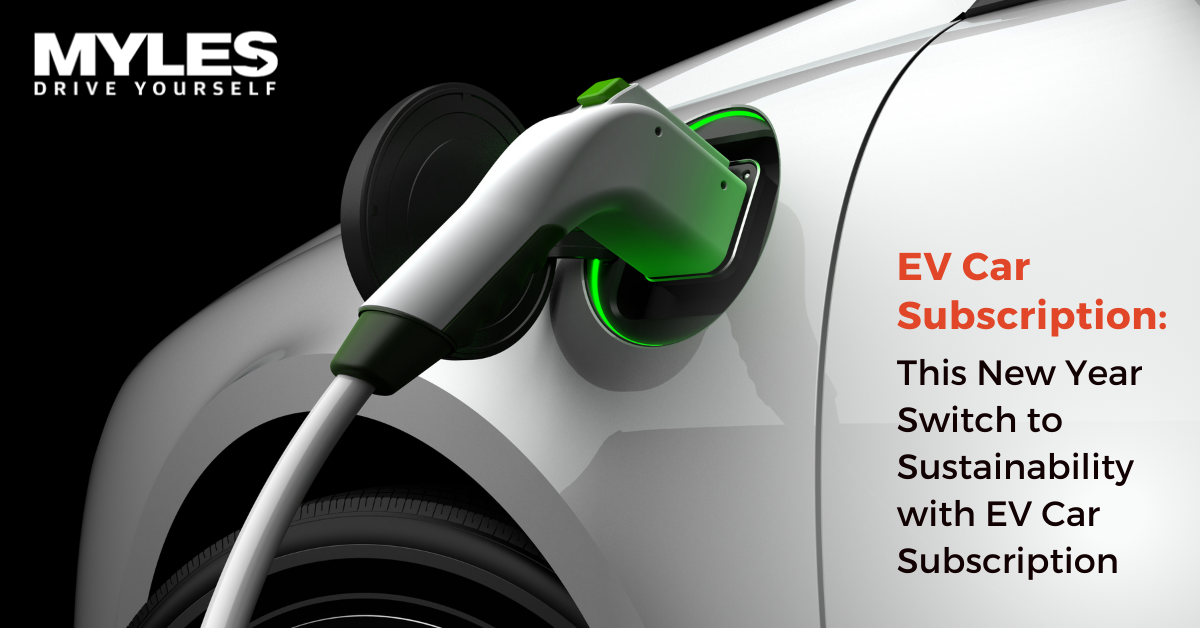 "The time is right for electric cars-in fact, the time is critical."- Carlos Ghosn
You must have already made a New Year's resolution. Take one more before the first month of 2022 ends for a better future. The resolution is about creating a pollution-free environment, safe for our future generation, healthy, and saving the planet. By switching to smart and sustainable mobility, you pledge for a better tomorrow.
A sustainable Mobility Solution has been laid to achieve green and digital transportation. Transportation accounts for a quarter of global warming, and governments have pledged to cut 90% of greenhouse emissions in transport by 2050.
Transportation and Carbon Emission
Climate Change is one of the biggest challenges the world is facing, and together we fight with it through smart and green solutions. As stated, transportation is responsible for substantial greenhouse emissions, and adopting Electric Vehicles benefits the environment and your pocket in many ways.
Electric Vehicle is a new concept in India's Automotive Industry but sees a gradual increase in demand. With growing awareness, people are switching towards green transportation solutions with EVs. Though charging infrastructure remains a matter of concern. But big manufacturers and car rental service providers like Mahindra, Tata Motors, Hyundai, Zoom Car, Myles, Carzonrent, and more are building an infrastructure to offer smooth running of Electric Vehicles in India and bring the necessary change.
Switching to EV in Smarter Way
If you are reading this, you must have some idea about electric vehicles and how they run. They are not only beneficial for the environment but save you big over purchase, maintenance, on the road, taxation, and more.
What if you can save more on Electric Vehicles? How?
With Electric Vehicle Car Subscription!
Car Subscription is an ideal and smart alternative to car buying. It comes with flexible ownership, zero down payments, zero commitment, no extra charges for maintenance, insurance, roadside assistance, and no stress of reselling the vehicle. Owning an electric car through a subscription make you save more and let you drive towards a better and greener future.
Why EV Car Subscription?
No down payment, No bank loans
Choose green without compromising on your budget and savings. The electric car will be inexpensive, unlike the existing ones running on fossil fuels. Getting an electric vehicle on a car subscription makes it much cheaper and saves you a lot of money.
Flexible ownership and Zero commitment
The car rental service providers offer car subscriptions at a cost-effective monthly fee. But the best part of a subscribed vehicle is that it comes with zero commitment. The car subscription model provides a flexible ownership plan when you can get your choice of car, new or old, and keep it as long as you want. Return, exchange, or upgrade whenever you want.
Lower Monthly Payments and Inclusivity
Driving an electric vehicle comes with many benefits to the environment and your pocket. As we mentioned, the road running cost is less due to low tax, maintenance, and more. When you get an EV on subscription, it comes with a lower monthly fee, making vehicle ownership much more affordable. Car Subscription plans are inclusive, meaning monthly subscription fees cover maintenance, services, insurance charges, and roadside assistance.
Electric Vehicles are the future of mobility and our environment. It's better to be a part of that change at the initial level with electric car ownership through subscription.
To book a car subscription or demo, visit: https://www.mylescars.com/subscription/search
Tags:
Car Subscription
,
Car Subscription in India
,
covid-19
,
Electric Car Subscription
,
electric cars
,
Electric Vehicles
,
EVs
,
Green Mobility
,
highway
,
Myles
,
myles car
,
Myles Zero
,
Pandemic
,
Sustainable Mobility
,
travel tips