COVID Precautions: Choose Safe Travel for your Daily Commute with Myles Car Subscription
---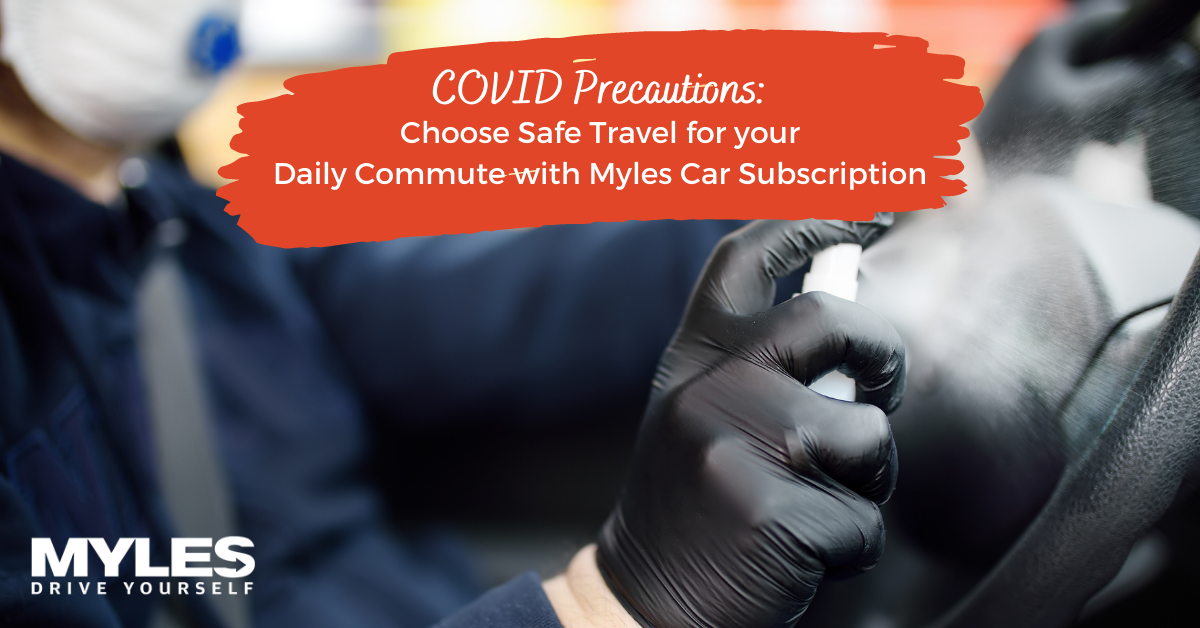 Have you thought of having all the power and none of the responsibility? The Car Subscription model offers you the same without letting you commit to a vehicle for years. It is surely, a new concept for Indian car buyers. A car subscription provides you with a chance to match your car to your life without investing your money, time, and responsibilities, even in the current scenario of the pandemic.
Car Subscription and Pre-COVID Times
Remember the time when we fearlessly go out without mask travel, plan trips every 2-3 months, go to the office, go out for grocery shopping and spend an evening out with friends and family. But after the outbreak of the Corona Virus, the time has changed and even after two years, we happen to avoid going out unnecessarily.
One of the biggest challenges people faced after the first lockdown was travelling, where people wanted to avoid public vehicles, but not all could afford to buy a car. Even if they would, there is no guarantee when another lockdown takes place, whether they will be able to manage expenses and EMIs of having a car, and more.
It is when the concept of a car subscription has been accepted well by car buyers, and it indeed becomes a good idea to subscribe to one during the Pandemic.
Car Subscription and Pandemic
In a situation like an ongoing pandemic when everything is uncertain, hygiene is a significant factor, and so is the need to have a good financial backup. Neither you can buy a car nor use public vehicles for a daily or occasional commute in the current scenario.
Myles Car Subscription is an ideal deal for safe travel while taking necessary COVID precautions.
Advantages of getting a car on the subscription you can't ignore.
Its starts with Everything Zero
Myles Zero Car Subscription stands for its name. It comes with Zero Commitment, Zero Down Payment, Zero Hidden Charges, and more. It all starts with a Zero towards Myles of easy and safe rides while saving you a lot of money and time. You don't need to take a loan and own of vehicle by just paying a monthly fee.
Car Hygiene and Door Step Delivery
Travelling in a pandemic is a big concern, and it is not recommended to use the public vehicle. Commuting by cab can also be risky because you are unsure about car hygiene. Subscribing to a car gives you complete assurance of cleanliness, safety, hygiene, convenience, and ownership. Myles Zero Car Subscription deliver the vehicle to your doorstep and sanitize it completely before handing it over.
Affordability and No Stress of Depreciation
A car subscription is an alternative and smart way of owning a car. It is affordable that means no requirement of down payments, bank loans, EMIs, and you can keep it for as long as you can. Car Subscription tenure is available from 6 months to 60 months at a cost-effective monthly fee. Moreover, you don't have to stress over depreciation, which is the most painful part on monetary grounds of owing a car. A car subscription saves you from the struggle of finding a suitable buyer, depreciation value, and more.
Choices of Cars and Easy Return
If you think subscribing to a car will limit your options. But a car subscription is a model that makes you own your dream luxury car, which you might not afford to buy. Myles Zero Car Subscription has an extensive collection of old and new vehicles in various colours and models. Myles Subscription offers you a comprehensive inventory for every budget with the option of upgrading and easy returns.
Inclusivity is all We Need
The car subscription model is affordable because the monthly fee covers maintenance charges, insurance fees, and roadside assistance. In a pandemic, it is the best way of owning a car where you can return it anytime. There is no need to invest money for routine service and other additional expenses.
With a car subscription, choose your vehicle, pay, and enjoy your rides for as long as you want.
To book a car subscription, visit: https://www.mylescars.com/
Tags:
car rental india
,
Car Subscription in India
,
Coronavirus
,
COVID
,
COVID Precautions
,
covid travel
,
covid-19
,
Myles Zero
,
mylescars
,
Pandemic
,
travel tips