Food Trip to Mussoorie with Myles!
---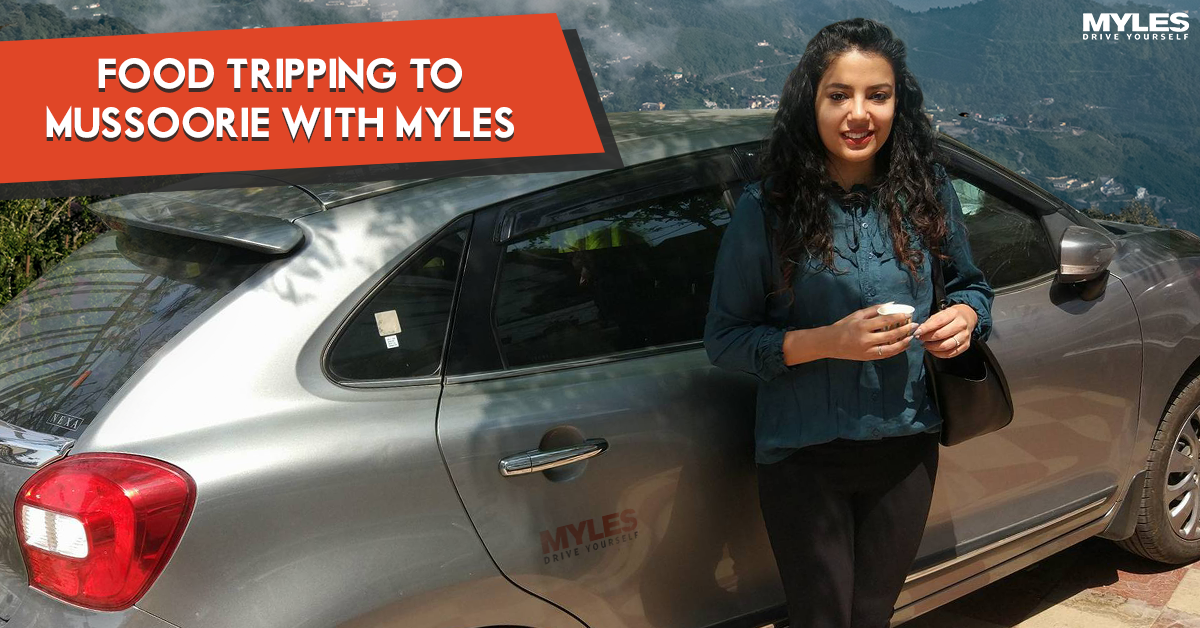 "So while my husband and I needed a break from our daily schedules, we both decided to go for a food trip to Mussoorie to vent it all out"- Says Avni who stays in Delhi.  So she got in contact with Myles and rest everything went, as planned. And this is how her experience was –
"So, endless mountains, fabulous falls and stupendous views, that's how we've known Mussoorie. The so-called queen of hill stations has always been one of our favourite holiday destinations. But this time around it came across as a foodie's paradise. To start with, we chose Myles as our travel partner for this ecstatic travel experience. We rented a Baleno from Myles in Delhi and opted for the 240 smart km package that was completely perfect for our journey.
We reached Dehradun in a span of 5 hours, and it was from here that nature started getting even more benevolent for us. There is this famous Shikanji Corner by the name of Jain shikanji which is well known for its drinks. So we readily grabbed our masala shikanji from there. Moving ahead, we went into a restaurant by the name of Walnut, which is a Multicuisine restaurant for fine dining. This was the best that we could offer to ourselves in the way before we finally checked into our hotel in Mussoorie.
Kalsang
It's a two-floor restaurant with more tables than it can take. You'll need real muscle to push your way in. But once in, Kalsang with its red printed wallpaper, Tibetan prayer flags, chinese ceiling lamps and red-uniformed staff will make you feel warm and welcomed. They have an exhaustive 10-page menu that has both Chinese, Tibetan and Thai specialities – from dim sums to soups to fried noodles; it's all to-die-for. The first thing we grabbed was a plate of Steamed mutton Momos, the casing, thin, light and easy to chew and the filling mildly flavoured and really juicy. The ones with oozing cheese are worth tucking in too.
We also grabbed a cold noodle salad with garlic and chilli sauce to add more vigour to our meal. The clubbing of the cold coffee added four streaks of the smile on our gratified faces.
Our forever love for desserts took us towards the Chick chocolate bakery, where we ordered for a Walnut Brownie. It's a gorgeous restaurant cum cafe with a whole lot of wrought iron furniture, coloured tiles and food boards. They've got a whole section of home-made chocolates that are available to taste and to sell.
What else could you try: Kit Kat shake, thin pizza, chocolate waffles, nachos, fruit cream, chocolate shakes, dark chocolate shot and more.
Tavern Cafe
Day two was an even better day as we woke up with a lot more zeal to explore more interesting places to eat and feel blessed! Tavern Cafe was suggested to us by a close friend and trust me it was all the worth. If you are a party animal and 'peace and quiet' is just not your thing even while holidaying in the hills, then this bar cum restaurant will come as a respite. Reminiscent of English pubs, it is tastefully done up and evokes a laid-back atmosphere. You can cosy up with your choice of poison, nibble on bar treats, and let time go by. So we ordered for a pasta and fries with beer and mojito. YUMMMMMMMMMM!

And it would be a sin to not mention about the "lovely" omelette we had at the-
LOVELY OMELETTE CENTRE
Don't go by the petite size of this eatery, because what it offers could probably be one of the most cherished treats you would ever eat in a hill station. Always thronged by tourists and locals alike, where they wait patiently for their plate of omelette, you can't miss this spot.
We had our dinner at the Rice Bowl restaurant that is a well know Tibetan eatery place popular for its comfort food. We ordered a plate of Hakka Noodles with chilly cheese and the very delicious, jasmine tea.
Day three was the day when we were supposed to leave back for our hometown and so it was like trekking down from food towards more food on our way back. We ordered for a Masala maggie from a local vendor and while passing by through Dehradun we stopped at the Village highway cafe.
Village Highway Cafe
This amazing place was again suggested to us by a close friend. Without any hesitation we ordered for a chicken burger, fries and bruschetta out there. The trip was tempting, delicious and soul-feeding and of course yes this describes the food out there as well!
Overall, it was a soul-feeding trip! So when are you planning yours with Myles ?
To book a self-drive car, visit: https://www.mylescars.com/
Tags:
food trip
,
mylescars
,
road trip