Hack the Pack for Goa
---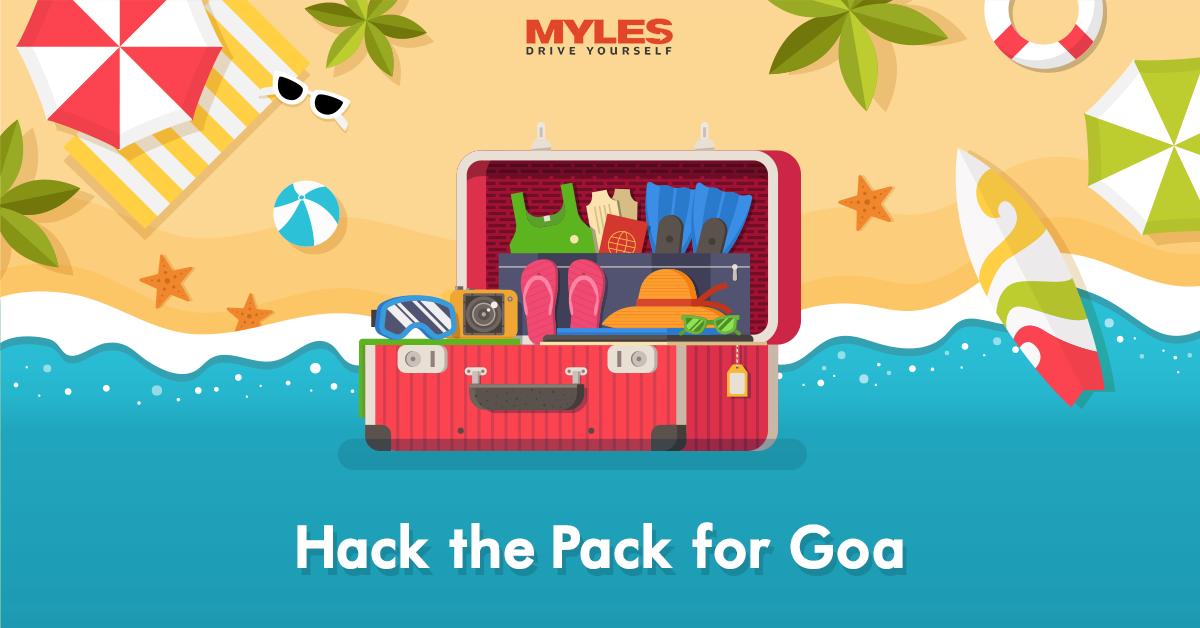 A beautiful destination, Goa is known widely for its beaches, carnivals and a happening nightlife. Every year, thousands of tourists visit this destination to have an amazing time with their friends and family. So if you are planning for a trip to this land of beaches; Myles has the perfect hack the pack for you.
The right kind of Clothes
To beat the heat in Goa, it's suggested to wear cotton clothes. Therefore, while packing, it's important to ensure that you're carrying enough pieces of clothing to stay comfortable throughout the vacation.
Hat and sunglasses
When you've packed enough clothing to keep yourself comfortable, don't forget to carry a hat and sunglasses to keep the heat at bay. These accessories will not only make you look good but also protect your skin.
Sun-screen Lotion
While traveling to Goa, do not forget to carry a sunscreen lotion because you are going to be mostly outdoors before the sunset. It is highly recommended to pack it for the holiday. Enjoying a day out at the beach can turn out to be harsh for your skin. In order to protect it from the sun rays, it's recommended to pack a sunscreen lotion before heading out.
Goa guide
To keep a checklist for the Goa trip, it's important to buy a city guide. Whether you want to enjoy some leisure activities or explore Goa's food joints, a guide comes in handy for every purpose.
Comfortable footwear
Traveling in and around Goa becomes much easier if you're wearing comfortable footwear. Instead of shoes and heels, switch to waterproof footwear to make your life easy.
First Aid Box
In case of any emergencies, you should always carry a first aid box. From hangover pills to headache medicines, it's safe to carry medical aid when you're traveling.
Fanny Pack
Ditch those usual handbags and totes and switch to fanny packs for a comfortable journey. Even when you're out exploring the city, these bags are more convenient and also come in handy.
And in case you have been prey to the cancellation of Goa plans earlier or let's say that it can happen to you still? Without haste, book a Myles self-drive car and get going!