A drive in the rain- Myles story unleashed
---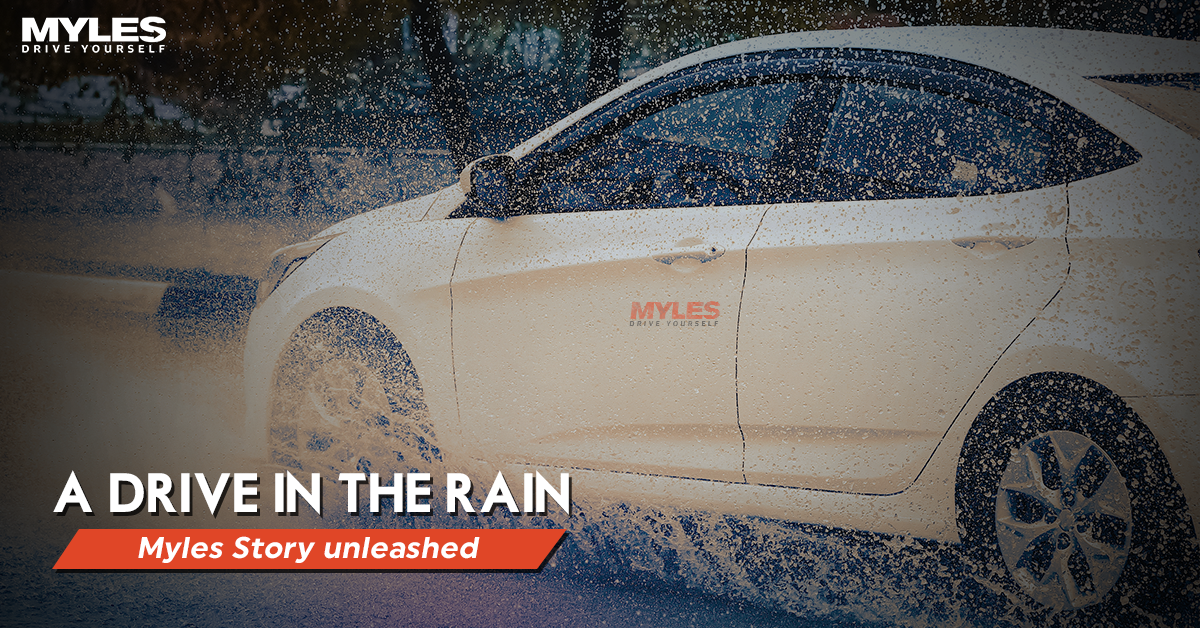 I don't think that I have ever been fascinated by the rains until a few days back my friend offered me to accompany him on a short trip to Lonavala. The plan was to rent a self-drive car and to get down to the beautiful hill station. He told how the plan included catching up with a few old friends and also enjoying the mesmerizing weather. Honestly, I was ok with travelling but I have never been a fan of the monsoon weather! Anyways, Pranav finally booked a Nexa Baleno with Myles cars and we were all set for the ride.
We started from Pune and followed Pune-Mumbai highway to the point which tells you to take a left for Lonavala. After a few kilometres of the drive, we reached on top of hills which were looking beautiful from Pune-Mumbai highway. These hills of Lonavala were quite different with hundreds of marks of waterfalls, which were inactive during winters. Soon after we hit a picnic spot called Tiger-Point, which was a typical point which is marketed very well in most of the tourist destinations.
We also thought of parking and see what's there. Various groups were sitting around the other side of this parking lot. As we moved towards these groups, we realized that other side of this hill had a huge valley full of different elevations making beautiful formations. This was one of the views from Tiger-point around these hills in Lonavala. Although I am not sure if this part is also considered in Lonavala or not. These views were breathtaking and I had never seen something like this. Or maybe it was the rain that added on to nature's ecstasy.
It seems that during Monsoons, the view from Tiger's point is phenomenal with a lot of waterfalls. During monsoons, tourists prefer to sit around these waterfalls instead of the Bushy dam which comes on the way to Tiger point from Lonavala Town. The place around Bushy dam didn't seem that exciting so we skipped stopping there. One needs to park the car on road-side and need to walks for few minutes to hit Bushy Dam.
After spending some time around these hills, we planned to drive towards Ambey Valley, which is 20 kilometres away from Tiger Point. When we asked folks at Tiger Point, they described Ambey Valley as a place where you can find big houses and villas of all Bollywood actors and big personalities of India. Since we had some time in hand, we thought of driving till Sahara City in Ambey Valley. I felt completely lost in the mesmerizing surroundings and the beautiful weather just added to the perks.
The Journey of our day didn't end here. After a quick drive to Ambey Valley, we moved back to Lonavala Town. I was hoping the car to never stop and the winds to keep kissing my face and the raindrops settling on my hands to let me feel utterly blessed.  While we reached the destination and met our friends, I was still stuck in the memories of the journey, that brief yet beautiful. Wait, doesn't that mean I love the monsoon season; already? It's something unusual and I can definitely not end the blog without thanking Myles cars for it!