Happy Holi: 5 Ways to Protect your Car from Colour Stains
---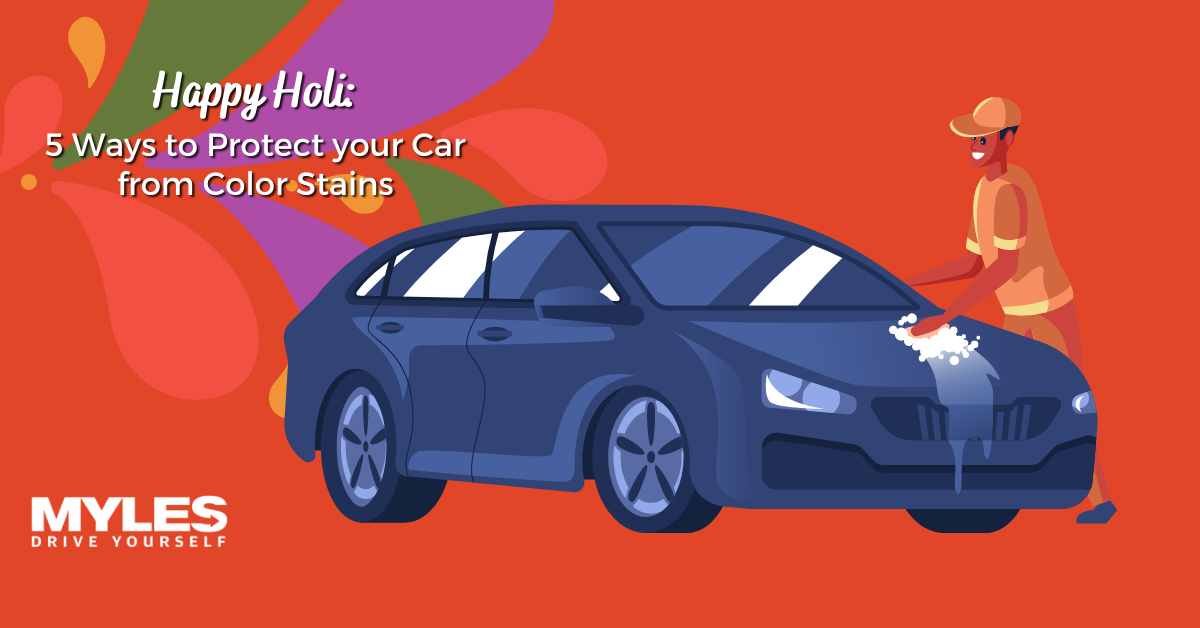 The festival of joy and colours is here and comes with a lot of fun and a gala celebration. While it is a playful event for us, our cars need special protection and care during the festivity. With all the colour and water splashing around us, saving your vehicle from suffering from colour stains and other things is important. 
Here are tips to protect your vehicle from colour stains this Holi.  
 The Basic Protection
Starters begin with taking basic and needful protection to keep Holi colour stains at bay. If you have a garage or basement parking area, keeping your vehicle there and covered is better. Use a cab for travelling on Holi to keep your car safe from colour stains. Even if you are taking it out, make sure to keep windows close to protect the interior, which can be hard to clean.
Protect the Interiors
As we said, not only the exteriors, interior need protection too and cleaning the upholstery is a difficult and expensive job. If you are taking out your car on Holi, get ready to see family, kids, and friends entering your car with soiled hands and clothes and leaving stains. You might stain the dashboard or steering wheel too. To avoid such incidents, take some easy precautions, such as covering parts of the seat, steering wheel, doorknobs, headrests, controls, and backrests with plastic covers or cling wraps. You can also use bedsheets, old curtains or old cloth to protect the interior from colour stains.
Car Wax & Polish to Go
Car Wax and Polish is the thing you need to invest in to keep your car always in good condition, whether or not Holi season. Car Wax and Polish works as an additional layering on the exterior of your vehicle and protects the paint. So make sure to protect your car with this extra coating, and protect it all the time from colours, harsh sunlight, and other environmental effects.
Teflon Coating & Washing
Teflon Coating is the paint protection coating, which is better and expensive and worth it in the long run. The layer consists of synthetic fluoropolymer material that forms a clear coat over the car's pain for ultimate protection. It protects the vehicle paint from Holi colour stains, debris, and corrosion and prevents paint dullness from sun exposure.  
A Good Car Insurance is a Must
Last but an essential precautionary measure every vehicle owner should get is good car/vehicle insurance. Good car insurance will save you a lot of money on repair and damage and make your car look new. Nothing can beat the effective way of protecting your vehicle and enjoying each day without worrying about financial losses. If you get Myles Subscription, your insurance charges will be covered under the monthly subscription fee.
Well with these tips we can now wish you a happy journey and a Happy Holi.
To book a car subscription, visit: http://www.mylescars.com

To know more, call: 0888 222 2222 or write: help@mylescars.com.
Tags:
Budget self-drive
,
Car Care Tips
,
Car Rental
,
Festival of Colours
,
Happy Holi
,
Holi 2022
,
Holi Care
,
myles car
,
Myles Zero
,
mylescars
,
rent a car
,
travel tips