Happy New Year: Welcome New Year with these Calming Road Trips
---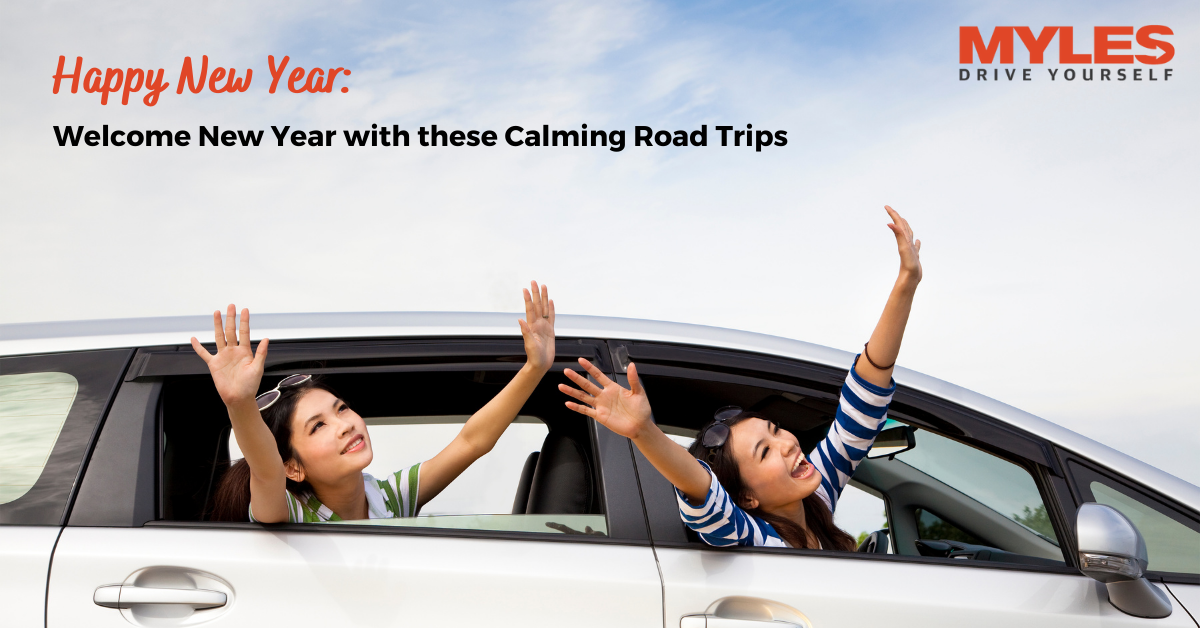 India is the land of many stunning locations and fun places. With New Year around the corner and many holidays in our hands, it makes it an ideal time for an exotic getaway. So why spend New Year's Eve dancing, drinking, and partying, when it can be celebrated on a beach or amidst mountains.
Welcome New Year in a different style by planning calming road trips to these beautiful places across India with Myles self-drive.
Chandigarh to McLeod Ganj
A long self-drive with your bae to mountains is nothing but magical. Get ready to experience one this New Year when you set the voyage to McLeod Ganj. The place is located a couple of miles north of the Dharamshala-the residence of the 14th Dalai Lama. The place is nothing less than heaven, surrounded by mesmerising mountains, stunning views, and a spiritual vibe.
Travel Time: It takes around 5 hours to reach McLeod Ganj from Chandigarh, covering a distance of 240 km. It is an ideal time to visit this gorgeous winter wonderland.
Delhi to Rishikesh
The Delhi to Rishikesh road trip is exactly what you need this New Year. Welcome 2022 with all adventure and serenity as you travel to the land of spirituality, yoga, and river rafting. Rugged terrains, tricky passageways, and River Ganges flowing beside make the whole experience surreal.
Travel Time: Rishikesh is 232 km away, and you'll reach there in approx. 5 hours. You can explore Rishikesh throughout the year, experiencing the best every time.
Jaipur to Ranthambore
The road will take you into the wilderness; Jaipur to Ranthambore route is filled with adventure, beautiful views of the quaint village and mustard fields. One of India's most famous road trips and an ideal New Year week getaway. The roads are in decent condition, the weather is pleasant, and the journey is filled with thrilling experiences.
Travel Time: Ranthambore is just 158 km away from Jaipur, and you'll reach there in approx. 3 hours. This beautiful place is open to visit from October to June and enjoy the mesmerising view of wildlife during the jungle safari.
Mumbai to Goa
Get ready to get the 'Dil Chahta Hai' feels with a surreal road trip from Mumbai to Goa. The Mumbai to Goa route is nothing but a perfect reel road trip. The picturesque view, scenic beauty and serenity make it a smoother and adventurous travel experience. Book a self-drive car rental in Mumbai to Goa, enjoying the scenic beauty of the Western Ghats.
Travel Time: Goa is approx. 593km away from Mumbai takes around 9-10 hours to reach. December, January, and February are ideal times to visit here, crediting to Christmas, New Year, and Goa Carnival celebrations.
Chennai to Pondicherry
The East Coast Road is a beautiful route that offers a majestic road trip experience while enjoying the stunning sunset view. Chennai to Pondicherry journey is one of its kind of experience, and you should go through it. The magnificent view of the Souther India beaches takes us to the exotic town of Pondicherry.
Travel Time: Chennai and Pondicherry is just 158 km away, which means you will reach this magical place in around 3-4 hours. Hire a budgeted self-drive car rental in Chennai and get ready to explore the magnificent French colonies, cafes, and much more.
Kolkata to Digha
Get ready to know everything about another marvellous road trip in India, and take one as you welcome 2022. The road trip takes you through green patches, stunning landscapes, and pleasant weather. Be ready to get the right amount of sun, sea, and sand.
Travel Time: It takes around 4 hours to reach Digha. It is just 184 km from Kolkata. October to February is the best time to visit Digha and experience everything beautiful.
Gangtok to Lake Tsomgo
Gangtok is the land of plenty of gorgeous attractions and beautiful experiences to offer. One should not miss the chance to travel to Gangtok and take a thrilling road trip to Lake Tsomgo and Nathu-La Pass. Book a self-drive car rental and go on a magical and adventurous trip this New Year.
Travel Time: The distance can be covered in just 2 hours, covering the distance of 53.5 km and enjoying tea, coffee, Tibetan noodle soup, and much more throughout the journey.
New Year is supposed to start fresh, and nothing is better than a relaxing and calming getaway to your favourite place with your loved ones.
To book your self-drive car for an upcoming road trip or to explore your city, visit https://www.mylescars.com/.
Tags:
book self drive cars in mumbai
,
Budget self-drive
,
Car Rental
,
car rental in bangalore
,
car rental in india
,
covid-19
,
happy new year
,
Happy New Year 2022
,
highway
,
Myles
,
mylescars
,
New Year Trip
,
road trip
,
roadtrip
,
self drive cars
,
travel tips
,
travelling