Happy Raksha Bandhan: Give your Sister a Gift of Safety and Reliability with a Car Subscription
---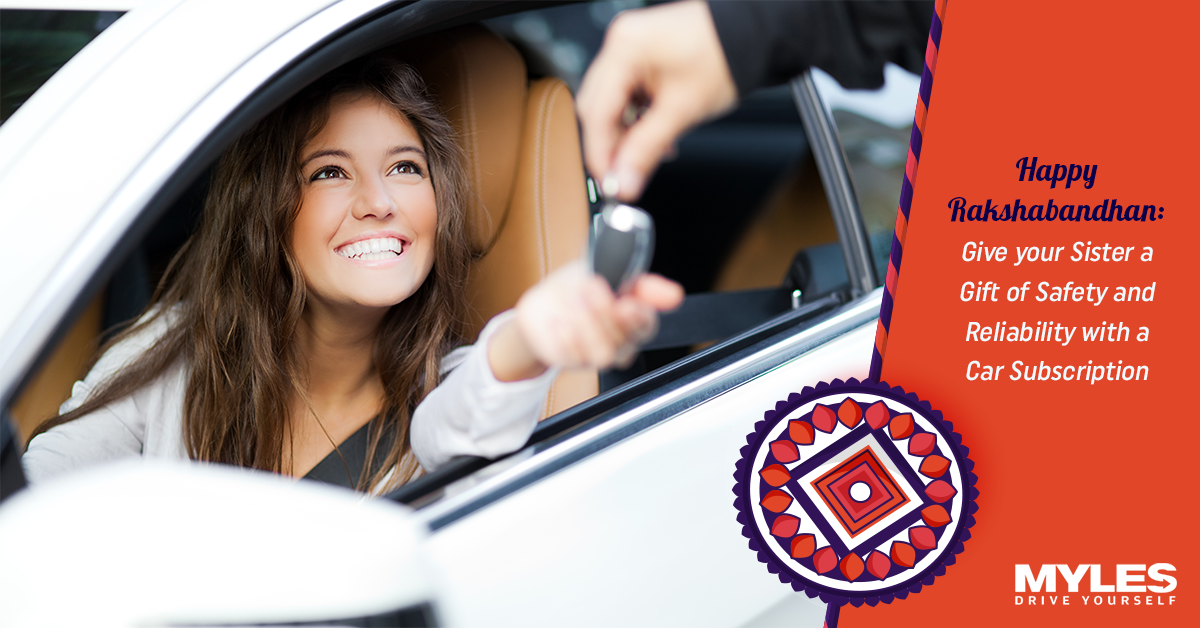 Raksha Bandhan is a most cherished festival that celebrates the beautiful bond of a brother and sister relationship. It is not merely about a sister tying a knot of love on his brother's wrist. Raksha Bandhan celebrates the promises of a brother to protect her sister. It is a bond of protection, security, reliability, love, and care.
The festival for Raksha Bandhan is almost here, and we bet you want to gift your sister the best gift.
Have you ever thought of any?
If not. Then we have a great and unusual gifting idea for your sister that will keep her safe even when you're not around. A gift of safe, reliable, and risk-free travelling. A gift of owning a premium car with a Car Subscription.
Yes, with a car subscription, give your sister a gift she always remembers, cherishes, and reminds her of you whenever she travels or commutes with ease and safety.
What is a Car Subscription?
A car subscription is a smart and practical alternative to car ownership. It comes with easy monthly payments. Unlike car buying, you don't have to make down payments, need a loan, go for EMIs with interest, and invest extra money in maintenance and insurance. The monthly subscription fee covers it all, even maintenance, insurance, and roadside assistance. The subscription company also takes your vehicle for service from your doorsteps and drop it back. At last, as a subscribed car owner, you don't need to worry about the car's depreciating value.
Gift your Sister:
A Safe and Risk-Free Travel  
Owning a car is always a better option for travelling and the daily commute, especially during the odd hours and in the current pandemic scenario. Why waste your hard earn money investing in a depreciating asset? Instead, invest that money in your sister's education and secure a future. With a car subscription, you save your money, invest it better, and give a gift of safety and reliability.
A stress-free Sundays, Mondays, and so on
Owning a car through a subscription has plenty of benefits. Your sister already doing hard work at the office/college. Why trouble her on Sundays and even Mondays? With a car subscription, make her every day less hectic and stress-free. She owns a car and drives it to her workplace, trust us, you are saving her from Monday cab hunting hassle. On Sundays, she doesn't need to take her car for routine service. The Subscription company will do it for her.
An Asset-Light Way of Living
It is essential to make your sister learn how to invest better and have an asset-light way of living. Car Subscription is the first step towards it. It doesn't involve down payments and loans. It is like your Netflix Subscription; whenever you want to use it, subscribe and watch. Also, she can change it anytime she wants. A car subscription gives you the flexibility to return, upgrade, and extend the car tenure whenever you feel.
Luxurious and Better-Equipped Vehicle
Buying and maintaining an expensive car is not easy. Once it is out on the road, it comes with heavy bills. But you can always get an expensive and better-equipped car through a subscription. Get the latest and top model car deal on a subscription at a budgeted cost and enjoy every drive. Choose your sister's favourite car at an easy subscription plan with Myles, and surprise her this Raksha Bandhan.
A Feeling that you are Around
We know that how much you care and love your sister. No matter what, your concern is her safety and security. Give that feeling of protection to her even when you are not around with Car Subscription. With a car subscription comes plenty of benefits and facilities, one of which is 24/7 digital assistance. The digital assistance would always be with her from the analogue process to help you with roadside assistance. Customer Service by Myles is very satisfactory.
A car subscription is all about benefits, and owning a vehicle of your choice is the best feeling. Pay the rental price and gift your sister a clean, sanitized, safe, and dream car to drive with Myles.
Happy Driving!
Happy Raksha Bandhan!
Tags:
2021
,
6 months car subscription
,
Car Hire in Delhi NCR
,
Car Subscription
,
Car Subscription in India
,
Myles
,
Myles Zero
,
Rakhi
,
Rakshabandhan
,
Sister and Brother
,
Subscribed Car