World Photography Day: Go for an Amazing Photo Walk Across the City with Myles Self-Drive
---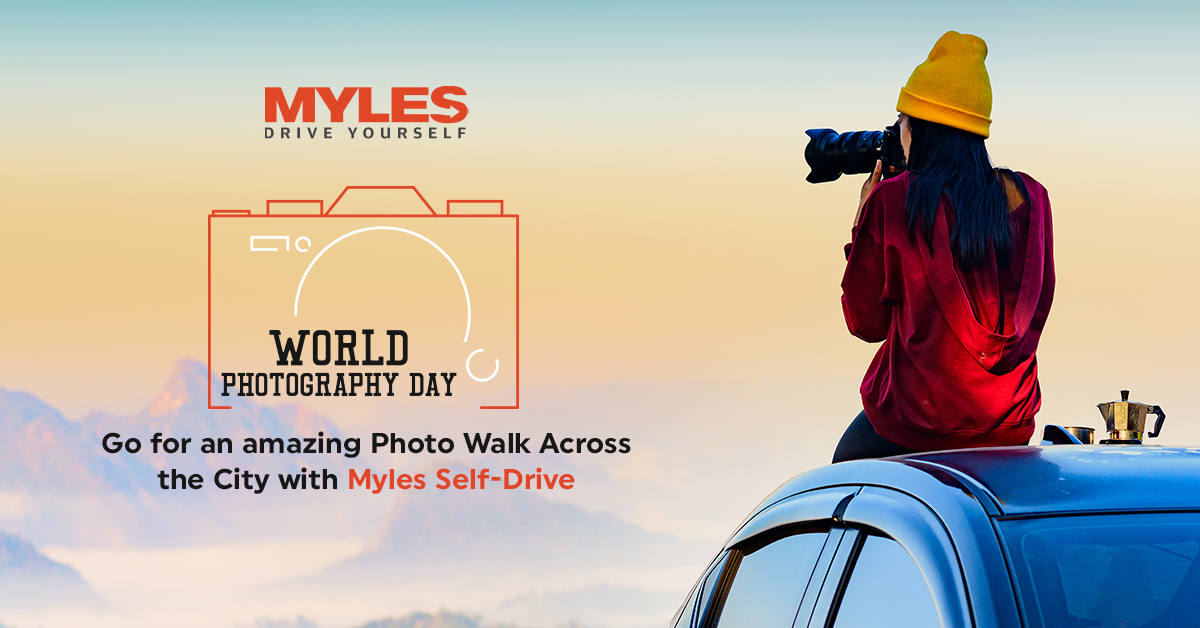 "Photography is an art of teleporting the past into the future."- Mehmet Murat ildan
Photographs are a glimpse of memories, and today they hold a special place in our lives. We click for our passion, we capture to upload on social media, and some do it to earn their livelihood.
On the occasion of World Photography Day, go on a photo walk and get picture-perfect shots to add to your photo gallery. Add a twist with Myles self-drive car, and instead of fleeing with the group, drive across the city and get the best frames.
Here are the off-beat places in your city that offer magnificent sites to behold, and you can find beauty in chaos.
Click Delhi NCR Uniquely
Delhi is an incredible land of vivid culture, colourful ethnicity, diverse cuisine, and stunning landscape. Capture the glorifying land of power, modernity, and rich heritage on World Photography Day. Click the national capital uniquely while exploring the off-beat places across the city, photo walking with the help of Myles Self-Drive.
Experience Regality and Sufism- Book a self-drive car in Delhi NCR and commence your journey. Drive to Mehrauli, known as the earliest settlement in Delhi. It is a historical treasure and is the land of many hidden boauli's. To add the dose of Sufism, the Ashiq Allah Dargah and Bakhtiyar kaki adds it's magic.
Lights and Glitters- Drive yourself to the lanes of old Delhi and try low-light photography skills at the Bhagirath Palace's Light Market.
Tibet in India- From quaint monasteries to mouthwatering Tibetan and Nepali delicacies, it is well-known nowadays. The place offers a colourful sight to behold through your DSLR.
The Ridge is the ideal place to go for a Photowalk, and in Delhi, places like Kamla Nehru Ridge are a great place to shoot a natural backdrop. The other is the central ridge that takes you into the wilderness amidst the metro city.
Capture the Serenity of Chandigarh
The serene town of Chandigarh is known as the dream city of the country's first Prime Minister, Pt. Jawahar Lal Nehru. India's first planned city is famous for its cleanliness, safety, and nature galore. The city serves as the joint capital of two flourished states of Punjab and Haryana. Book a car rental in Chandigarh and capture it through your camera on this Photography Day.
Filled with silence, fill with galore- The Garden of Silence is an ideal location to spend a day and click around, capturing the Buddha, sunset, Sukhana Lake, and lights if you stay late in the evening.
Mountains, Forest, and Tranquillity- Kausali is another beautiful place around Chandigarh. This hilly cantonment is encircled with woody pine forests, herbs, and cedar trees, making it a perfect destination for nature photographers.
The Gedi route is the bustling hub of this beautiful city and gives a perfect frame for street photography. Drive around the Gedi route on your Myles self-drive car and capture stunning shots.
Picture Perfect Mumbai
Lights, Camera, and Action- Mumbai- the dreamland is known for the most significant cinematic industry named Bollywood. The city of sky touching buildings, dreamers, biggest slums, largest tropical forest, ornate religious sculptures, and monuments. Mumbai has everything to get a picture-perfect frame. So, this photography day, hires a car rental in Mumbai and drive around the city to click some magnificent pictures of the city's soul.
Buzzing Street, fascinating architecture, and camera-ready, you are the perfect element for the photography day should look like. Crawford Market is an unusual place to visit and find hundreds of opportunities to capture people, street, and architectural beauty.
Ancient Dip, why not? Drive to Banganga to find serenity and a perfect Photography frame that takes you back into ancient times.
Flowers and Colors is a frame to behold. Wake up early in the morning and drive to Dadar Flower Market, where you find various and hundreds of colourful flora.
Celebrate Photography Day in Pune
Fondly known as the Oxford of the East, Pune is a thriving and vibrant metropolitan city. Pune is widely regarded as the top educational, spiritual and automobile and manufacturing hub in India. The beautiful city offers a natural living lifestyle with a safe environment. Book a budgeted car rental in Pune and drive across the city and enjoy the photo walk.
Capture the real essence of India through street market photography. Drive to Mandai- a place situated in the city's heart and offer you the raw yet beautiful sights to capture.
The Bazar is another place to photograph the real picture of the city. Juna Bazar of Pune, also known as the Old Market, is famous for photo walks.
Into the history, Shaniwarvada is an impressive spot to have some great pictures for your photo gallery. The incredible architecture, royal fortress, and large garden.
Nothing is better than a weekend getaway and capturing pictures for your gallery. Travel to Lavasa this World Photography Day and click the incredible photos of European style lamp-posts, colourful buildings, and pristine nature.
Snapshot of the Garden City of Bangalore
The Silicon Valley of India, Bangalore, is an IT hub, capital of Karnataka state, and is one of the developed and progressive cities in the country. Bangalore houses some of the world's foremost IT corporations and other Indian tech companies, and many startups. This World Photography Day, book a self-drive car in Bangalore and artistically capture the sky-touching building, traffic, gardens, and monuments.
Bangalore traffic is something you can't nudge, so why not capture it beautifully in a frame and celebrate time, rush, technology, and this city.
The City of Garden, Bangalore house a lot of parks, gardens, and other natural reserves. Capture nature in your camera as you visit Butterfly Park, Botanical Garden, Flower Market, and more.
Straight out from the Disney pictures, the Glass House in Lal Bagh is inspired by the Crystal Palace in London. The floral design and displays, lights and sunset, looks magnificent.
Bangalore Place, built over a century ago and looks stunning during sunset, let's go back to history. The palace is reminiscent of English and French castles as it is built in the Tudor-style of architecture.
Portray the Regal Beauty of Hyderabad
The land of Nizams and Pearls, Hyderabad is steeped in history embellished with evocative ancient quarters, spice shops, impressive architecture, magnificent fort, and traditional food shops. Explore the lanes of this beautiful city and snapshot it most magnificently.
Start your photo walk with the famous Golconda Fort- the oldest landmark of the city. Kings of different dynasties ruled the place, and the last was Qutb Shahi Dynasty. The other stop will be Seven Tombs, Chowmahalla Palace and Nizam's Museum.
The place is an identity of Hyderabad. Charminar is the most visited place and is a whole Hyderabadi Vibe. It is the finest place to capture, especially during the sunset and sunrise.
Nestled in the city's heart, Hussain Sagar Lake is an ideal place to spend a blissful evening. There is colourful lighting that sets the mood and gives you the best pictures.
If you're going for a photo walk in Hyderabad, you can't miss its street food lane and resist taking pictures of mouthwatering Hyderabadi delicacies.
These cities are incredible, and these few off-beat places for photography are what your need to capture for your gallery. Book a self-drive car and explore the city for that perfect shot.
Happy Driving!
To book your self-drive car for an upcoming road trip or to explore your city, visit https://www.mylescars.com/.
Tags:
book self drive cars in mumbai
,
budget car rental
,
Budget self-drive
,
car hire in Bangalore
,
car rental services hyderabad
,
India travel
,
Myles
,
Myles Cars
,
myles self drive car rentals
,
Photographers
,
Photography
,
World Photography Day