Happy Independence Day: Get Freedom from Liabilities of Car Buying with Subscription
---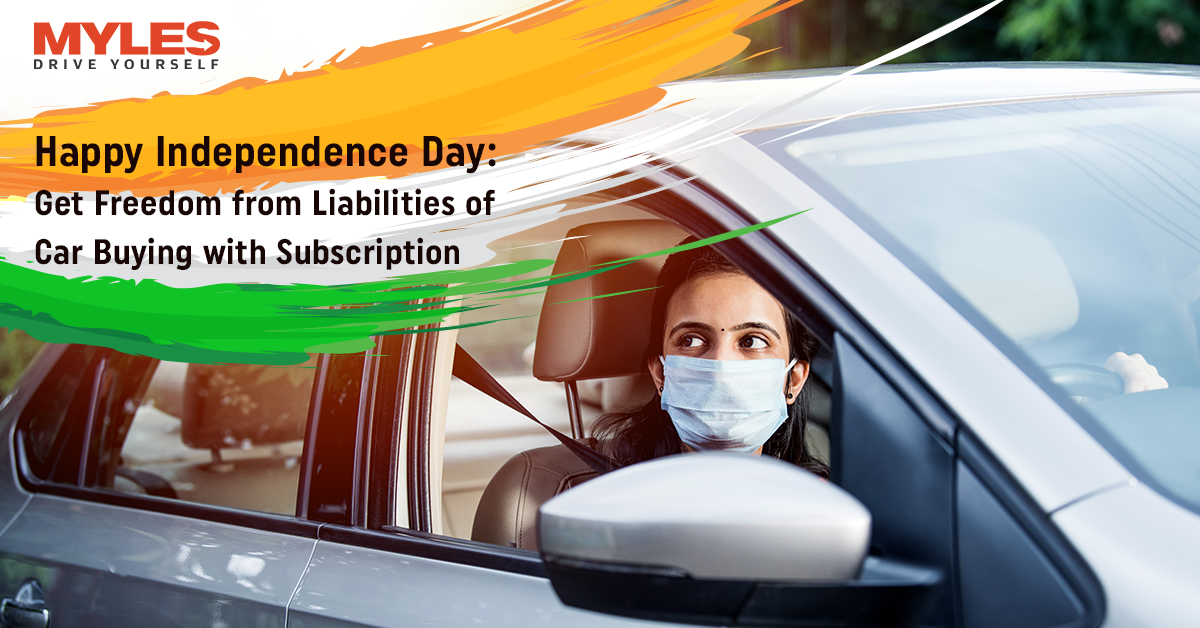 India got freedom 74 years ago from the British Raj. But many of us are still bound under the liability of car buying. We Indians tend to count cars and other vehicles as an asset while calculating our net worth. Owning a car is more of a liability than an asset. Once the vehicle is out from the showroom, its value starts to depreciate, and don't forget about the running, maintenance, and insurance cost.
So, every time you use your car, it contributes to making your car value go down.
Owning a car is not easy, especially in this current unpredictable scenario. So, what if we tell you that there is an easy way to own a vehicle without carrying the liabilities vehicle ownership comes with.
Yes, this Independence Day, get freedom from liabilities of car buying with the subscription.
What is a Car Subscription?
A car subscription is a trending alternative to car buying. It is ownership that comes with flexibility, zero commitment, no down payment, and no loan. You need to choose your favourite model online, select a tenure, and make the payment in a car subscription. Car Subscription Companies offer tenure starting from 6 months to 60 months. Once your subscription is over, you can upgrade, extend, return, or buy the car.
Get Freedom from Liabilities with Subscription
Ownership- Which is Commitment Free
When you purchase a car, you invest so much into that sticking to it for years has become an unsaid practice for almost every car owner. Car Subscription comes with flexible ownership, it means, the owner can keep the vehicle with them for both longer or shorter period as per their requirement. Purchasing a car isn't cheap in India, and the depreciating value, the decline in performance over the years, spending on maintenance, etc., add to your finances. When you subscribe to a car, you only enjoy the perks of vehicle ownership.
Flexibility- Change Whenever You Want
It is hard to believe for many when we say that you can change your car anytime while sitting anywhere in the country. With a car subscription, you can easily change your vehicle in six months, one year, or more. Car Subscription comes with flexibility. This car buying mode is ideal for ex-pats. If someone is working in Delhi, your company transferred you to Bangalore for an 18 months project. With a car subscription, you get your vehicle in another city as soon as you step in.
Zero Down Payment- Why to Burden your Pocket
The facility of zero down payment has converted many car buying customers towards subscriptions. When it comes to new or used car buying, you need to pay the on-road price to bring it home. If a customer doesn't have the full amount, they can take the loan and repay it in an easy monthly instalment. They need to pay a down payment, and the rest of the amount gets funded by the bank or finance company as a loan. In a car subscription, get rid of all financial liability and hassle. You need to pay a monthly fee, and it covers it all.
Monthly Fee- It is an all-inclusive Deal
Remember those days when you have to take your car for routine service, and the whole Sunday get ruined at the service station. At times, car maintenance takes more than a day. A day without can be troublesome. But with a car subscription, you'll get zero trouble, easy travel, and cost-efficient service. Your monthly fee includes maintenance costs, insurance fees, and roadside assistance. Moreover, the subscription agency takes your car to the service station and drops it back once it is done.
Now spend that perfect Sunday with your family.
Drive Trouble-Free- No Worry of Depreciating Value
A worry-free alternative to owning a car, Myles Car Subscription is the trouble-free way of driving your vehicle. With a car subscription, get rid of the stress of the depreciating value of your car. You need to think about all those enjoyable trips with friends or relaxing getaways with family and leave everything with Myles. Car Subscription is undoubtedly offering a trouble-free drive, and it is safe, convenient, and cost-effective.
This Independence Day, bring home your subscribed dream car and get the freedom of car buying liabilities.
It is easy to subscribe to a Myles Car. Either go to the website or download the Myles app through Play Store or App Store. Select your city, car, share documents, and complete the payment to bring your car home.
Happy Subscribing! Happy Driving!
Tags:
6 months car subscription
,
Benefits of Car Subscription
,
car buying
,
car ownership
,
Car Subscription
,
Car Subscription in Bangalore
,
Car Subscription in Delhi NCR
,
Car Subscription in India
,
Car Subscription in Mumbai
,
Happy Independence Day 2021
,
Independence Day
,
India travel
,
Myles
,
Myles Cars
,
Myles Zero