Happy Independence Day: Celebrate the Freedom of Hitting Road for that much-awaited Short-Trip
---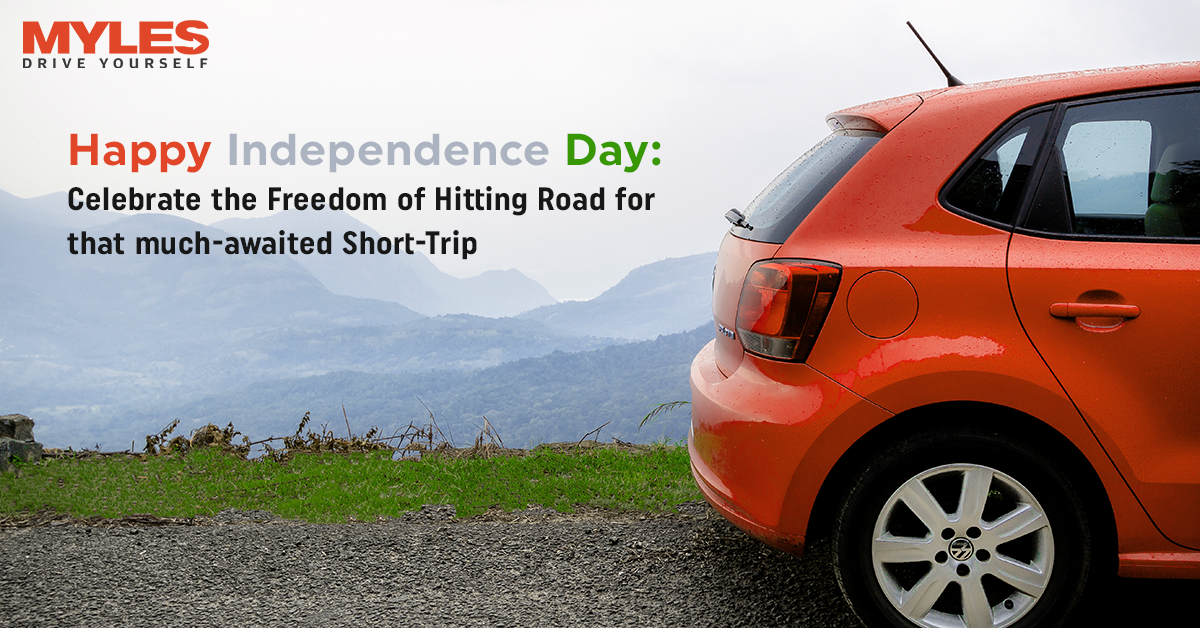 This year India is going to celebrate its 74th Independence Day. It can be a fantastic opportunity to take a walk down memory lane into the glorious and regal history behind the freedom of our country. India is the land of brave warriors, rich heritage, colourful culture, and vibrant tradition. Celebrate the freedom by visiting some of the iconic and historical places on a Myles self-drive car in the country that make you feel the pride of being an Indian.
Amritsar, Punjab
The land of the holiest shrine Golden Temple, Amritsar, is a bustling town of frenetic old-city bazaars, temples, and traditional dhabas, making it one of the most visited cities in the country. The city of serenity, spirituality and Gurus, Amritsar is also the land of martyrs, soldiers, and warriors. The Jaliawala Bagh and Wagah Border are sure to pump up patriotism in you.
Explore Amritsar
Behold the serene sight of Golden Temple and take blessings. Relish the flavoursome Langaar Prasad, do Seva, and take a holy dip in Holy Sarovar.
Visit Jallianwala Bagh, known as the Amritsar massacre on 13th April 1919. It is a public garden that memorializes the people British soldiers killed during a peaceful protest for the Indian Independence Movement. You can still see bullet holes on the walls, witness the memorial site's Martyrs' Gallery and more.
Witness the famous flag-lowering ceremony at the Wagah-Atari border, where both the BSF and Pakistan Rangers lower the flag of their respective countries.
Also, enjoy Punjabi food at the famous restaurants near Golden Temple, and enjoy Amritsari Kulcha, Kuchle Cholle, Cholle Bhature, Lassi, Jalebi, Butter Chicken, and much more.
Delhi, Delhi
The powerhouse capital city of the country, Delhi, is a proud land of emperors and glorious history. It is one of the perfect places to spend your Independence Day weekend. Book a self-drive car in Delhi, explore the town, and learn more about historical places, pre-independence ear, and struggle. You can also hire a car rental in Chandigarh or Jaipur to travel the city of multiple cultures, traditions, fast-paced life, and modernity.
Explore Delhi
Visit Red Fort- a great monument that has been an integral part of the freedom struggle. Even today, the Prime Minister of the country delivers an Independence Day Speech every year.
Later attend the amazing Light and Sound Show at the Red Fort that takes you back in history.
You can visit Raj Ghat to pay homage to Mahatma Gandhi- Father of the Nation.
Gandhi Smriti is the place where Gandhi Ji was shot dead. Here you will find their personal belongings preserved carefully and are on display for the visitors.
Teen Murti Bhavan formerly known as Flagstaff House used as the house for Prime Minister after Independence. But it was converted into a museum, a library and a planetarium after Nehru's death in 1964.
An evening stroll at India Gate while looking at Amar Jawan Jyoti and remember the martyrs who sacrifice their lives for us, for the country.
You can book a self-drive in Delhi for Delhi Darshan, exploring all the city's historical and iconic monuments and places.
Jaisalmer, Rajasthan
Travel to the desert city of Rajasthan this Independence Day and learn more about the regal history of our country. Jaisalmer is known for its exotic camel-train trade route, desert mystery, royal palaces, Bandhani or Bandhej textile-symbolise cultural heritage, and breathtaking fort- a massive sandcastle rising from the sandy plains and looks like a mirage. The city is also known for its iconic Laungewala and Tano border posts that divides India from Pakistan. Book a budgeted car rental in Jaipur and travel here to feel patriotism.
Explore Jaisalmer
Fill yourself with pride this Independence Day and visit Jaisalmer Border- the Laungewala and Tanot Border Posts.
Explore the major attractions around the border area- Jaisalmer War Museum and Indira Gandhi Canal, and here you can also meet Indian Soldiers.
When in the city, also explore the historical side and visit places such as Jaisalmer Fort, Gadisar Lake, Kothari's Patwa Haveli, Salam Singh Ki Haveli, Vyas Chhatri, and more.
Relish the authentic Rajasthani delicacies like Mutton Saag, Pyaaz Kachori, Dal Baati Choorma, Makhania Lassi, etc., to name a few.
Ahmedabad, Gujarat
Gujarat is the first UNESCO Urban World Heritage Site. It is a laid back tourist trail where places like Daman Diu, Ahmedabad, and Surat draws attention due to their cultural and architectural marvel. This Independence Day, visit the land of Mahatma Gandhi- Ahmedabad is the city of Sabarmati Ashram- one of the hubs of the great Indian Freedom Movement and Swadesi Movement.
Explore Ahmedabad
Visit Sabarmati Ashram, which is nestled on the banks of River Sabarmati and was called Satyagraha Ashram.
The place connects you with the days when our freedom fighters fought for the country and finally made Indian independent.
Hire a cheap car rental in Ahmedabad and explore the town by visiting Adalaj Stepwell, Kankaria Lake, Jama Masjid, the Calico Museum of Textiles, etc.
Visit the local market to taste Gujrati delicacies and shop Bandhanis, bangles, embroidered quilts, handlooms, handicrafts, and more.
For an extended Independence Day holiday, visit Dandi, Surat, and Porbandar if you're here.
Jhansi, Uttar Pradesh
Most of us prefer either beaches or mountains but on this Independence Day, visit the land that has witnessed the first war of Independence in 1857. Jhansi is the land of the great warrior and queen Rani Laxmibai. The town has historical importance, and you indeed feel product when you visit the iconic places here. Book a self-drive car in Delhi NCR and travel to Jhansi.
Explore Jhansi
Visit the famous Jhansi Fort, popularly known as Rani Jhansi Ka Quila, and it is four centuries old.
Rani Mahal is the queen's Rani Lakshmi Bai's residence in the 18th century and was majorly destroyed during the Indian Rebellion.
Learn more about Indian history and culture by paying a visit to Jhansi Museum.
Other places to visit are Panchatantra Park, Cenotaph of Raja Gangadhar Rao, Orchha Fort Complex, St. Jude's Shrine, Barua Sagar, Mahalakshmi Temple, Rai Praveen Mahal, Wildlife Sanctuary, and more.
Other Places
You can visit Gangtok and then Nathu La Pass, which is the ancient Silk Route to carry trade between India and China until 1962. Today it serves as the Indo-China border and is a famous tourist monument.
Celebrate Independence Day with much zeal and patriotic feeling at Gateway of India in Mumbai. Hire a car rental in Mumbai and move around the city witnessing events like air shows, parades, musical concerts, and more.
The city with a colonial charm, Kolkata is another ideal place to visit on Independence Day to celebrate various colours of freedom. The city is the land of Mangal Pandey, where he raised his voice from Barrackpore and started the first rebel for freedom.
The city is known for the confluence of River Ganga, Yamuna, and Sarasvati, also known as Triveni Sangam. Allahabad, or Praygraj, is known for Chandra Shekhar Azad Azad Park, as this great freedom fighter was shot himself using the last bullet instead of getting caught by the British soldiers.
Travel to these historical places in the country that make you feel proud of being an Indian. Book a self-drive car and enjoy your Independence Day vacation with Myles Cars.
Happy Driving!
Happy Travelling!
Tags:
budget car rental
,
Budget self-drive
,
car rental in Chandigarh
,
car rental in jaipur
,
covid-19
,
Delhi
,
Gujarat
,
Independence Day
,
Kolkata
,
Mumbai
,
Myles
,
Myles Cars
,
Myles Self Drive
,
Pandemic
,
rajasthan
,
self-drive in delhi
,
Travel