Holi Celebration In Vrindavan – Gear Up For Fun-filled Holi
---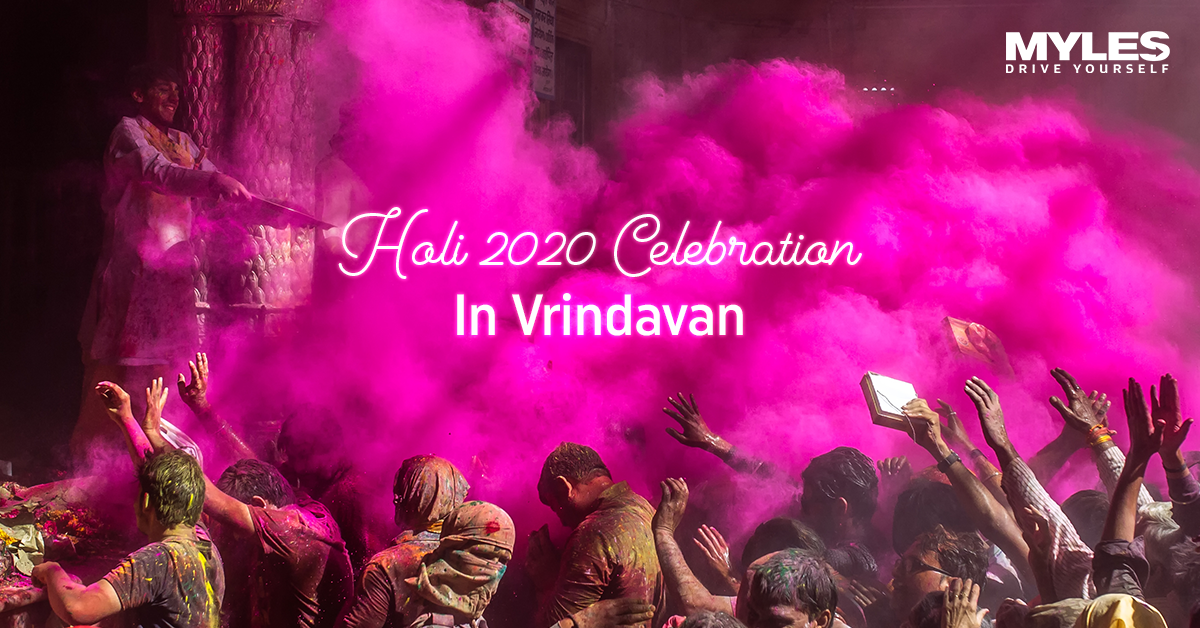 Holi 2020 is almost here! And, people in North India are once again all geared up to celebrate the festival of colours with much enthusiasm and vigour. Why not give this year's celebrations a twist and plan Holi celebration in Vrindavan and Mathura, Uttar Pradesh. The festivity for Holi in Uttar Pradesh will commence on the March. Doesn't that sound like an opportunity to plan a long weekend trip? It sure does, right! Here is an overview to inspire you to experience Vrindavan ki Holi or celebrate Holi in Vrindavan:
–
Holi Celebration in Vrindavan

Vrindavan ki Holi is one of the most popular ones in the country. The revered Banke-Bihari Temple in Vrindavan, Uttar Pradesh is a perfect place to be a part of the Holi festivities. The temple hosts a week-long Holi celebration, which is a must experience at least once. During Holi in Vrindavan, the idol of Lord Krishna (Banke Bihari ji another name) is dressed up in white attire and is made accessible to his devotees to play Holi. Vrindavan ki Holi is played with coloured water and gulal (powdered colour made using organic things viz., flowers, kesar, etc.). The temple priests, also known as Goswamis, sprinkle colours on everyone with buckets, water guns or pichkaris, etc. To make the celebrations even merrier, music (bhajans) is played in the background.
–
Places to Visit in Vrindavan
Once you are done enjoying Holi, you can check out places to visit in Vrindavan:
Keshi Ghat
The second most popular places to visit in Vrindavan after the temples are the ghats and one such ghat is Keshi Ghat. Situated on the banks of Yamuna, Keshi Ghat is a prominent place in Vrindavan, just like Dashashwamedh Ghat in Varanasi. One of the prime attraction at the ghat is the magnificent Madanmohan Temple. A popular legend associated with the ghat suggests that it is the Keshi Ghat acquired a revered pilgrimage status because it is here that Lord Krishna took a bath after he slew demon Keshi.
Hare Rama Hare Krishna Temple
This is a temple by ISKCON in Vrindavan. The Hare Rama Hare Krishna temple is a place ideal for peace seekers. Though you can visit the temple throughout the year, the best time to visit it is during the festival of Janmashtami.
Ranganathaji Temple
Constructed in a unique Dravidian style of architecture, in the year 1851, Ranganathaji temple is dedicated to Lord Vishnu alias Lord Ranganath. The temple has a majestic gopuram and a huge entrance tower, which can be seen from afar. The temple's fine architectural aesthetics are worth witnessing.
What to Eat in Vrindavan
Only pure vegetarian food is served in Vrindavan. Oftentimes the food cooked doesn't even comprise any onion or garlic. Still, the delicacies offered here are quite flavorful and mouth-watering. A standard platter in Vrindavan is incomplete without Aloo-Puri, Pakoras and Lassi. Some things that you must try during your visit in Vrindavan for Holi are Hing ki Kachori, Chana- Bhatura, Pedhe, Laddos, Kachori-Sabzi, Kalakand, Khurchan, Chhole-Poori, Rabri, Jalebi, Kheer, Balushai and many more.
How to Reach Vrindavan
If you enjoy driving, then opt for self drive car rental Delhi or go for car hire Delhi. Else, hire taxi services in Amritsar or try cab booking in Chandigarh.
Delhi to Vrindavan Distance – 3 h 16 min (182.5 km) via Taj Express Highway/Yamuna Expy
Chandigarh to Vrindavan Distance – 6 h 53 min (431.7 km) via NH 44
Amritsar to Vrindavan Distance – 10 h 21 min (636.9 km) via NH 44
To Book a Self Drive Car, Visit: https://bit.ly/3YFzwHc
–
Tags:
book taxi
,
cab booking
,
car hire
,
Car rental in Amritsar
,
car rental in Chandigarh
,
car rental in delhi
,
car rental in india
,
holi 2020
,
Holi 2020 long weekend
,
holi celebrations in Vrindavan 2020
,
Holi in India
,
Holi in Uttar Pradesh
,
India car hire
,
long weekend
,
self drive car rental
,
vrindavan ki holi