Holi Weekend: Get Away with the Holi Madness by Visiting these Places
---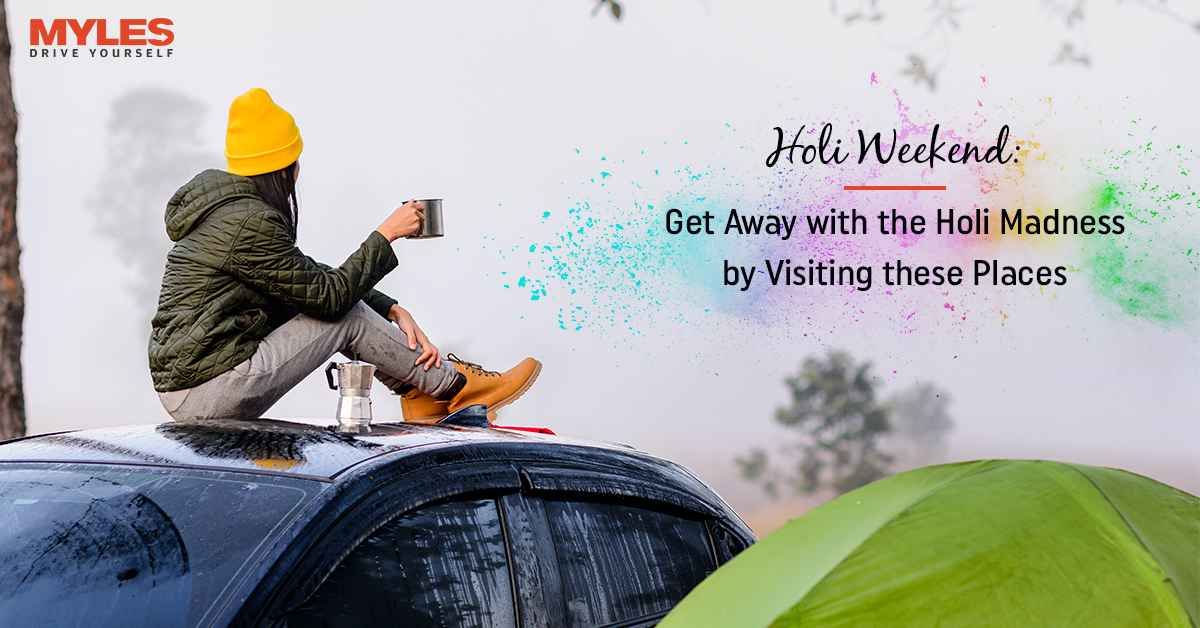 One of the important Indian festivals, Holi, is not everyone's cup of tea. The fiesta of colours is immensely enjoyable for many but can be quite off for those who don't like to get pained, drenched in water or hit by oh-so painful water balloons.
However, this Holi comes with a long weekend and sets a perfect excuse to go for that much-awaited road trip and escape to a scenic place. Travelling is an ideal way to take a break and celebrate the festivities uniquely.
Here we are listing down some exotic places that are quiet, serene, and settled amidst nature to offer a rejuvenating experience.
Kanatal, Uttarakhand
The quaint hill station of Kanatala is located in the beautiful North Indian state of Uttarakhand and is known for its unblemished beauty, adventure activities, and calming surroundings. The place is filled with scenic destinations that make your weekend getaway worthy of every hour.
This refreshing suburb of Mussoorie is on Chamba-Mussoorie road and is not so popular among tourists and travellers. This picturesque town boasts breathtaking scenery and bountiful thrilling activities. If you're someone who is seeking solemn peace, then this your place.
Things to Do: Sightseeing, Rappelling, Jungle Safari, Trekking, Camping, Valley Crossing, and more
Places to Visit: Surkanda Devi Temple, Tehri Dam, Dhanaulti, Chamba, Tehri Lake, Kaudia Forest, Dhanaulti Eco Park and New Tehri
Pulicat, Tamil Nadu
Lake Pulicat is infamous and offers an ample amount of calmness. Pulicat in Tamil Nadu is a deserted place with a small community of local fishermen. The place is serene, heavenly, peaceful and rich in its ecosystem. Pulicat Lagoon is the second largest brackish water body in the country.
Pulicat is a paradise for poets and thinkers; sit by the shore and watch the scenic lake surrounded by lush mangroves. Drive to this place and have a Happy Holi Weekend.
Things to Do: Trekking, Aquatic Sports Activities, boat ride to Buckingham Canal, Bird Watching, Breathtaking Sunrise and Sunsets, and try authentic food with other coastal dishes.
Places to Visit: Dutch Fort, Buckingham Canal, Satish Dhawan Space Center, Old Dutch Cemetery, Nelapattu Bird Sanctuary. Irukkam Island, Fort Geldria, and Sri Chengalamma Temple
Chikhaldara, Maharashtra
This beautiful hill station is the only region in the state of Maharashtra to grow coffee; Chikhaldara is a fantastic retreat place with a comfortable climate. The gorgeous viewpoints of cascading waterfalls and velvety-green hills leave you feeling refreshed.
As you enter the hill station, the aroma of coffee and breathtaking panoramic sight of this exotic place enchants you. Chikhaldara has some interesting Hindu Mythology stories to boast, one of King Kichak, who Bheema killed- the strongest brother amongst the Pandavas. It is also a place where Lord Krishna brought Rukminess. Visit this place to learn more about history and mythology.
Things to Do: Trekking, Boating, Nature Walk, and more
Places to Visit: Bhimkund, Melghat Tiger Reserve, Narnala Fort, Gawilgarh Fort, Muktagiri, Bir Lake, Kalapani Lake, Panchol Point, Amner Fort, Museums, Devi Point, and Gugamal National Park
Shoja, Himachal Pradesh
Go for a romantic getaway in this quaint town of Himachal Pradesh and spend quality time with your partner. Shoja or Soja is an ideal place to spend a leisure evening sipping hot coffee and enjoying picturesque views of snow-capped mountains, rushing streams, and lush green deodar. This romantic hill station is situated in Seraj Valley.
The ideal time to visit Shoja is from March to June and September to November.
Things to Do: Trek to Basheilo Pass, Trek to Serolser Lake, Waterfall Hike, Bird Watching, Nature Photography, Fishing, etc.
Places to Visit: Raghupur Fort, Waterfall Point, Raghupur Fort, Tirthan Valley, and more
McCluskieganj, Jharkhand
The quaint and lesser-known town in Jharkhand, McCluskieganj is a small scenic hamlet and most visited by travellers from Kolkata. The place is known as 'Mini London'/ Little England of India, thanks to specular British-era bungalows and churches. It is an off-beat tiny village and paradise for writers and poets who find it inspiring.
McCluskieganj is an ideal place for Holi Weekend Getaway if you want to escape the madness of the festival. Take the wheel in your hand and drive to this quaint hill town of Jharkhand.
Things to Do: Trekking, Sunrise and Sunset View, Picnic and other relaxation activities
Places to Visit: Duli Village, Dugadugi River, McCluskieganj Forest, Jagriti Vihara, St. John's Cathedral, Dasam Falls, Hudru Falls, Tiger Hills, and Kanke Dam
Auroville, (Universal City)
Auroville is popularly known as 'the City of Dawn', a beautiful town in Tamil Nadu that shares some part with the Union Territory of Pondicherry or Puducherry. Auroville is also called Universal City, an experimental township with an international community dedicated to sustainability, peace, and divine consciousness.
The city is home to people worldwide, where there are no boundaries of caste, creed, colour, and nationality. They work together to build a cash-free universe and non-religious. This beautiful township tucked into the forest surrounded by bliss, peace, and nature. Don't forget to buy natural, biodegradable, and handmade products, organic veggies and fruits, and also indulge in the practice of yoga, meditation, and a vegan diet. 
Things to Do: Yoga and Meditation, Health Spa at Healing Center, Cycling, Café Hopping, Art and Craft, and more
Places to Visit: Matri Mandir, Arka, Youth Center, Peace Table, Auroville Beach, Cinema Paradiso, Botanical Garden, Bodhi Beach, Forests, and fantastic cafes Marc's, Bread & Chocolate, Tanto, Auroville Bakery and Boulangerie, etc.
Manchanabele, Karnataka
Manchanabele, Manchinbele, or Machinbelle is an artificial lake born out of the dam on the Arkavathi River in Karnataka. This quaint destination near Bangalore offers fun, adventure and weekend relation getaway. Book your self-drive and visit this village on Holi Weekend to relax, rewind, and rejuvenate.
Things to Do: Bird Watching, Rappelling, Kayaking, Hill Hikes, Raft Building, and other water sports activities
Places to Visit: Manchanabele Dam, Savandurga Fort, Art of Living International Center, Dyaanin, and more
Alappuzha, Kerala
Alappuzha in Kerala is famously called Alleppey -The Venice of the East and is a must-visit place if you love beaches and backwaters. Just a few kilometres away from Kochi, Alleppey is home to a vast network of waterways dotted with thousands of houseboats and renowned for its famous annual boat race in August.
Surrounded by greenery and calmness, the beauty of Alappuzha is about stunning backwaters, lush green paddy fields, tranquillity, curvaceous rice barges. Travel to this charming beauty of Kerala and make the most out of your long weekend vacation.
Things to Do: Ayurveda Spa, Houseboat Stay, Snake Boat Festival, Witness Spectacular Sunset View, Shopping at the Floating Triveni, Night walks, Try Authentic Local Dishes, Bird Watching, and more
Places to Visit: Alleppey Backwaters, Ambalapuzha Sree Krishna Temple, Mannarasala Sree Nagaraja Temple, Revi Karunakaran Museum, Alappuzha Beach, Marari Beach, St. Andrew's Basilica Arthunkal, Alappuzha Lighthouse, Coir Museum, Royal Krishnapuram Palace, Elephant Camp, etc. to name a few
Kurseong, West Bengal
Kurseong is a Lepcha word that means the Place of White Orchids; hence it is called The White Orchid of the Eastern Himalayas. In West Bengal, Kurseong, the tiny bustling hill town, is circled by hilly sloped, tea estates, and stunning landscapes. Kurseong is just a few kilometres away from Darjeeling and a stop for the Darjeeling Himalayan Railways Toy Train.
It is worth visiting for your weekend rewinding break. Enjoy being close to nature and enjoy the magnificent view of Mount Kanchenjunga, Jannu and Kabru, dense forests, meadows, and the meandering rivers of Mahananda and Teesta.
Things to Do: Water Rafting, Trekking, Hot air Balloon, Rock Climbing, Picnic at Kettle Valley, and other adventure activities
Places to Visit: Tea Garden, Salamander Lake, Netaji Subhash Chandra Bose Museum, Ambotia Shiv Mandir, Eagle's Crag View Point, Forest Museum, Deer Park/Dow Hill Park, Darjeeling Himalayan Rail Museum, Churches, Dow Hill, Chimney, Kettle Valley, and more.
Celebrate your quiet Holi at these peaceful and exotic locations in the country. Book your self-drive car today and get going.
Tags:
car hire
,
car on rent
,
car rental in Mumbai
,
Carz on Rent
,
Delhi
,
highway
,
holi
,
Holi Festival
,
Holi Weekend
,
India
,
long weekend
,
long weekend getaways 2021
,
Myles
,
roadtrip
,
Self Drive
,
self drive car rental
,
Travel
,
travel tips
,
travelling
,
weekend getaway