Long Weekend Plans: Holi Getaways to Off-Beat Places
---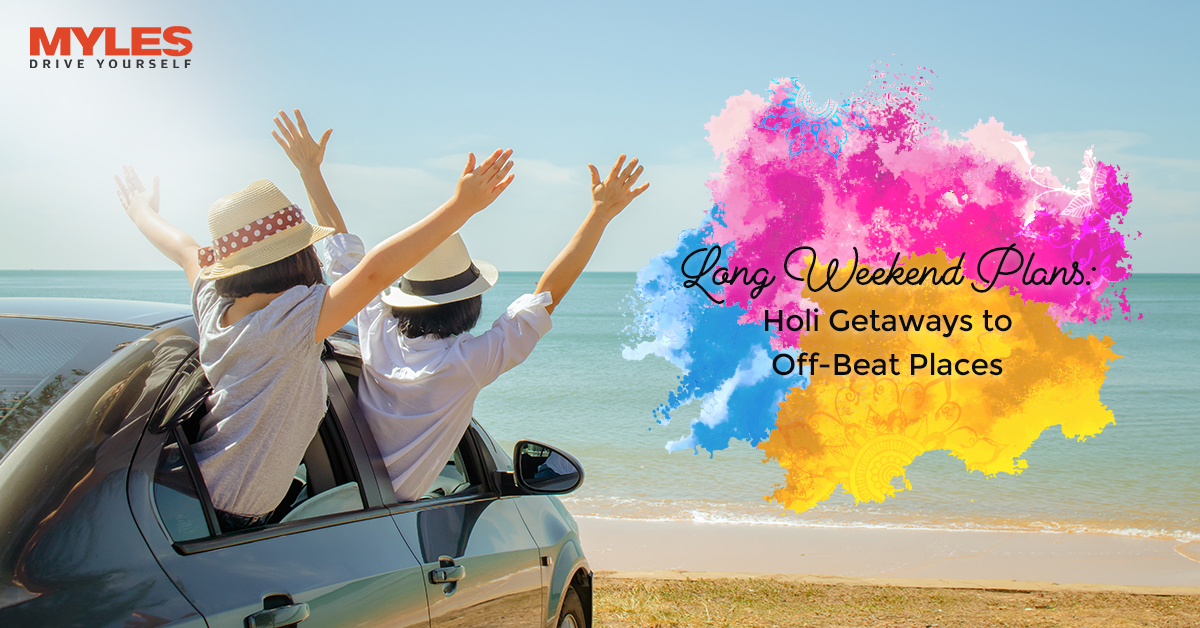 Long Weekend is here, and you must make the most out of it. If you haven't thought about what to do or where to go. Let us help you decide where to go and have a fun, relaxing break from your hectic life.
Road trips are always fun; no worries about taking public transportation, making booking weeks ago or standing in a long queue for check-in. Just you, your partner/family/friends and a safe, fearless vacation on the other side.
What do you need?
Pack your bags, get your hands on the wheel, and hit the road.
Yes, book your car rental today with Myles and visit these less crowded off-beat places for the upcoming long weekend.
Road Trip from Delhi
The capital of India, Delhi, is a buzzing metropolis steeped in glorious history yet reflects colourful modern life that boasts a rich and varied culture. The chic cafes, vibrant clubs, mouthwatering street food, and beautiful parks and garden make it a city full of fun and fascinating nooks.
If you are in Delhi or from Delhi, don't miss visiting some exotic off-beat places this long weekend and have a fun road-tripping.
Kanatal, Uttarakhand
The breathtaking quaint town of Kanthal lies between Chamba and Mussoorie. The untarnished beauty refreshes and calms your mind and soul. It is a must-visit place.
Book a car on rent, hit the road enjoying the scenic beauty, and have a happy weekend.
Best Time: April to June- March and September also seems pleasant.
Distance: 318.7km approx. 8 hours
Highlights: Dhanaulti, Dhanaulti Eco Park, Kaudia Forest, Tehri Lake, Surkanda Devi Temple, Chamba, New Tehri, Tehri Dam, and more.
Rohru, Shimla, Himachal Pradesh
This picturesque town of Rohru in Himachal Pradesh is known for its apple orchards, trekking, trout fishing and cool weather. Don't miss visiting Sauru Tal- a mushroom-shaped lake surrounded by green meadows. Plan your long weekend road trip to this town of untouched beauty and stunning landscapes.
Best Time:  Cool Weather throughout the year, between March and November, is preferable.
Distance: 449.2km approx. 10-11 hours
Highlights: Chander Nahan Lake, Pabbar Valley, Shikhru Devta Temple, Nera Ghati, Jubbal Palace, Tanni Jubbar Lake, Hatu Mata Temple, Hatu Peak, Tani- Jubber Lake, Stokes Farm, etc.
Dundlod, Rajasthan
Go for a luxurious getaway in the royal village of Rajasthan; Dundlod boasts Mughal and Rajputana architectural beauty. Dundlod offers a cluster of forts, baolis, and Havelis; this place is an archaeological wonder.
Best Time: October to March
Distance: 239.3km approx. 5-6 hours
Highlights: Open-air art gallery, Badalgarh Fort, Fort of Dundlod, Tuganram Goenka Haveli, Jagathia Haveli, Satyanarayan Temple, and more.
Road Trip from Chandigarh
A people-oriented city is what Le Corbusier designed in 1950; Chandigarh the glorifying joint capital of Punjab and Haryana. This beautiful city of lakes, sweeping boulevards, gardens, parks, and monuments is comforting, warm, and hassle-free. Chandigarh is a city away from a city, boasting a vibrant amalgamation of traditional Punjab and cosmopolitan modernity.
Chandigarh is an ideal place for a long-weekend getaway and also have many off-beaten nearby places to explore.
Kasauli
A poet's paradise to write and get inspired, the calm and serene surrounding of Kasauli will surely make you introspect and rewind. Kasauli is about the dense forest, panoramic view, colonial-era churches, and stunning resorts. Take a break and hit the roads this long weekend and have a relaxing stay.
Best Time: Year-Round, especially in Summer Season
Distance: 58.2km approx. 50 minutes to 1 hour
Highlights: Monkey Point, Sunset Point, Mall Road, Sanjeevni Hanuman Temple, Baba Balak Nath Temple, Gilbert Trail, Gurdwara Shri Guru Nanakji, Christ Church, Gurkha Fort, Sunrise Fort or Hawa Ghar, Kasauli Brewery, and Timber Trail.
Naldehra
Naldehra is an untarnished beauty situated in the pristine lap of nature. Just a few km drove uphill from Shimla, Naldhera is an ideal weekend getaway destination. The place is calling nature lovers to relax and rejuvenate under the blue skies surrounded by lush green forest, and if you're lucky enough, you might get to witness a rainbow that makes this place look perfect scenery.
Best Time: May to September
Distance: 136km approx. 4.5 hours
Highlights: Golf Course, Mahakali Temple, Kogi Mata Temple, Mahunag Temple, Chabba, Tattapani, and indulge in horse riding, heritage walks, forest walks, white water river rafting, etc.
Narkanda
Located on the Hindustan-Tibet Road, Narkanda is a township that offers picturesque comprising of stunning hills, lakes, wood, and alpine meadows. This quaint township in the district of Shimla forms an ideal location for mountain lovers over this upcoming long weekend.
Best Time: October to February/March
Distance: 182km approx. 5-5.5 hours
Highlights: Hath Peak, Tannu Jabbar Lake, Mahamaya Temple (Kacheri), Kotgarh, Stokes Farm, and Skiing in Narkanda.
Road Trip from Mumbai
The city of dreams and sky-touching buildings, Mumbai is busy, expensive, and a powerhouse of fashion. The city has India's most prolific film industry, named Bollywood. The city is home to artists, millionaires, dreamers, beautiful temples and called the country's richest city.
Take a relaxing break from the heat, relentless crowd, and busy city life. Hit the road that leads to off-beat destinations for a quiet getaway.
Bhandardara, Ahmednagar, Maharashtra
This small picturesque town of Bhandardara is situated by the Pravara River and is just a few hours away from Mumbai. The place is famous for fireflies' camp, trekking, beautiful view, and cascading waterfall. Spend your weekend here, and enjoy watching breathtaking water gushing from high peaks.
Best Time: Post monsoon September to March
Distance: 165km approx. 3 to 4 hours
Highlights: Wilson Dam, Umbrella Falls, Randha Falls, Ratangad Fort, Kalsubai Peak, Arthur Lake, and more.
Saputara, Gujrat
This lesser-known paradisial land of Saputara is a perfect place for your long weekend getaway trip. Saputara is located in the Dang district of Gujrat that boast natural beauty, scenic landscape, and pleasant weather. It is an unexplored place with very few people visited. So, before it becomes crowded, plan your road trip for a long weekend vacation.
Best Time: Monsoon and September to March
Distance: 245km approx. 5 hours
Highlights: Saputara Lake, Vansda National Park, Rose Garden, Gira Waterfalls, Sunset Point, Tribal Museum, Echo Point, Purna Sanctuary, Ropeway, Hathgad Fort, Pandava Caves, etc.
Yeoor Hills, Thane West
Yeoor is located in the Sanjay Gandhi National Park, surrounded by beautiful natural settings in a picturesque hilly area. The place is ideal for a family picnic and to have some adventure. Get a dose of fun you needed from long this coming long weekend.
Best Time: Summer and Monsoon Season
Distance: 25.6km approx. 46 mins
Highlights: Taste fresh amla, black currant, mango and more fruits, go tree spotting, hiking, and camping.
Road Trip from Pune
One of the best educational epicentres of the country, Pune, is known as the Oxford of the East. It is a thriving metropolis and scrumptious mix of modernity and spiritualism. Pune is a proud land of the Maratha Empire and a worthy place to explore.
Not only Pune, but the places around this city is worth exploring too. This long-weekend set a perfect time for you to visit these offbeat places around Pune.
Kaas or Kas Plateau, Satara, Maharashtra
You must hear about the valley of flowers, but what about the plateau of flowers? Pack your bag, book a car on rent and head towards Satara. Kaas or Kas Plateau is a place in Satara known for its serene landscapes, breathtaking greenery, and picturesque view of more than 850 types of wildflowers offering various hues during monsoon. The place is ideal for a romantic getaway for quality time.
Best Time: July to October
Distance: 130 km approx. 3 hours
Highlights: Kumundini Lake, Vajrao Waterfall, Plateau of flowers, Ghatai Devrai, and more. Also, go for a photo walk, trekking, caving, and camping.
Harihareshwar, Raigad District, Maharashtra
The place is a local pilgrimage due to the famous Lord Harihareshwara and Vishnupada Temple. Plan your coming long weekend holidays here and spend some 'me time' at the beach or indulge in some adventure activities. Relaxing by the rocky shore and watersport activities help you to revive.
Best Time: October to February
Distance: 171.9 km approx. 5 hours
Highlights: Watersports, Hiking, Sunbathing, Beach activities, paragliding, camping, and more.
Tamhini Ghat, between Mulshi and Tamhini, Maharashtra
Explore Tamhini Ghat during your upcoming long weekend getaway. Tamhini Ghat is a picturesque mountain passage situated between Mulshi and Tamhini and known for its lush vegetation, cool weather, clouds, and cascading waterfalls. Spend a relaxing getaway amidst the breathtaking beauty of valley and waterfall, and return home rejuvenated.
Best Time: July to March
Distance: 53.5 Km approx. 2 hours
Highlights: Mulshi Dam, Nature Walk, Camping, Birdwatching, Bike Rides, Rock Climbing, Camping, Trekking, and more.
Road Trip from Bangalore/Bengaluru
Bangalore or Bengaluru is another vibrant cosmopolitan city known for its modern setting, beautiful garden, nightlife, and religious sites. It is a well-known tech hub in India and famously known as the Silicon Valley of Indian.
Bylakuppe
Witness the fluttering prayer flags and listen to chants of the monks that ignites a sense of calm within; Bylakuppe is an off-beat place where thousands of refugee Tibetans stays. Pack your bags, book a car on rent, and hit the road to visit this beautiful place located between Bangalore and Mysore and get to learn more about Tibetan culture.
Best Time: Visit here during the Tibetan New Year- February and March
Distance: 213.6 km approx. 5-5.30 hours
Highlights: Golden Temple, Sakya Monastery, Sera Je Monastery, Tashi Lhunpo Monastery, Nisargadhama, Chiklihole Reservoir, Tibetan shops to shop, and also try delicious Tibetan food.
Galibore
Heaven for nature lovers and trekkers, Galibore is situated on the banks of River Cauvery. Make this long weekend full of fun and adventure; pack your bags, and go road tripping to Galibore. The place is famous for its wildlife.
Best Time: August to February
Distance: 102.7 km approx. 3 hours
Highlights: Trekking, Fishing, Nature Walk, Fishing, and visit Mekedatu, Muthathi, Shimsha Valley, Chunchi Falls, and more.
Kudremukh
Kudermukh means the face of a horse or horse-face. The untarnished mountain of Kudremukh looks like the face of a horse and is a perfect getaway spot from Bangalore. If you're someone who wants a vacation full of fun, thrill, and of course, relaxation, then it is your place. Journey to Kudermukh comprises winding roads, mesmerising landscapes, beautiful trails, chirping birds, and cascading waterfalls.
Best Time: November to March for Trekking, Monsoon to witness the natural beauty
Distance: 331-340kms approx. 7-7.30 hours
Highlights: Kudremukh National Park, Kudremukh Trek, Hanuman Gundi Waterfall and Trek, Lakya Dam, Gangamoola, Janta Market, Horanadu, Kadambi Falls, and more.
These are some fantastic places to visit this long weekend. Make it worth the visit by taking care of you and following road safety measure. Visit to have fun and revive your body, mind, and soul.
Happy Weekend and Road Tripping!
Book your self-drive car with MYLES

Tags:
Bangalore
,
Car Rental
,
car rental in bangalore
,
car rental in delhi
,
car rental in Pune
,
car rental india
,
Chandigarh
,
Delhi
,
Happy Holi
,
highway
,
Holi Festival
,
Holi Holidays
,
Holi Weekend
,
Indian Festival
,
ladakh
,
long weekend
,
Mumbai
,
mylescars
,
Off beat places
,
Pune
,
self drive car rental
,
Self-drive Bengaluru
,
Self-drive car in Mumbai
,
selfdrive
,
travel tips
,
Weekend Plans
,
weekend trip