Holi Weekend: Less Crowded Places to Celebrate Holi Safely 
---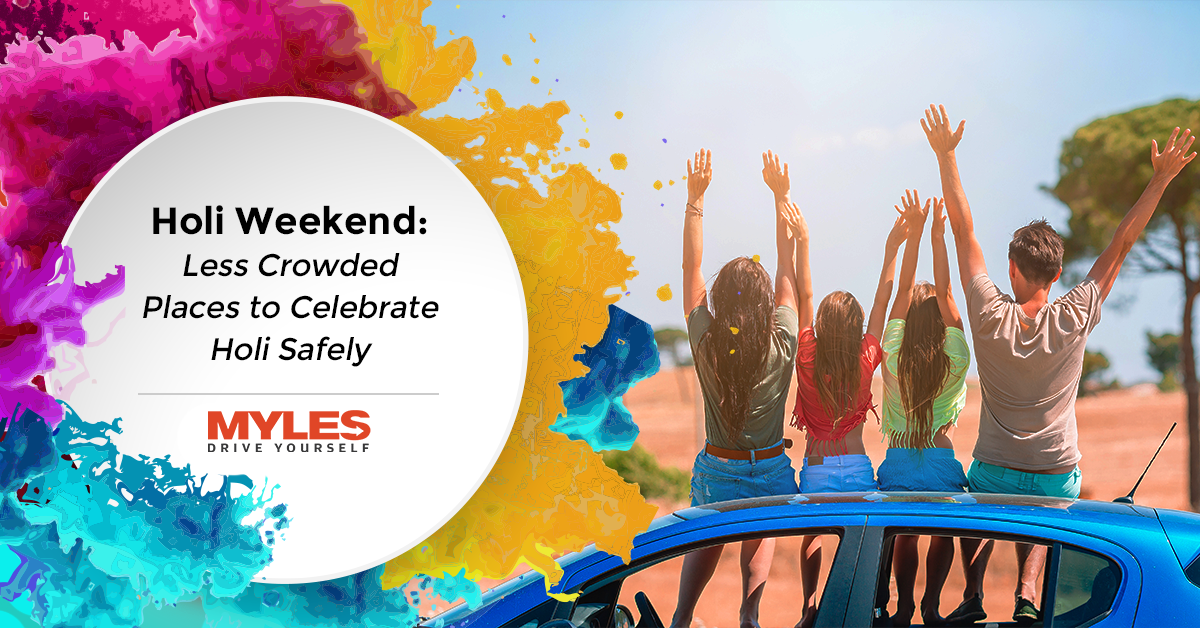 The festival of colour is around the corner, and so is the long weekend. Holi is the most anticipated Indian festival that is all about bright colours, bizarre tradition, mouth-watering gujias and matris, water balloon fights, dance, music, and cheerful people all around.
It sounds so much fun!
But we can always make it better, Right?
This year break the old tradition and celebrate Holi on the wheel, *not literally*.
Yes, we are talking about making the most out of this long Holi weekend vacation and self-drive to unique locations around you to celebrate.
Travelling on Holi is Fun! Make it much better and safer by visiting and exploring the less crowded place keeping social distancing in mind.
Here, we are listing down some less crowded places that are known for the Holi celebration.
Anandpur Sahib, Punjab
Anandpur Sahib is situated on the edge of the Shivali Hills and known as the second important pilgrimage site for Sikhs. The place is known for its Holla Mohalla festival, which takes place the next day after Holi. The celebration of strength is celebrated among Nihang Sikhs- warrior Sikh, who showcases martial art skills.
Instead of playing Holi with colours, peasant woman of the state painted their walls and courtyard- called Chowkpoorna. Visit the place to celebrate a unique tradition pf Holi.
Highlights: Virasat-e-Khalsa, Takhat Sri Kesgarh Sahib Ji, Sarovar Anandpur Sahib, Sri Guru Tegh Bahadur Sikh Museum, Jhajjar Bachauli Wildlife Sanctuary, Naina Devi Temple, Bhakra Nangal Dam and Ropar Wetlands.
Food to Try: Parathas with Punjabi Lassi, Heavy Curry and naan, Langar and Kadah Parsad in Gurudwaras and other local street food.
Kumaon, Uttarakhand
Travel to breathtaking Kumaon Valley in Uttarakhand, known as the fruit basket of India. The place is filled with house gardens, farms, valleys, and trees of apple, plum, peach, and more. The place is so close to nature that it makes you feel rejuvenated, and the uniqueness of this town reflects in its culture and celebrations.
Kumaon is famous for its musical Holi celebration, known as Khadi or Kumaoni Holi. A treat for music lovers, the Holi festival here is a soothing musical affair, where locals get dressed up in traditional clothes Nokdaar Topi, Chudidaar, and Kurta Pyjama, and then dance on Dhol and Hurka and sing Khari songs.
The musical Holi festival is being celebrated for good two months, and they also engage in different forms of Holi celebration like Khari Holi, Baithki Holi, and Mahila Holi. People use natural colours made of flowers, ash, and water to celebrate the festival.
Witness this unique Holi celebration by visiting Kumaon- a less crowded place, making it an ideal environment to revive.
Highlights: There are many beautiful hill station in the Kumaon region, and travelling to lesser-known ones are highly recommended like Kausani, Binsar, Abbott Mount, Pangot, Ranikhet, Sattal, and more.
Food to Try: Chainsoo- gravy made of black gram dal, Singori- famous dessert, Arsa- sweet balls like ladoos, Bal Mithai, Ghata ke Parathe- made of potatoes, radish, fenugreek, cauliflower, garlic and horse gram, Kumaoni Raita, Aloo ke Gutke, Bhatt ki Churkani- soybean and rice, Phanu- a curry made from a combination of lentils,  Thechwani- curry/sabzi, Sisunaak Saag/Bichoo Saag, Kaufi- made of spinach, Dubuk- made of lentils, Bhang Chutney and Singhal- semolina spirals.
Barsana, Uttar Pradesh
Barsana is the land of Radha (Hindu Mythological deity/goddess), famous for feminist festivity- Lathmar Holi. The celebration sounds bizarre, where men are beaten up with sticks by women- just for fun, of course. The celebration takes place around a week before the main festivity. So it allows you to travel to Barsana on main Holi-day and enjoy it without the fear of the place being overly crowded.
Your celebration will comprise a lot of eating, singing spiritual songs, fun, and relaxation. This popular tourist destination is a blend of scenic landscape and spirituality, offering you the best of both worlds. Later, travel to Baldeo- a small town, where they play Holi with turmeric and saffron.
Highlights: During your stay, do visit Dan Bihari Temple, Shriji Temple, ISKCON Temple, Radha Kushalbihari Temple, Maan Mandir, Rangeei Mahal, Jugal Kishore Temple, and more.
Food to Try: Kachori with spicy Aloo ka jhol with jalebis
Pushkar, Rajasthan
Yes, we know what you're thinking. Pushkar is known for its mega Holi Mela/festival, which means crowd. But this year, due to a pandemic, the city has cancelled the grand festivity. Grab this opportunity to visit this beautiful city situated on the western side of Aravali mountain to witness the raw beauty of Rajasthan.
Plan a trip and celebrate Holi in Pushkar- a region cupped between hills from three sides and sand dunes from one. Enjoy the beauty of this ancient town that offers a magnificent view of Pushkar Lake. It is also famous for Pushkar Mela and Camel Fair.
Highlights: Pushkar Lake, Brahma Temple, Man Mahal, Varah Temple, Rangji Temple, hike to Savitri Temple, Gurudwara Singh Sabha, Naga Pahar, Rose Garden, and also enjoy a panoramic view of the city from a hot air balloon.
Food to Try: Dal Bati Churma, Tea from tea hawkers, Malpua, Poha, Kachori, Falafel, Poori Aloo, Makhaniya Lassi, and more.
Shantiniketan, West Bengal
Shantiniketan- an abode of peace, is known for Rabindranath Tagore and his contribution to the field of art, education, literature, music, and more. Rabindranath Tagore's in Bholpur city and Shantiniketan is a neighbourhood of Bolpur that adds to the credentials.
In 1921, Tagore founded Visva Bharti University, which became a nerve centre of Bengali Culture. The uniqueness of the place also reflects in the festivals.
Holi in Shantinekatan is known as Basanta Utsav or the Spring Festival and has its unique flavour. Tagore started it as a cultural event, taking inspiration from the colours of Holi, where students here dress up in yellow-saffron clothes and sing and dance on Rabindra Sangeet.
The Utsav is a significant part of Bengali culture, offering a soothing way to celebrate Holi. The place is an ideal way to celebrate Holi uniquely this year at a less crowded place.
Highlights: Visva Bharti University, Tagore's Ashram, Amar Kutir, Kala Bhavana, Chhatimtala, Patha Bhavan, Prakriti Bhavana, Ballavpur Wildlife Sanctuary, Sangeet Bhavana, Vidya Bhavana, Sarkar Rajbari, Cheena/China Bhavana, Alcha, and more.
Food to Try: Traditional Bengali Food
Hampi, Karnataka
Hampi is a UNESCO World Heritage Site and is a place that would not be the first place to come to anyone's mind when it comes to Holi. The place is known for its striking beauty, heritage, culture, rocky landscape and majestic monuments. This tiny magical town is also known for its Holi celebration.
During the Holi, the entire town painted with the colour, euphoric sound of drums, and spirit of celebration. Later the people take a dip in the waters of the Tungabhadra River. The place is lesser known for its Holi celebration by people, which means you find locals and less crowd.
Highlights: Sree Virupaksha Temple, Tungabhadra River, Matanga Hill, Vijaya Vitthala Temple, Lotus Mahal, Hampi Archeological Ruins, Stone Chariot, Elephant Stables, Hemakuta Hill Temple, Monkey Temple, etc., to name a few. Engage in activities like bike riding, Anjaneya hill hike, rock climbing, Coracle ride,
Food to Try: Try typical South Indian food- Dosa, Idli, Sambhar, Vegetable Curry with rice, and more.
Mahabalipuram, Tamil Nadu
Not a usual place to celebrate the festival of Holi, Mahabalipuram is a gorgeous escape town for your long weekend Holi getaway. It was the major seaport for the ancient Pallavas Kingdom and looks magical during sunset.
Mahabalipuram is famous for its World Heritage-listed temples, carving and their architecture, sparkling beaches, glorious sunsets, and spiritual highness. The town is for those who want to soak into the euphoric sound of nature, avoiding the maddening Holi crowd, and celebrate the festivity with the utmost peace.
Highlights: Shore Temple, Descent of Ganges, Krishna's Butter Ball, Mahabalipuram Beach, Varaha Cave, Five Rathas, Arjuna's  Penance, Alamparai Fort, Sadras, Tiger Caves, Crocodile Bank, Covelong Beach, Indian Seashell Museum, Mahishasuramardini Cave, etc. to name a few.
Food to Try: Kothu Paroyya or Kothu- minced with egg, meat or veggies, Idiyappam Kurma- stewed veggies with coconut milk, Puliyodharai- rice cooked in tamarind paste, Aviyal- Vegetable, and more.
Colour your Holi Weekend with memories by visiting these charming places and celebrate the festival uniquely. Enhance your getaway experience with a self-drive car by Myles.
To Book a Self Drive Car, Visit- https://bit.ly/3YFzwHc

Tags:
car hire
,
car on rent
,
Car Rental
,
car rental bangalore
,
car rental delhi
,
Carzonrent
,
covid-19
,
driving
,
highway
,
holi
,
Holi 2021
,
Holi Festival
,
India
,
long weekend
,
Myles
,
myles car
,
Pandemic
,
rent a car
,
road trip
,
Safe
,
selfdrive
,
Staycation
,
Travel
,
travel tips
,
vacation