How Car Subscription is the Practical Choice and Its Benefits?
---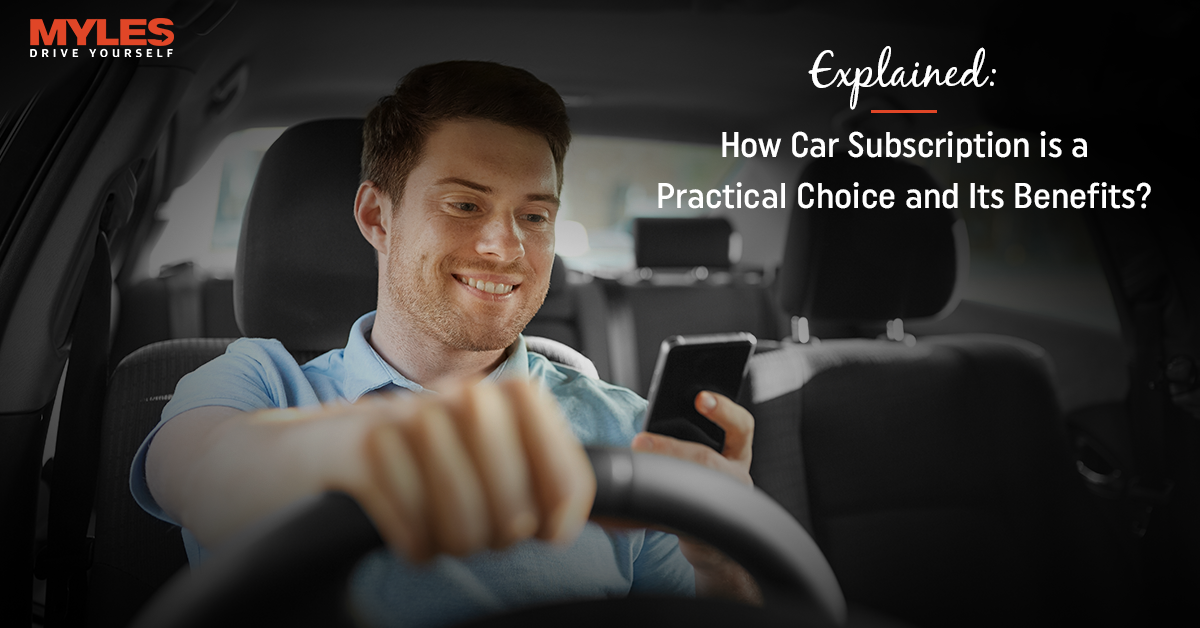 We have always seen the changing trends in the automotive market. Generally, it is about new models, different colours, better interiors, and much more. This constant change in the trends has swapped the face of car ownership.  
The trend of Car Subscription has never been a popular choice among Indian car owners. Many take pride to own a car and boasts it as an asset for years. With the constant shift in the market, customers look for more flexible options for owning a car. 
Many people enquire, but the actual conversion rate remains low. The trend of Car Subscription might have had a sluggish start; analysts say it slowly gains popularity and makes sense practically. 
What is a Car Subscription?
More Car, Zero Commitment
Car Subscription is a way of owning cars with zero commitment, no down payments, flexible tenure, and easy monthly fee covering the cost of maintenance, insurance, registration fee, roadside assistance, and more. 
When you go for a car subscription, you select a model and tenure as per your need and get your car delivered to your doorstep. It is a hassle-free way of owning a vehicle without paying a hefty down payment for buying it and committing to it for years. 
How Car Subscription is a Practical Choice?
The idea of a car subscription is to focus on the customers who want no hassle of car buying and want to opt for an asset-light alternative. The concept works well with the expats, entrepreneurs and the new generation who want luxury at bare minimum cost and commitment. 
Car Subscription is a practical choice in many ways. It is a cost-effective way of owning a car you want without any long-term contracts. When you think of buying a car, the process can be nerve-wracking, confusing, and intimidating- the pressure of choosing a suitable model, documentation work, paying all savings on a single product, commitment of years, etc. 
At the same time, a Car Subscription is all about just paying the monthly fee and get whatever car you want at your doorsteps. Maybe today you buy a car you want, but two or three years later it won't go well with your lifestyle, your family. The good news is you can change your car with changing needs, requirements, and lifestyle in a car subscription. 
Benefits of Car Subscription
1. No Hefty Down Payments 
Buying a Car comes with loans, interests, debts, and paying a certain amount of down payment. It means giving away a larger part of your savings on a single product. However, when you go for a car subscription, you don't have to think much about all these criteria and just need to pay a monthly subscription fee depending on the model and tenure you select.  
2. Zero Commitment 
One of the most practical benefits of subscribing to a car rather than buying it is the flexibility of ownership and zero commitment. You don't have to stick to one car for years just because you liked some model five years back and have invested so much. You can use it as your need (the time you selected) and return it. 
3. Change Whenever you Want 
It is one significant benefits of owning a car through a subscription that you can upgrade, change or return the vehicle after some time. For many companies, the minimum tenure for a car subscription is from 1 month to 6 months. Right after using the car for the selected term, you can choose a different model. The car rental companies offer you a dashboard of various car models and brands as your option.
4. All-Inclusive
Car Subscription deal comes with an all-inclusive package that means you don't have to pay extra for maintenance, service, insurance, road tax and assistance. Yes, the monthly car subscription fee will cover maintenance, insurance claims, and road assistance. All the expenses will be taken care of by the car subscription company. However, if you buy a car, it comes with all additional expenses. 
5. No-Hassle for Service
Your car needs service or maintenance every one or two months. Scheduling an appointment for service, driving to a service station, and the inconvenience of not having your car for a day or two comes when you own a car. Your car will be picked up for the service from your doorstep and delivered back to your doorstep in a car subscription. Even many companies provide buffer vehicle during the estimated time of car service. 
6. Extension or Buy Back Options
There are two amazing options that most service providers offer on their car subscription facility- one to extend the tenure of subscription and the option to buy out the car. After completing your selected car subscription period, you can discontinue the subscription or opt for an extension without any paperwork or formalities. Also, if you feel like driving your subscribed model, you can always buy it out after completing name transfer formalities. 
As a result, a car subscription saves a lot of time and money and is a perfect way of owning a car today when the situation out there is unpredictable. Own your asset the way you want.
Happy Driving!
To know more about car subscription, visit: https://bit.ly/3OF6Wko
Tags:
Benefits of Car Subscription
,
car hire
,
car on rent
,
Car Rental
,
car rental in india
,
Car Subscription
,
Carzonrent
,
covid-19
,
monthly car rental
,
Myles
,
Myles Zero
,
mylescars
,
Self Drive
,
self drive car rental