Explained: Comparing Car Subscription as an Alternative to Leasing or Car Buying
---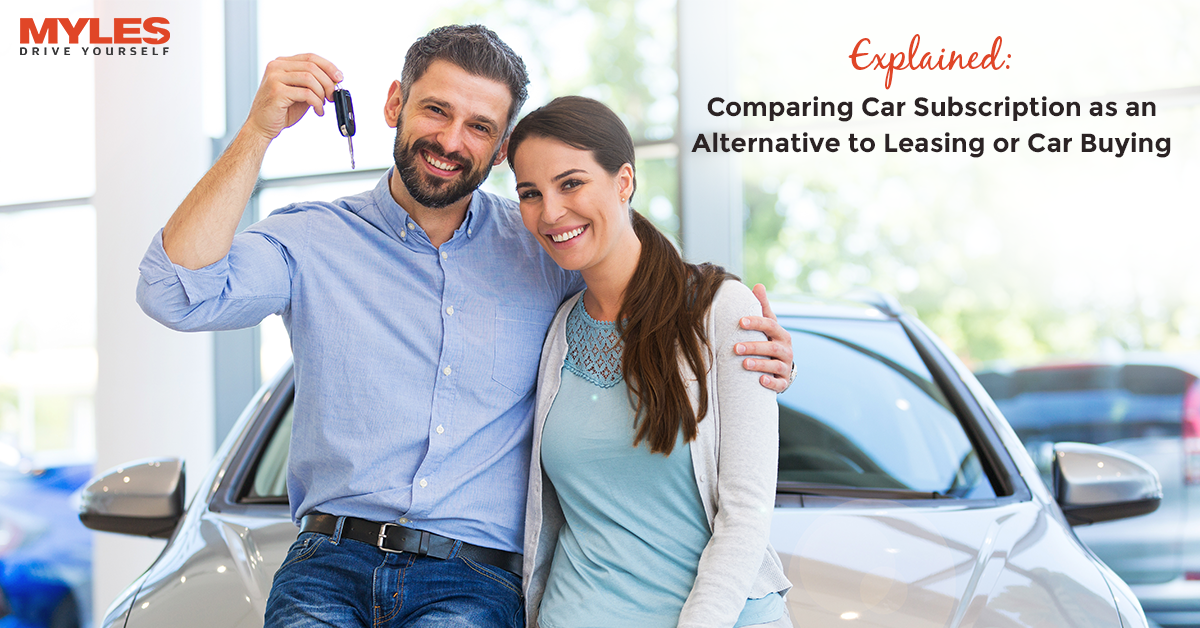 There was a time when owning a car is the business of the rich. Gradually, the EMI models introduced by the banks and finance companies made the car buying economical. But many people think car buying is a job full of hassle due to a lot of paperwork, down payments, and years of instalments with heavy interest.
Car Owning is a matter of status and leisure, but why invest all your savings and commit to it for the rest of your life or at least ten to fifteen years. Buying a car in this technology-driven era becomes easier and available at your fingertips.
Today, there are various ways to own a car.
Considering the millennial mindset, buying a car is not enough option for car ownership. The younger generation and even entrepreneurs have become more cautious about their money and investing it. Owning a car is the second big investment of life, and the current scenario also altered many dynamics.
Leasing gained a lot of popularity in the Indian market, and now the industry comes up with car subscription. To get in-depth details on these cars owning options and how a car subscription is a feasible alternative to car leasing or buying, we made a comparison list that helps you make the right decision.
Car Subscription Vs Leasing or Car Buying
Car Subscription Basics
Car Subscription is affordable and flexible. It is an all-inclusive package that comes with a monthly fee. It comes with Zero- hassle, down payment, insurance cost, commitment and maintenance cost. Car Subscription offers a flexible tenure, starting from 6 months to 60 months. It also gives an option to upgrade and buy back. You will be offered the freedom to choose from a wide fleet of cars and km options.
What do you get?
Car Subscription works with zero down payment.
You need to pay monthly fees.
If you travel frequently or change the city, subscribing to a car is the best option and available for a short tenure of 6 months.
You can change your car or upgrade the model and drive a new one almost every 6 months.
You're not the car owner, but you can always choose a buy-back option if wanted.
Unlike leasing, the subscribed cars in India only have commercial number plates.
 Leasing Basics
Many people confuse car subscription with car leasing. Car Leasing allows the customer to drive a car of their choice for a limited period and provide you with full ownership of the vehicle in return for monthly rentals. Leasing a car is similar to leasing a house or shop. But unlike car subscription, in car leasing, you have to pay road tax, maintenance cost, insurance cost, and other recurring costs.
What do you get?
Drive a car at full ownership by just paying monthly rent.
Drive trouble-free for most of the year that is usually covered warranty by the manufacturer.
You can always opt for buying the leased car.
You have to lease a car at least for 2 years and a maximum of 5 years. The premature ending of the contract comes with a heavy penalty.
No maintenance, road tax, insurance cost, and other costs are covered.
It comes with mileage and km limitation; if exceeds, it comes with additional cost.
 Buying Basics
Buying a car is something we all know, of course, and how the process works. Either you go and make payment in cash, or you opt for car loan options. In a car loan, you need to pay a down payment and get a loan from the bank, which you need to pay in the form of EMI. EMI or easy monthly instalments is fixed according to the down payment you made and the car model. These EMI include interest and are of mostly 60 months.
What do you get?
Full ownership of the car and resale value.
You can keep it as long as you wish and can always modify it.
You can drive as much as you can without the worry of mileage and km exceed.
You have to pay a heavy down payment, putting in all your savings.
The financing from the bank includes interest, which needs to be paid in EMI.
Buying a car includes taxes, maintenance cost, road charges, registration fee, and more.
The value depreciates over time, so you need to take care of the same.
You have to own the car for the long term for it to be cost-effective.
Car Subscription in Easy Steps
Choose Your Location (City)- Select Model, Tenure, Kms- Choose Your Car- Upload Documents-Pay-Car Delivered at Doorsteps. You can Download Myles App from Play Store and App Store.
If you get attached to your car, buying a car and going the old school way is for you. But if you're someone who looks for change constantly and not up for long-term commitments, a car subscription is your option.
Car Subscription is a modern way to own a car and is the latest trend offered by the automotive industry for the new generation.
To book a car subscription, visit:https://bit.ly/42GPbWO
Tags:
Benefits of Car Subscription
,
Buying a Car
,
CabPro
,
car buying
,
car hire
,
car leasing
,
car on rent
,
Car Rental
,
car rental in india
,
car rental in Mumbai
,
Car Subscription
,
Carzonrent
,
COVID
,
Delhi
,
highway
,
India
,
myles car
,
Myles Zero
,
news
,
Safe Cars
,
Self Drive
,
Subscription Vs Buying Vs Leasing
,
Travel
,
travelling