If you haven't done this in Ladakh?- DO IT NOW!
---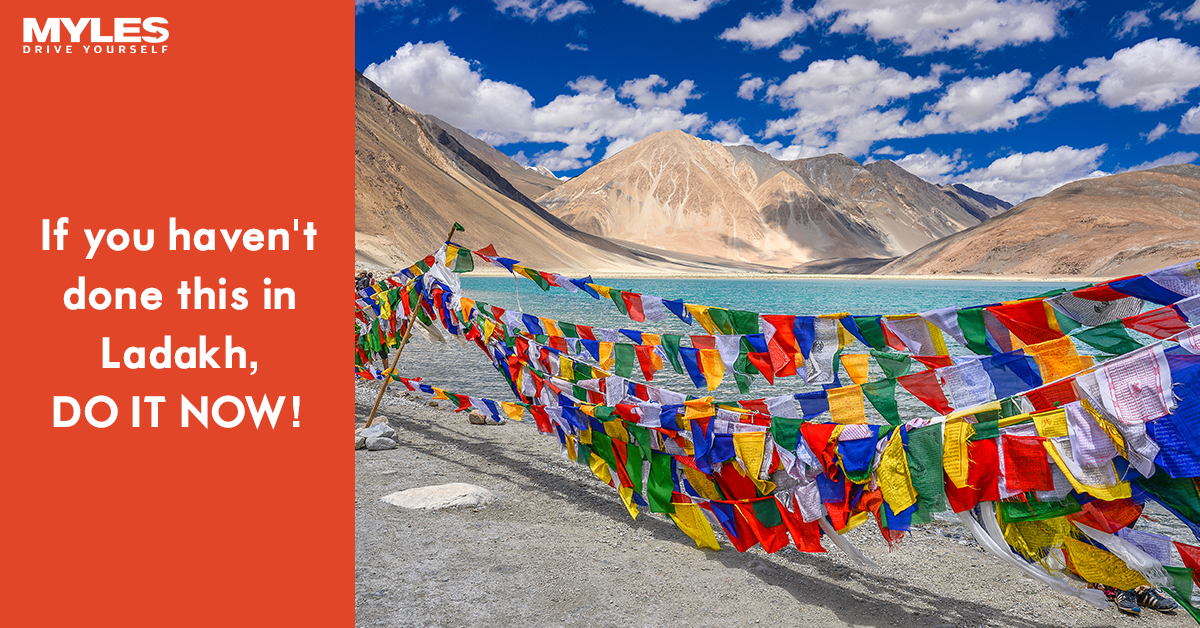 Leh Ladakh, a landlocked region in the northernmost region of India, is praised internationally as the most adventurous tourist spot in North India. Situated at a height of 3000 meters above the sea level and between the mighty Karakorum and Himalayan mountain ranges, Ladakh offers interesting opportunities for adventure and thrill. Things to do in Leh Ladakh include interesting activities like Jeep safari, camel safari, Paragliding, river rafting, trekking and mountain biking among others.
While enjoying safaris in Leh Ladakh you will also get a chance to enjoy beautiful landscapes, tourist attractions, and mighty peaks of the Greater Himalayas. Things to do in Leh Ladakh also include a rich collection of flora & fauna and visits to some stunning monasteries and pagodas where one could still witness the ancient Tantric Buddhism in practice.
Mentioned below are some of the Most interesting things to do in Ladakh which should feature in your tour itinerary for an unforgettable holiday in Leh Ladakh.
 Witness the Jeep Safari in Ladakh
The trans-Himalayan area of Ladakh is known for offering both tough and moderate terrain, and also an opportunity to explore the breathtaking terrain of the region. Travelling in Ladakh by road and crossing the high altitude mountain passes, visiting emerald lakes and exploring this ancient region is best experienced through jeep safari.
One of the most popular jeep safari experiences to have had is to hit the road from Manali and follow Leh – Manali highway. This awe-inspiring route with its mighty mountain passes, incredible views and stunning sceneries offers some jaw-dropping experiences and the ultimate thrill of a road trip in India.
The most popular destinations to enjoy Jeep Safari in Ladakh include Tso Moriri Lake, Dah Hanu, Pangong Tso Lake and Nubra Valley. Moreover, for an ultimate experience, do not miss the Khardungla pass, which is regarded as one of the World's highest motorable roads.
Experience the Camel Safari in Ladakh
Don't get surprised with Camel Safari in Ladakh. This is a lifetime experience for adventure seekers. The sand dunes at Hunder in Nubra Valley are also referred to as the "desert in the sky". At Hunder, you could ride the double humped Bactrian Camels which used to be an integral part of the caravans of this ancient trade route. Besides, you could also visit the charming villages of Nubra and explore various Buddhist Monasteries as well as Hot water Sulphur springs. One of the most popular places to visit in Ladakh, Nubra Valley showcases highly contrastive landscape, which would immediately alter from rich green apricot fields to a dry terrain with snow-capped peaks. Through Camel Safari in Leh Ladakh, you could explore the panoramic views of the villages, valleys, and Buddhist Gompas.
 Go ahead with Mountain Biking in Ladakh
Undoubtedly one of the most Eco-friendly ways of travelling in the mountains could be mountain biking. It doubles the fun as an adventurous and refreshing means of holidaying & exploring a particular destination. So if you are passionate enough and have the spirit for an exciting adventure tour in Leh & Ladakh, there are several routes for mountain biking such as 'Leh to Alchi', 'Leh to Hemis' and Khardungla Pass, as the very thought of biking on the uppermost motorable pass in the world will bring shiver down the spine.
Explore the Magnetic Hills
Located on the Leh – Kargil – Baltik national highway, the popular Magnetic Hill is believed to have amazing magnetic properties. The magnetism is believed to be such that it pulls cars uphill if they come in its radius.  Because of this belief, the defence forces in this region tend to avoid flying their aircraft over the hill. Nevertheless, the visiting experience to the hill is unique. Travellers must put this amazing hill on their Ladakh tour bucket list as it is something worth experiencing.
Know more about the beautiful land
In Ladakh, there is a famous wildlife sanctuary known as "Hemis National Park" which spans over 4,000 square kilometres, is now the largest national park in India, extending from Hemis to the north of Zanskar. This park is considered as the prime snow leopard habitat, with more than 200 snow leopards. It is also home to the four species of wild sheep and goats that form the prey base for this apex predator, including the Great Tibetan Sheep. For bird enthusiasts, it is indeed a dream destination. Some popular bird species found here include Robin Accentor, Brown Accentor, Tibetan Snow Finch and Himalayan Snow Cock among others. Pollution and noise free environment makes bird watching a joyful experience.
To book a self-drive car, visit: https://www.mylescars.com/