Experience freedom of travel, this Independence Day!
---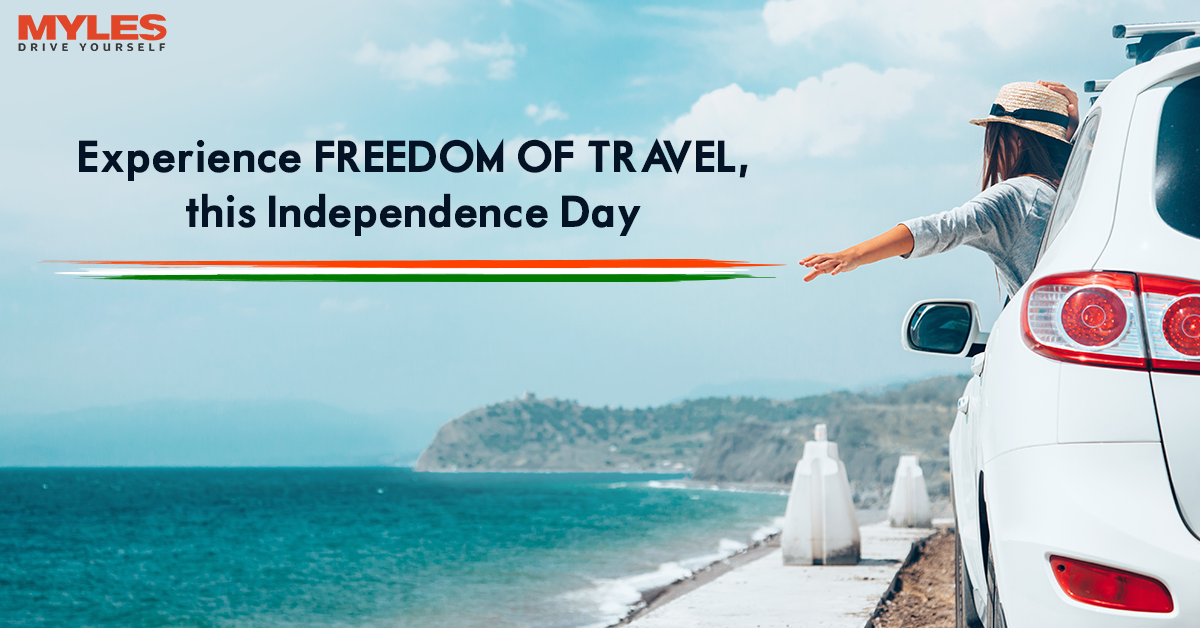 More than seven decades have passed since India was declared a sovereign nation, and the pride has not abated. We have simply chosen to feel patriotic from the comfort of home. Here's how you can combine a long Independence Day weekend with a memorable trip that celebrates the struggles of our past.
Feel the pride at Wagah Border
There's a different atmosphere at this small town lying at the border of India and Pakistan. The daily 'Beating the Retreat' ceremony includes a colourful and vigorous display that symbolizes in turns rivalry, brotherhood, and cooperation. Independence Day celebrations often include shows of strength, performers and lots of cheers. It's a strange sense of pride and camaraderie that traverses boundary lines as both sides celebrate freedom from colonial rule just a day apart. Plan a long self-drive ride from Delhi or Chandigarh; with Myles cars!
Escape the party in Goa (or not!)
Any occasion is an excuse to come to Goa, but Independence Day is a particularly strong one. Typically tourists head to one of the dozens of parties at the top clubs in Goa. But if you're looking for tranquillity, head to Fort Tiracol Heritage Hotel, a revamped 17th-century fort symbolizes freedom here in Goa for the many tussles and rebellions it witnessed over the ages. Stay in one of the seven beautiful rooms and rejoice in the beauty that freedom affords. Do it differently this Independence Day, by self-driving towards the serene beaches of Goa; with Myles cars!
Step back in time, if in or around Maharashtra
Return to where it all began. Head to places around the country that sparked the flames of the freedom movement and re-imagine the patriotism that filled these places despite the hardships. Sabarmati Ashram in Gujarat is the epicentre of India's freedom struggle, where the Father of the Nation Mahatma Gandhi trained activists in non-violent satyagraha. Spend the evening at August Kranti Maidan in Mumbai, where Gandhi issued a clarion call for the Quit India Movement on August 8. Or go to the far south of India, to Port Blair in the Andaman Islands, where noted freedom fighters were exiled in the Cellular Jail. The sound and light show there narrates chilling stories from the past that are sure to make you appreciate your freedom even more.
Extend the holidays on a joint occasion of Independence Day & Onam in South
If you love extended celebrations, give yourself a longer break and head to Kerala for Independence Day. You'll enjoy local revelry and witness the fervour of patriotism even in the hinterland. But stay longer, and it will transcend to even greater festivities as Onam arrives only days after. Across Kerala, and in other states with Malayali populations, you'll come across parades, elaborate boat races, a wide variety of dances, music, martial arts, costumes, folk songs and the scrumptious spread of Onam Sadya which can have up to 30 dishes!
"Shiver me timbers" at Siachen Glacier
Celebrate Independence day on the Siachen Glacier
Take up the ultimate challenge and walk in the footsteps of the soldiers defending our country today. Since 2007, the Indian Army has conducted an annual trek to Siachen Glacier for civilians between August and September. Siachen Glacier is the world's highest battlefield, its inhospitable conditions claiming lives every so often. Only a few civilians are selected for this arduous expedition each year, which includes acclimatization, medical check-ups and the 60-kilometre trek from Siachen Camp to Kumar base camp and back at altitudes ranging from 12,000 feet to 16,000 feet.
In whole, experience the freedom of travel with Myles cars; this Independence Day!