Interest in self-drive tours accelerates growth in car rentals! – Voyager's World
---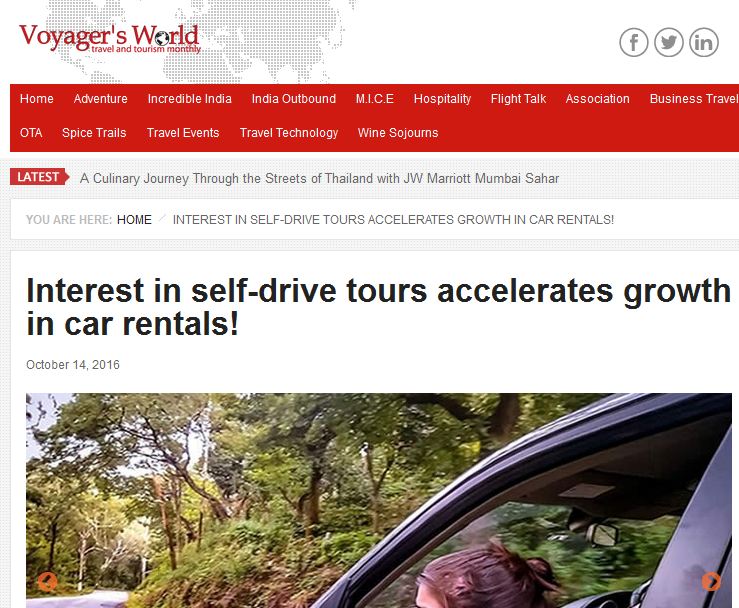 Self-driving in Car Rentals targets the young, middle class and leisure travellers in showcasing various destinations of India in a report by Irene Susan Eapen
Self-driving in the Car Rental segment is a popular concept especially in the metros of India for weekend gateways. People prefer to rent a car nowadays for a number of days to explore any destination through Self-drive tours. Self-driving in car rentals also becomes a bonus for domestic and international travellers in India through adventure trips, road trips and solo trips.
According to Ken Research, the Indian car rental market revenues will grow at a considerable CAGR rate and is expected to touch Rs 800 billion by 2019.
Read the full article on Voyager's World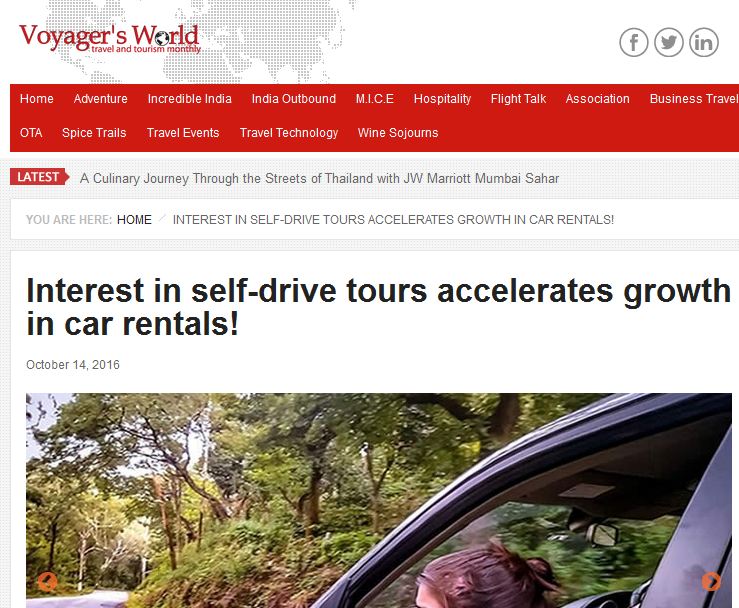 Read the full article on Voyager's World
The concept of self-driving tours is widely being promoted in destinations like Madhya Pradesh, Gujarat, Rajasthan, Himachal Pradesh, Leh & Ladakh, Lahaul and Spiti Valley. The overall growth in the car rental segment has been good in India and are expecting an optimistic growth over the years.
In the opinion of Sakshi Vij , Founder & CEO , Mylescars.com, "Self-drive industry has witnessed phenomenal growth in the last couple of years. We are recording 30-40% growth month on month, measuring to a growth of over 1100% in the last 12 months. Myles cars have driven over a million "myles" already in the last few months. We have seen a surge in demand from the tier-2 cities as well."
"Myles has seen a steady growth in the last few months. We started with 14 cars and 3 locations has grown to over 1200+ cars and 250+ locations with a presence in 21 Indian cities.We are ramping up our fleet to 5,000 Myles cars over the next 1 year. In the next 4 years we would like to bring together a fleet of 50000 cars in 50 cities spread across over 5000 locations. We want to provide a Myles car every 400 meters in a city. We are currently a community of more than 150,000 Mylers. We hope to get around 5 million members in the next five years." She added.
Tags:
media
,
Myles
,
mylescars
,
news
,
reviews
,
Self Drive
,
selfdrive