International Mountain Day: Explore the Exotic Valleys in Himachal Pradesh with Myles Self-Drive
---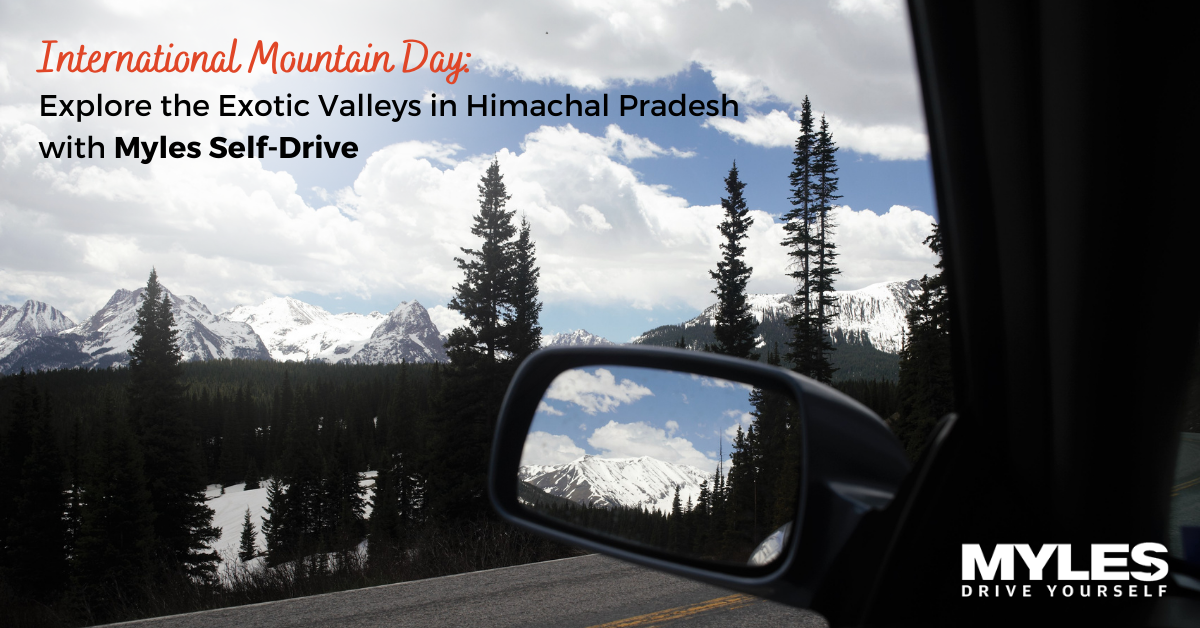 "'Tis the time of the year" where we crave cold breeze, snow, and yearn for hot chocolate and toasted marshmallows. Winter 'Holiday Season' makes us dream about our ideal escapes somewhere far and amidst nature. This Mountain Day, give yourself a reason to take a break and get enthralled by the beauty of breath-taking snow-capped peaks.
Get ready to explore the untarnished roads of the Himalayas with Myles self-drive, and satiate your wanderlust. Book a Myles self-drive car and have an adventurous road trip to the exotic valleys of Himachal Pradesh.
 

Solang Valley
The winter wonderland, Solang Valley, is a dazzling valley lie between Manali and Rohtang Pass. Solang is fondly known as the Snow Valley and look paradisal when covered with a white sheet of snow. The place is known for its summer winters adventure sports like skating, zorbing, paragliding and parachuting. Book a self-drive car rental in Delhi to Manali and visit Solang and beyond.  
 

Spiti Valley
Spiti is a cold desert mountain valley embellished with picturesque views. The place is known for its natural beauty, cultural heritage, monasteries, ancient temples, stupas, and murals. It is a heaven for mountaineers and is the land of renowned treks like Bhrigu Lake Trek, Hampta Pass and Chandratal Trek, Kheerganga Trek, Pin Parvati Trek, and more.
 

Tirthan Valley
Tirthan Valley is another spectacular place in Himachal Pradesh. It is located in the Kullu district and derives its name from the Tirthan River. Tirthan River originates from the icy cold glacial spring of Hanskund. Haskund is a peak in the verdant Great Himalayan National Park. Road trip to Tirthan Valley is magical, and when you reach, visit places like river Serlosar Lake, Jalori Pass, Jibhi, and more. 
 

Parvati Valley
One of the most popular and visited valleys in Himachal Pradesh, Parvati Valley, is where the Parvati River confluence with River Beas. As per the mythology, Lord Shiva meditated in this Valley, and when after ages, when he opened his eyes and looked around the place, he named it after his consort Parvati. Today, the place is famous for hot springs, psychedelic trance festivals, hipped cafes, and more. 
 

Kinnaur
Kinnaur is known as the land of Gods and Apples. It is one of the most beautiful valleys in Himachal Pradesh and is covered with dense woods, green meadows, apple orchards, and breathtaking views. Kinnaur Valley offers the adventurous routes perfect for a mesmerising road trip this winter.
 

Lahaul Valley
When it comes to adventure and trekking, Lahaul Spiti comes to mind. It is a land of stark contrasts on the Manali-Leh route embellished with scenic mountain villages, fascinating Buddhist art and rich culture. Lahaul Valley is a thriving centre of Buddhism and is home to several monasteries, ancient murals, and thangkas. Hire a self-drive car rental and travel to this gorgeous place.
 

Kangra Valley
Kangra Valley is situated in the Western Himalayas and is home to the most famous temple- Masrur Temple. The place here speaks Kangri, and due to its untarnished beauty, Kangra is a strong contender for the UNESCO World Heritage Site. Here you have unusual traditional food like Kalan Ke Pakode, Bhruni, Barah ki Chutney, Seera, Phafru ka Sag, Lasode ki Sabzi, and much more.
Indian Mountains are famous across the globe, and winters are the best time to appreciate the beauty of these beautiful peaks. Himachal Pradesh welcomes many tourists every year who want to spend time in peace, trek around, and explore the hidden gems in the state.
Book a Myles self-drive car and have a great road trip to these stunning valleys.
Tags:
Budget self-drive
,
Car Rental
,
car rental in bangalore
,
car rental in Mumbai
,
car rental india
,
driving
,
highway
,
Himachal Pradesh
,
Himalayas
,
International Mountain Day
,
long weekend
,
Mountain Day
,
Myles
,
myles car
,
road trip
,
self drive car rental
,
Sikkim
,
Tamil Nadu
,
travel tips
,
travelling
,
Uttarakhan