Enjoy the Luxury of Homestays this Monsoon Season: Best Places to Travel in July
---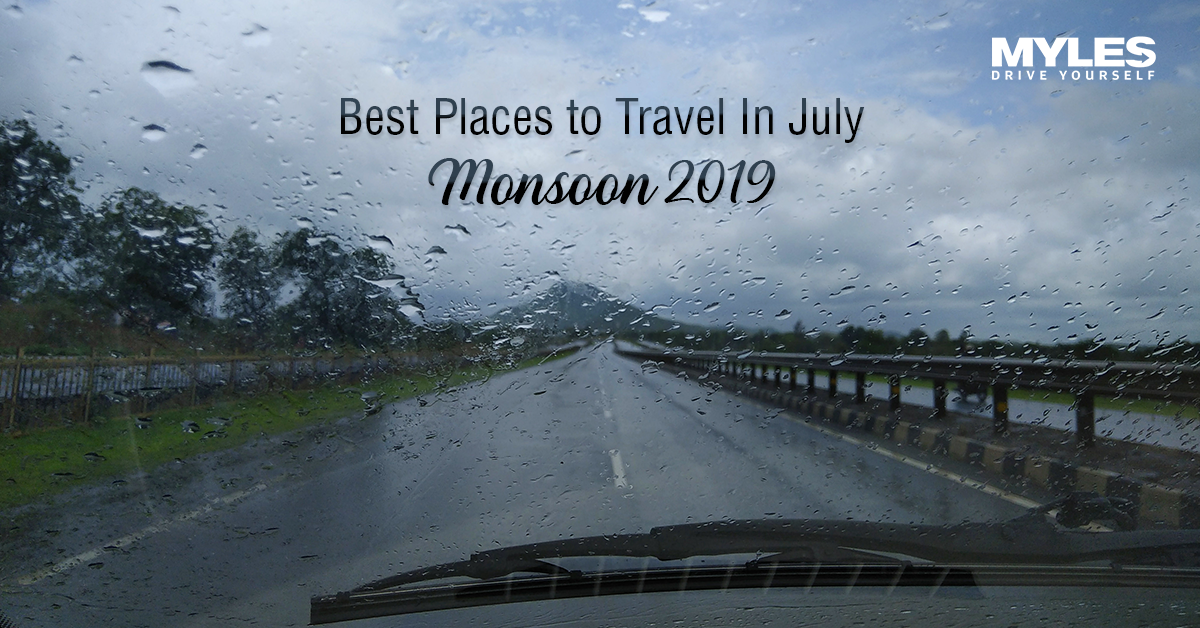 It's monsoon time! And, we are pretty sure you must be planning a vacation in India.  Why not try something different than usual? Ditch the swanky hotels and enjoy the luxury of authentic homestays this monsoon season. Homestays offer a warm, home-like feel and a rich cultural experience that you won't get to enjoy at a hotel otherwise. If the idea of meeting new people from a completely different culture than yours, getting a glimpse into their lifestyle and relishing delicious home-cooked local delicacies sounds great to you then you must plan a homestay vacation right away. To make the planning easier for you Myles has listed the best places to travel in July in India along with the best homestays in each of these places. Take a pick, book a car on rent with Myles and head onto a unique experience this monsoon season.
Best Places To Travel In July In India – Monsoon 2019
Udaipur

Best Homestays in Udaipur
Royal Heritage Villa
If you are want to enjoy a traditional holiday in Udaipur, then the Royal Heritage Villa is the place to pick. Nestled in a quiet neighborhood of the new Udaipur city, this homestay is popular as one of the most in-demand luxury homestays in the city. The building is traditionally built and offers five airy rooms and suites. In addition, there are private jharokhas (windows), private sit-outs (Ghokdas) and a beautiful terrace. Even though the property has no in-house kitchen but the best part is that it arranges for meals, you only have to make a prior request.
Location: 11 New Kumbha Nagar, Sector 4, Hiran Magri, Udaipur, Rajasthan 313002
Tariff Starting @ INR 4000 per night (Cross-check before booking)
Rosie's Retreat Homestay
Aesthetically built, Rosie's Retreat Homestay is among the finest heritage places to stay in Udaipur. The icing on the cake is that it overlooks the gorgeous Lake Pichola. Rosie's Retreat Homestay offers a homely ambiance, amazing backdrop and a host of facilities. It is a two-storied apartment, which boasts an interior that exemplifies the colors of Rajasthani culture. This homestay enjoys proximity to the City Palace and Lal Ghat. It comes with a fully-equipped kitchen, so can cook your own meal as required or checkout cool eateries nearby.
Location: Lal Ghat Road, Silawatwari, Udaipur, Rajasthan 313001
Tariff Starting @ INR 2700 per night (Cross-check before booking)
Jaipur

Best Homestays in Jaipur
Magpie Villa
Magpie Villa is a quaint homestay, perfect for those looking for a peaceful place to stay in Jaipur. The melodious voice of Magpie Robin, an indigenous species of bird that are found here is bound to make your experience even better. A major advantage of staying here is that the city center is close by.
Location: 3, Vinoba Marg, C-Scheme
Tariff Starting @ INR 2,688 per night (Cross-check before booking)
Kalpana Yoga Homestay
Kalpana Yoga Homestay is a beautiful homestay in Jaipur, Rajasthan. It is run by the welcoming and warm people who ensure to provide guests the best local experience. They serve delicious home-cooked food that has flavors of authentic Rajasthani delicacies. Both, the train and bus station are a short distance away from this property. An interesting fact about this place – you can learn Yoga here as the hostess is a popular yoga guru and holistic advisor.
Location: Hathroi Fort 69, Harikishan Somani Marg, Gopalbari
Tariff Starting @ INR 2,184 per night (Cross-check before booking)
Matheran

Best Homestays in Matheran
Luxury Colonial Homestay
Set in the heart of Matheran, this colonial bungalow is the ideal choice if you're looking for luxurious homestays in Matheran. The homestay is best suited for large groups and families. The place has a well-equipped kitchen and free parking space.
Tariff Starting @ INR 4,500 per person (Cross-check before booking)
Parsi Manor
Parsi Manor is a 19th-century colonial bungalow in Matheran. The rooms are well-equipped with vintage wooden furniture and modern amenities. This homestay is merely 10 minutes away from Charlotte Lake.
Tariff Starting @ INR 4,900 per night (Cross-check before booking)
Kodaikanal
 
Best Homestays in Kodaikanal

Mount Chalet
This is a perfect homestay if you are heading on a family vacation. Perfectly set up with the gorgeous Western Ghats in the backdrop, this place is truly magical for a staycation.   Mount chalet accommodates up to 12 guests. It is located a 15-minutes' drive from Kodaikanal Lake. Facilities you can enjoy here are the gym, sauna, jacuzzi baths, pool table, home theatre, table tennis, and badminton. You can also ask for a complimentary bonfire.
Location: Gate 18, Green Crest, Chinnapalli, Kodaikanal
Tariff Starting @ INR 24,000 per night (Cross-check before booking)
StayGlee
Looking for a cheap homestay? StayGlee located near Lake Kodaikanal and Bear Shola falls is the ideal option for you. This property has been renovated with modern facilities, but its heritage is still intact. The building houses 3 bedrooms and can accommodate 6-8 people. Additionally, you get access to the living room, garden area, and kitchen.
Location: Bear Shola Road, Near Hotel Cliffton, Kodaikanal, Tamil Nadu 624001
Tariff Starting @ INR 6,000 per night (Cross-check before booking)
Coorg
Best Homestays in Coorg
Woodland Bungalow
This beautiful place belongs to the lovely duo, Vishal and Aparna. Their dreamy abode is nestled in the midst of lush green plantation. Situated at 3000 ft above sea level, this homestay is basically a cottage with 3 bedrooms and ample facilities. The interiors of this place exude an old-world charm. The Woodland Bungalow enjoys proximity to Nagarhole, Brahmagiri Wildlife Sanctuary, and Wayanad Wildlife Sanctuary. If you want to go for a short trip and enjoy a safari, then the hosts provide you complete help in doing so.
Location: Woodland Estate, PB. No.18, Kothur, Kodagu, Karnataka 571216
Tariff Starting @ INR 22000 onwards for 2 night & 3 days for two (Cross-check before booking)
Chilipili Estate Stay
If the idea of staying amidst nature intrigues you, then look no further than the Chilipili Estate. This homestay is located near Chilipili Temple. There are three rooms in total that boast of great views of the surroundings. You are served delicious local delicacies here.
Location: Hoskeri Vilage, Arekad Post, Abyathamangala, Madikeri, Karnataka 571252
Tariff Starting @ INR 5000 per night (Cross-check before booking)
Munnar
Best Homestays in Munnar
Mistletoe Munnar
Situated in one of the best locations in Munnar overlooking the magnificent Chokramudi peak, Mistletoe is a premium homestays in Munnar. This homestay has an on-site bakery and a restaurant, a playground for kids, and well-furnished rooms with private balconies.
Location: NH 49, Kochi – Madurai, Iruttukanam, Near Elephant Camp, Munnar
Tariff Starting @ INR 4,200 per night (Cross-check before booking)
Royal Mist
For each moment that you are here, you'll feel like being at home away from home. This holiday home is a great place set amidst lush greenery. Nature walks and guided treks through the surrounding plantations are some of the things to do here.
Location: Chithirapuram PO, Munnar
Tariff Starting @ Price: INR 3,000 to INR 4,500 (Cross-check before booking)
To Book a Self-Drive Car, visit: http://bit.ly/312QrFw
Tags:
best car rental india
,
Best Places to Travel in July
,
Best places to travel in july in india
,
car on rent
,
monsoon 2019
,
monsoon 2019 in india
,
rent a car
,
self drive car rental
,
travel in india
,
vacation 2019