One Day Trip from Delhi: 5 Offbeat Places to Visit around Delhi for Celebrating New Year 2019
---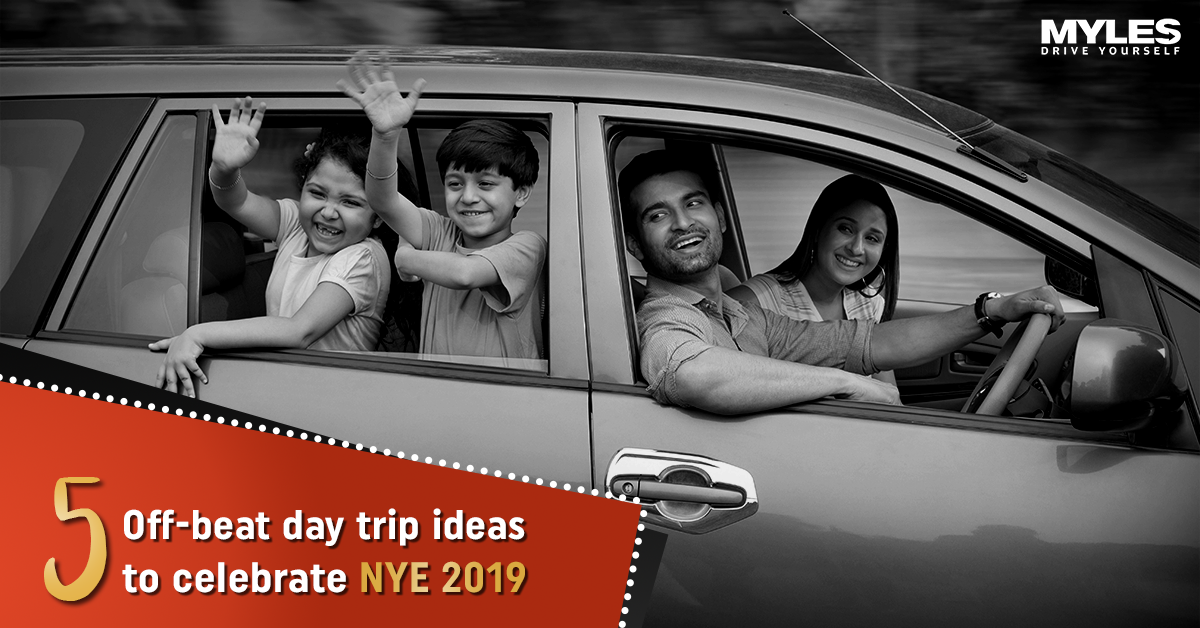 Christmas is gone and the New Year 2019 is approaching soon. One thing you will hear a gazillion times from now till the 31st December 2018 is 'Aur New Year Ka Kya Plan Hai (What are your plans for the New Year)? '. So, if you are among those who have no plans yet, you might want to check out some cool off-beat places around Delhi to welcome the New Year 2019 in a unique way. Just rent a car with Myles and head on for a splendid one day trip from Delhi.
A Memorable Day Trip to Surajgarh, Gurgaon
Your search for a perfect place to spend a day with your loved ones this New Year ends here. Get ready for the Biggest Winter Carnival at Surajgarh Farms, Gurgaon.
Based on the village theme, Surajgarh Farms is a perfect place to visit with family or friends. Here you will experience the rustic village life with a slight videshi touch. The place has plenty to offer to everyone – camel & cart rides, carnival troops, dhol troops, dance troops and many more. You can relish the most authentic and fresh village style food or enjoy the best of street food served at the stalls set up within the farms' premises. The place even has a flea market to satisfy your shopping desires.
What's more? Those seeking some adventure can try zip lining, play paintball and many other games. The place even has a special kid's zone and the biggest obstacle course. You can also entertain yourself with magic shows, puppet shows, art and craft, pottery making or enjoy the best folk artists performing their traditional dance and music.
New Year Bash 2019 at Chokhi Dhani, Sonipat
Chokhi Dhani Sonipat is the ideal place for both, a day trip and overnight stay. The place is perfect for a short getaway from the bustling city life. It enlivens the Rajasthani culture and offers an invigorating rustic experience to the visitors.
This year Chokhi Dhani Sonipat is hosting the New Year Bash 2019. The event has a lot to offer – camel rides, columbus ride, bullock cart ride, tonga ride, tractor ride, folk dances, air gun shooting, bowling, ethnic costume photography, puppet & magic show, authentic village food, Bollywood & fusion dance group with DJ, live band, fireworks, etc. There will be unlimited soft beverages, chaat counters and multi-cuisine gala dinner for the guests.
Spend a Night at the Gig – Camp, Gurgaon
Celebrate New Year 2019 in a unique setting at The Gig Night Camp, in the Aravalis, Gurgaon. It is the perfect choice for those who want to get away from the hustle and bustle of the city but do not want to travel the distance.
The lake-side camp offers a night full of live music by amazing MUSICIANS, BONFIRE in the chilling winter cold and lip-smacking BARBECUED food. Amidst nature, sitting around the bonfire with friends and fellow campers, you will forget all the worries and get to celebrate the New Year in a different way altogether.
Here is what the camp offers – Screening of a short movie, Live acoustic music, Campfire and barbecue (optional) to enjoy during the performance, Dinner and breakfast (next day), Pets & Kids friendly campsite accommodation, Morning trek at the around the Aravali hills and surprise yoga sessions.
Celebrate New Year 2019 at Noor Mahal, Karnal
You might have often visited the popular Amrik Sukhdev Dhaba in Sonipat. But have you ever considered going beyond that? You might want to. Because nearly an hour's drive away in Karnal is situated a beautiful luxury hotel, Noor Mahal. The hotel is best suited place for a short getaway this holiday season.
This New Year 2019, the hotel is organizing a fun night – Exotic Jungle Nite, for the guests. There will be live band – Swarrveda, DJ, International Artists, Dance Troop OORJA and the event will be hosted by a celebrity anchor. You can choose to return after the event or pre-book a room to stay overnight.
Welcome New Year 2019 at Neemrana Hotels (Patiala & Delhi-Jaipur Highway)
Indulge in some royalty at the renowned Neemrana Hotels around Delhi. Each Neemrana property is symbolic of the glorious past of India and has something unique to offer to the visitors. If you are looking to spend a night full of fun away from the city, then these hotels are your best bet. On the New Year's Eve there will be Gala dinner with DJ, so wait no more, plan a one day trip ASAP.
If you need a ride to any of these above-mentioned destinations, rent a car with Myles and head on a memorable journey. Click here to check DISCOUNTS. Wish you a great travelling experience and a Happy New Year 2019!
Tags:
2019
,
Car Rental
,
Gig - Night Camp
,
happy new year
,
happy new year 2019
,
Karnal
,
Neemrana
,
New Year 2019
,
Noor Mahal
,
one day trip
,
places to visit around Delhi
,
rent a car
,
surajgarh gurgaon
,
village theme