How to Choose the Right Rental Car for Road Trips
---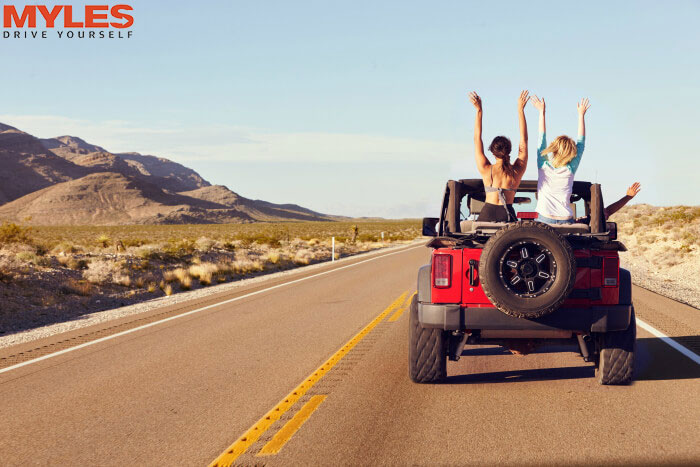 One of the most important decisions you make when planning a road trip is to decide on which car to rent for the journey. For a road trip or commute, the choice of transportation is a key factor defining the overall experience you gain from the journey. Picking the right car on rent lets you make the most out of your trip. If you struggle with the choices that are offered by the rental companies, here is a guide that will make it easier for you to pick the right set of wheels.
Strap yourself in and embark with us on a journey to enlighten you with the perfect set of wheels to choose from car rental services.
Compact carrier for city travel
A well-equipped hatchback or compact mini must be the optimum choice whenever you are planning to rent a car for city commuting. Accounting the type or roads and traffic density in cities, hatchbacks are a perfect partner to make your travel sensible, comfy and cost-effective.
Myles has in its range top of the class hatchbacks and compact mini cars that you can rent for making your travels pleasurable. The narrow city roads best suit these vehicles and you will find immense joy in carving your way through traffic with the peppy hatchbacks you get to choose from.
Rent an SUV to suit your "Big Car" requisites
While it is a fact that SUV's are well big and thus, hard to maneuver through city traffic, these vehicles make the best choice for adventure trips and long drives. Being spacious and equipped with powerful motors, if your desires are to challenge the rugged terrains of North India or power your way through the sandy plains of west, then cherish the plethora of adventure packed SUV's on avail.
The laid back lavish sedans for sublime long drives
The highways of India stretch for a jaw-dropping 80,000 km and connect the vast ends of this geographically diverse land. A comfortable and plush sedan is what makes travel on these pristine tarmacs even more awe-inspiring and splendid. Just cherish the majestic views and whistle along the way to earn a trip worth remembering.
You get to pick from a lot of some of the class leading sedans that are available in manual as well as automatic transmission to suit your driving preferences.
Multi utility vehicles and compact SUV's for the wanderers
Compact SUV's are a package that offer the best handling and maneuverability of a hatchback but come with the extra space and power punch of an SUV. The ergonomic favorability from an MUV and the extra bit of motor let you embark on a joyous journey of adventure and unhindered thrill.
MYLES offers self drive car rental India and equips you with the perfect vehicle to best suit your budgets and travel requisites. Get behind the wheels of luxury sedans and make every minute of your drive an experience to cherish for a lifetime.
Tags:
holidays
,
road trip
,
self drive cars
,
travel plan