Sadak Suraksha: 7 Driving and Road Safety Tips to Follow in India
---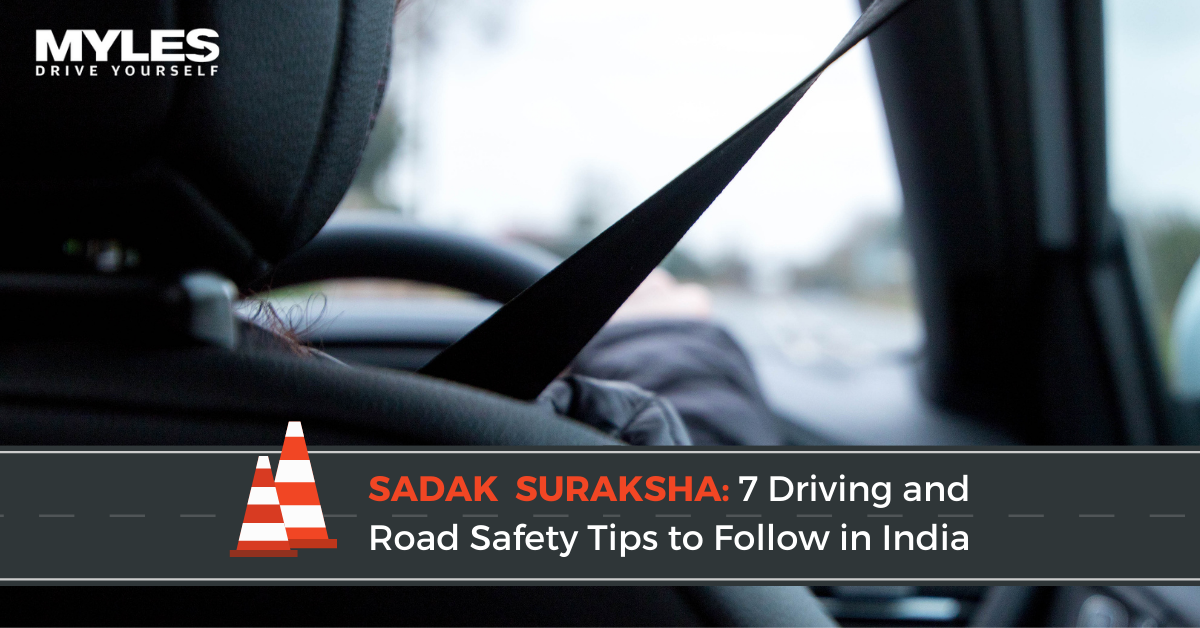 Road accidents have been a major cause of concern for years across the country. According to a report, in 2019 alone, India reported over 151 thousand fatalities due to road accidents. Road rage, distracted driving, drunk driving, rain, potholes, wet road, not wearing seat belts or helmets, tailgating, speeding, and breaking traffic rules are common causes of road accidents in India.
Road safety is not about obeying the rules; it is about practicing a habit because it is not just about fines, but your life.
For a reminder and safer rides, we list seven driving and road safety tips to follow.
Drink and Drive, Never!
Drink and Drive is the biggest reason for road accidents and other road-related events. According to statistics, around 19 deaths are recorded daily due to drunk-driving cases. At times, drunken driving people manage to dodge death but harm other people's lives. The unforgettable incident of Alok Gupta took place in 2020 in Gurgaon, where two juveniles under the influence of alcohol hit his bike, and Alok died on the spot.
Seatbelt or Helmet, Always On
Not wearing a seatbelt or Helmet while driving your car or two-wheeler isn't cool. It is about securing yourself before you start the journey and saving your life if any mishap occurs. Doing so will help you avoid breaking traffic rules and make people around you secure. Likewise, two-vehicle riders (both) must put on helmets for a risk-free ride.
Be Smart and Don't Use Smart Phone
Mobile phones are also another most significant cause of road accidents and hampering safety rules. As per the Motor Vehicle Rule in effect from October 1, 2020, the driving person can only use their phones as a navigation gadget while on the wheel. Drivers have to pay a heavy penalty, a fine of up to Rs.5000, if caught. You can always park your car aside and use it in case of an emergency call or message.
Own a Valid Car Insurance Policy
All motor vehicles in India need to possess valid third-party insurance coverage at all times, says the Motor Vehicles Act of 1988. You need to be careful and should not let the insurance policy lapse. You could be penalised for driving a non-insured vehicle if it happened so. Insurance protects you, your car, and a third party in case of road accidents or other mishaps.
Speed Thrills but Kills
Speeding is something people love. It satisfies the adrenaline rush and makes you reach your destination fast. This is what we all think, but what if anything unfortunate happens. It is better to be late than never. Drivers should never exceed the recommended speed limit on roads and highways. It makes you violate the traffic rules and risk your life and others on the road. Over speeding causes most road accident death, around 41%.
Jumping the Red Light
Following the traffic rules is important, especially if you don't want to bear penalties of up to Rs.5000 and a year sentence. Make sure you stick to the various traffic rules while driving, like not jumping a red light or crossing the road at the zebra crossing. These are the basic laws for both drivers and peddlers. It is always better to stick to your row in traffic to avoid road rage.
Follow These, Always!
There are more rules and safety measures to adhere to for risk-free driving. Avoid running over the stray animals, always keep to the left, slow down at the intersection roads, crossing and corners, use turn signals or hand gestures, keep your car in healthy condition, do not swerve between lanes, and much more.
Drive safe and follow all laws!
Book Myles cars for a better and safe commute and traveling.
Tags:
Car Care Tips
,
Car Rental
,
Car Subscription
,
Drink and Drive
,
highway
,
Myles Car Subscription
,
Myles Zero
,
mylescars
,
National Road Safety Day
,
Red Light
,
road safety
,
Road Safety Week
,
Safe Travel
,
Self Drive
,
Traffic Rules