Travel India: 11 Untarnished Roads to Explore this January for Safe Holidays
---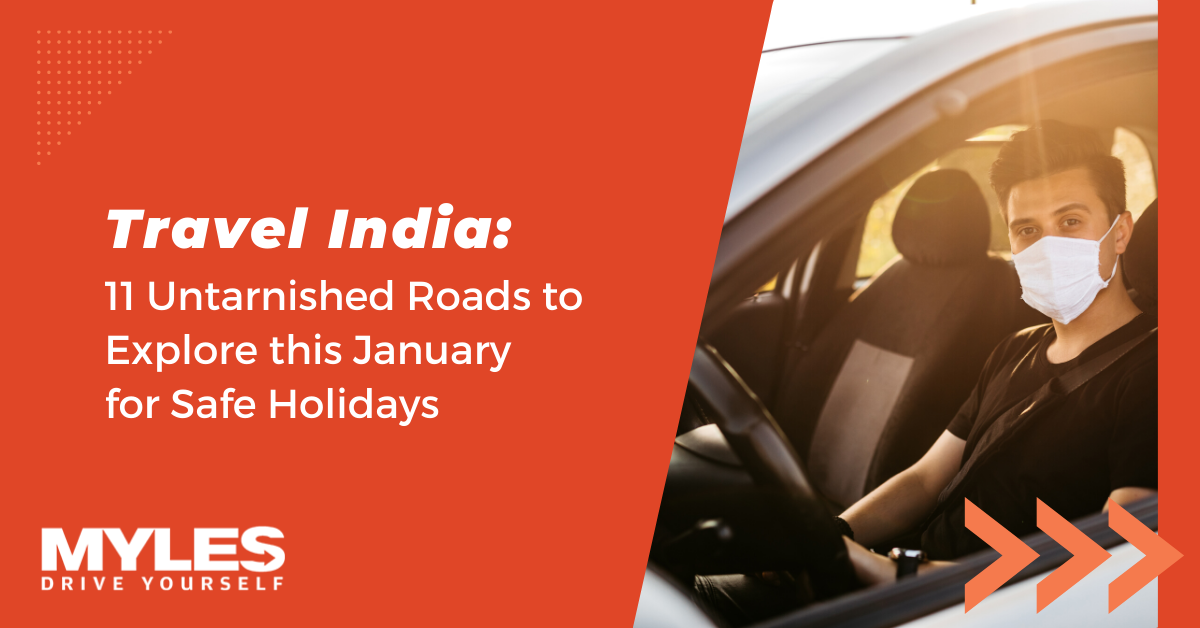 Disclaimer: We need to be careful every time amidst pandemic, especially when we travel. Before planning your trips and holidays, check COVID restrictions state-wise to avoid the last-minute hassle.
With the New Year comes the new travel bucket list, and we all want to tick mark each of it. New Year comes with a new COVID variant, which jeopardized our getaway plans. But there is another way to travel, avoiding the crowd, by exploring the less travelled road with Myles self-drive car.
For the regular dose of your monthly getaway, here we are listing some fantastic untarnished places to explore for risk-free travel and an excellent start to 2022.
Qila Raipur, Punjab
Known for the unique and one of the quirky festivals across the globe, Qila Raipur in Ludhiana Punjab is known for Rural Olympics. Quila or Kila Raipur is a beautiful rustic village and ideal for those who love less crowd and sports. There is certain calmness to this place. Witness the authentic rural life of Punjab's village, which is all about food, dance, music, and hospitality.
Places to Explore: Qila Raipur is 15km away from Ludhiana city. You can visit places like Maharaja Ranjit Singh War Museum and Fort, Lodhi For, Nehru Rose Garden, and more.
Things to Do: Enjoy different sports and strengthen showing activities in Qila Raipur, relax amidst the mustard fields, go shawl, sweater, and other woollen goods shopping.
What to Eat: The place offers authentic Punjabi delicacies like Lassi, Sarso da Saag and Makki di Roti with lots of desi ghee and gur (jaggery), Gajar Halwa, Butter Chicken, Chole Bhature, Gulab Jamun, Rajma Chawal, Pinni, Shakkar Para, Paneer Tikka, Gobhi, Gajar and Shalgam pickle, etc., to name a few.
Kanatal, Uttarakhand
A picturesque offbeat hills station in Uttarakhand, Kanatal, is just a few kilometres from Dehradun and Mussoorie. Embodied with stunning forest trails, mountain views, and warmth, the unblemished beauty of this place fill you with ecstasy. The place is ideal for couples, nature lovers, and those looking for a place less touristy for utmost peace. Book a self-drive car rental in Delhi and travel here.
Places to Explore: Visit Dhanaulti Eco Park, Kaudia Forest, Tehri Lake, Surkanda Devi Temple, Dhanaulti, Tehri Dam, Kodia Jungle and Chamba.
Things to Do: Indulge in activities like Camping, Valley Crossing, Rappelling, Rock Climbing, Trekking, Sightseeing, etc.
What to Eat: Try Kumanoi cuisine, Baal Mithai, and other delicacies like Kafuli, Aaloo ke Gutke, Dubuk, Jhangore ki Kheer, and much more.
Chopta, Uttarakhand
Another less explored gem of Uttarakhand is Chopta, the prettiest off-beat place in the region. The mystical meadows, snow-capped mountains, thick forest trails, streaming river towering trees, and stunning views will leave you spell-binding.
Places to Explore: Visit places like Tungnath, Deoria Tal, Ukimath, Chandrashila, Madhyamaheshwar Mandir, Rohini Bugyal, Dugalbitta, Bisurital, Sari Village, Koteshwar Temple, etc., to name a few.
Things to Do: When in Chopta, have some adventure like Trek to Tungnath, Camp at Baniyakund, Chandrashila Trek, and take a refreshing dip in Deori Tal.
What to Eat: Try Kumanoi and Harhwali cuisine and other delicacies like Lopchu, Tongba or Chang, Kafuli, Dubuk, Singori, Garhwal ka Fannah, Chainsoo, Aloo Gutook, and much more.
Sirpur, Chhattisgarh
To witness the mystical blend of nature and history, Sirpur is your place. Sirpur in Chhattisgarh is a historical town known for its stunning monuments. The nonchalant charm of this quiet sojourn is an ideal place to visit to avoid the crowd.
Places to Explore: Visit Urja Park, Iskcon Temple, Madku Dweep, Nandanvan Garden, Mahant Ghasidas Memorial, and much more.
Things to Do: Explore the Temples, Go Beach Camping, Go for Nature Walks, Enjoy spectacular Nature view at Takmak Tok, etc.
What to Eat: Try local delicacies like Muthia, Aamat, Chila, Bhajia, Sabudana Khichdi, Bara, Faraa, Tilgur, Khurma, Bafauri and Dubki Kadi.
Patan, Gujarat
Patan is one of the country's offbeat places that intrigued travellers across the globe. Patan in Gujarat is a hidden treasure that has preserved some architectural marvels, ornate temples, and old Dargah. Hire a budget car rental in Ahmedabad and travel to this beautiful town of Patan.
Places to Explore: Visit places like Rani ki Van, Patola Saree making unit, Sahastralinga Talav/Lake, Patan Patola Heritage Museum, Modhera Sun Temple, City Museum, Shri Panchasara Parshwanath Mandir, Bindu Sarovar, Khan Sarovar, and more.
Things to Do: Sightseeing, City Tour, Heritage Walk, etc.
What to Eat: Try delicacies like who, dyakula, chhoela, aluchhwo, and authentic Gujarati cuisine.
Velas, Maharashtra
The quaint village in Maharashtra is known to protect and nurture several common and endangered species of turtles. The coastal land is located between the Savitri River and Bharaja River in the Konkan region, famous for its untouched beaches covered with coconut trees.
Places to Explore: Visit Velas Beach, Velas Turtle Festival, Velas Village, Shiv Temple in Velas, Bankot Fort, etc.
Things to Do: Take a long and tranquil beach walk, Small Trek to Cliffs on Velas Beach, go turtle watching, city tour and sightseeing.
What to Eat: The best you can have in Velas is authentic Maharashtrian food.
Halebidu, Karnataka
Another stunning destination to have a relaxing and rejuvenating getaway is Halebidu in Karnataka. The place is dotted with charming temples and shrines. It is a dream historian and archaeological destination that offer peace and tranquillity. Get a self-drive car rental in Bangalore and go for an exotic road trip to Halebidu.
Places to Explore: Visit Basadi Hallo/Halli, Hoysaleswara Temple, Kesdareshwar Temple, Belur, Yagachi Dam, Archaeological Museum, Shantaleswara Temple, and more.
Things to Do: Go city shopping, Heritage Tour, Sightseeing, Spiritual Tour, etc.
What to Eat: Try authentic state's cuisine and some specialities of the town are Kesuvina Gantu, Kadabu, and Halasinakai Chutney.
Lepakshi, Andhra Pradesh
Lepakshi is the quaint town in Andhra Pradesh, which is a place dedicated to Lord Veerabhadra (fiery incarnation of Hindu God Shiva). The place is famous for Lepakshi Temple, where the walls and ceilings are painted with various colourful frescos from Ramayana and Mahabharata.
Places to Explore: Visit Lepakshi Temple, Veerabhadra Temple, Jatayu Theme Park, Nandi Bull and Paintings, Hanging Pillar, Jataayu Park, and Lepakshi Nagalinga.
Things to Do: Visit the local bazaar of Lepakshi, go for a spiritual tour, and more.
What to Eat: You will have authentic state cuisine and other national and international delicacies.
Mamallapuram-Madurai, Tamil Nadu
January is the right month to visit this beautiful place in Tamil Nadu. The place exhibits a myriad of colours that is an absolute treat for visitors and travellers. January is the month to witness the famous Mamallapuram Dance Festival, if not cancelled due to the current pandemic. Also, around the same time, Pongal calls for a celebration.
Places to Explore: Visit Meenakshi Temple, Gandhi Museum, Samanar Hills, Shore Temple, Descent of Ganges, Panch Rathas, and Tiger Caves.
Things to Do: Go Surfing, explore Crocodile Farm, explore the lighthouse, stroll around the city, relax and enjoy Ayurveda spa and other treatment, and more.
What to Eat: Try authentic state cuisines and special delicacies like Vada, Dosa, Sambar, Idlis, Idiyappams, Kari Dosai, Kola Urundai, etc., to name a few.
Dawki, Shillong
Not an unexplored treasure but a place that is less crowded and filled with tranquillity. Dawki lies in Shillong embellished with fluttering leaves, misty weather, cold breeze, and the cleanest river. Brace yourself to spend a cosy weekend in this peaceful sojourn and explore the natural richness of the place.
Places to Explore: When in Dawki Shillong visit Barapani, Dawki Umngot River, Cherrapunji, Elephant Falls, Nohkalikai Falls, Shillong Peak, etc.
Things to Do: Walk on the Living Root Bridge in Mawlynnong and Double Decker Root Bridge made of tangled roots, boat ride in Dawki River, Trekking, Camping, and offer prayers to the almighty at Kamakhya Temple.
What to Eat: Try Momos, Jalebis, Jadoh, Tungrymbai, Chowmein, Dohneiiong, Pineapples, Betel Leaves (Paan), Pork Dishes, Dohklieh, Khasi Thali, Chicken Curry, Thupka, and much more.  
Ziro, Arunachal Pradesh
A road trip to this picturesque laid-back town in the beautiful belt of North East side of India, Ziro is an ideal place for a soulful escapade. Ziro Valley is home to unique tribal groups, pine-hills, paddy rice fields, and pleasant weather.
Places to Explore: Visit Talley Valley Wildlife Sanctuary, Tarin Fish Farm, Dolo Mando, Meghna Cave Temple, Kile Pakho, Midey, Ziro Put, Hapoli, Dilopolyang Maniipolyang, etc.
Things to Do: When in Ziro go Trekking, Camping, Sightseeing, Shopping, and more.
What to Eat: Eat authentic local food like Rice, Bamboo Shoot, Meat, Pika Pila, Apong, and other delicacies.
Here are the few fun yet unexplored places we chalked out for your upcoming trip in January. Be safe, book a self-drive car with Myles and begin your escapade to these offbeat places.
Tags:
book self drive cars in mumbai
,
Budget self-drive
,
Car Rental
,
car rental in bangalore
,
car rental in india
,
covid-19
,
Delhi
,
drive
,
highway
,
Myles
,
Myles Self Drive
,
mylescars
,
Travel
,
Travel India
,
travel plan
,
travel tips
,
Unexplored Places