Spring Fling: Are you ready for a Short Vacation?
---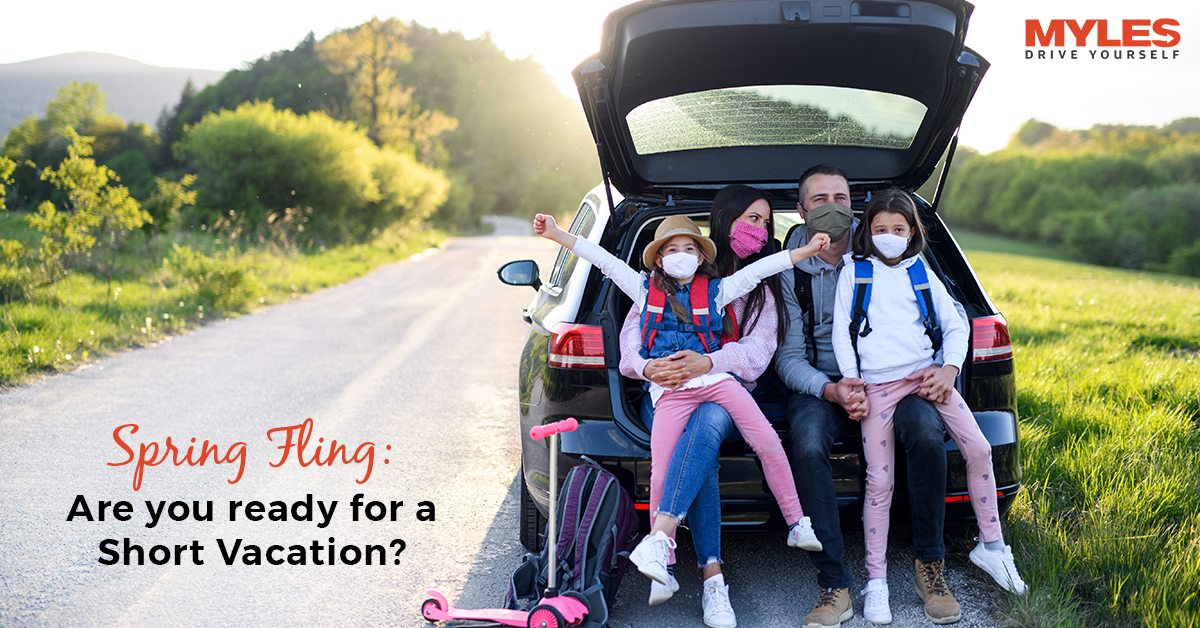 When we're finally able to adjust our lives around the 'new normal', tables turned again. With many cities announcing restrictions, night curfews, and partial lockdown, the capital city also impose a weekend curfew. The recent surge in COVID cases is not what we expected, making all of us stay at home and not having any getaway plans.
We know how much you all love vacations with your friends and family. Last year was hard, and with a hope to have a better 2021, we all made plenty of plans for road trips, long weekend getaways, and even staycations.
Travel increases your chance of getting and spreading the virus, they said. True, it is, but if we are in the states with no or less case, we can continue with our travel plans while following preventive measures.
Wherever your travels take you this spring season for that much-needed break from work and home, you must know all the do's and don'ts of Sprig Vacations amidst pandemic.
Information about the Place you are Travelling to:
Before you go, find out what medicines, test, or vaccines is needed for your destination.
Make sure to take the COVID test 72 hours before your arrival at the desired destination.
Be smart and carry the COVID health kit along, sunscreen, and make sure your health insurance isn't expired.
Ditch travelling via rail, air and other public transmit
When we say ditch air and rail travel, we mean it. Travelling through railways or airways means crowd and higher the chances of getting infected. Public transit like luxury busses and cabs are not safe either. Instead, opt for self-drives or car rental services to fulfil your spring break vacation plan and minimize your chances of risk. These vehicles are thoroughly sanitized and delivered to your doorstep, ensuring complete safety, comfort, and ease.
Spring Break Travelling Tips
Safe Check your Vehicle
Before hitting the road on your wheels, make sure your car is ready for a safe drive for the entire trip. So get your vehicle pre-trip safety check, especially if you're going for a long road trip. It keeps your family secure, helps you to avoid unnecessary repair charges, and won't kill the vacation vibe mood. Parts that need tuning up are spark plugs, tires, plug wires, air and fuel filters, wiper blades, a cooling system, and lights.
Get rid of all this hassle when you book a self-drive car from Myles. You get your sanitized, ready-to-hit-the-road vehicle on your doorsteps. Booking your vehicle from the best car rental service comes with all benefits, now just focus on choosing your destination and packing for it.
Haven't Chose your Destination Yet?
It is an unsaid rule that finding a destination that suits the whole family or friends' group is important. We know 'mountains are calling you', but your friend feels nausea during trips to the hilly region. How about the beach, but your sister is allergic to sand and that suntan, though. We got it, but there are plenty of choices that's work for all.
Place you totally love visiting for that short spring break:
Hyderabad to Hampi
Mangalore to Gokarna
Delhi to Leh via Manali
Chennai to Pondicherry and Auroville
Delhi to Spiti Valley
Jammu to Srinagar
Chandigarh to Kasol
Kolkata to Darjeeling to Pelling
Kolkata to Digha
Amritsar to Dharmashala
Vishakapatnam to Arakku Valley
Banaglore to Bandipur Forest
Shillong to Cherapunji
Gangtok to Nathula Pass
Guwahati to Tawang
Kalimpong to Zuluk
Puri to Konark
Jaipur to Jaisalmer
Travelling to and from Maharashtra is restricted at some places right now. Still, you can always get to these beautiful places like Mumbai to Goa, Pune to Lavasa, Mahabaleshwar, Khandala, Lonavala, and more.
Rain Check and Downtime
Travelling in such a situation can be tricky. It might happen, the destination you choose restrict visiting tourist places like museums, monuments, cafes, etc. We know you want to make the most out of your trip and explore the destination to the fullest, but it is always great to get time to unwind. If such a situation occurs, you can always relax at your hotel or resort, indulging in activities like spa, massage, yoga, and more. Explore the nearby places, go for a nature walk, trekking to avoid crowd, click pictures, have a family picnic amidst scenic surroundings, and more. Don't rush yourself and end up feeling exhausted from vacation instead of feeling rejuvenated.
When on Road
Road trips are fun, undoubtedly. Make it memorable by remembering and following everything important when you are on the road.
Stick to the route no matter how that shortcut and the less travelled road seems tempting.
Your GPS is your guide, and it is wise to follow it. But don't rely on it blindly.
Always double-check with the locals.
Don't miss the chance to grab a bite from the popular food joints- be careful during COVID times.
Take breaks, eat light, avoid crowded places, and keep yourself well hydrated.
Choose the right kind of car rental service for a memorable and secure road tripping.
Stay COVID Safe
As we already mentioned, you need to be very careful with your travelling plans during the COVID times. Many states re-impose the restrictions and night curfew. Avoid those states and cities, and even if you are travelling there, keep yourself and your loved ones safe from the virus.
Keep your precautionary measures like mask, sanitizer, disinfectant spray with you and use them when needed. Avoid touching your face, nose and eyes when out, and maintain social distancing. And even if you are not travelling and choosing to stay inside, we recommend following these measure and community guidelines.
We know this is a hard time for everyone, and so is unwinding oneself is important. Choose a self-drive, and travel this spring break with safety.
Happy Springcation!
To book, visit: https://bit.ly/3YFzwHc
Tags:
2021
,
car on rent
,
car rental in india
,
Carzonrent
,
covid-19
,
highway
,
India
,
leh
,
Lockdown
,
long weekend
,
mylescars
,
road trip
,
roadtrip
,
Self Drive
,
Self Drive car
,
self drive car rental
,
Spring Break
,
Spring Fling
,
Spring Vacation
,
Travel
,
travel tips
,
travelling
,
Weekend Curfew