Know Everything about Car Subscription and How it Works
---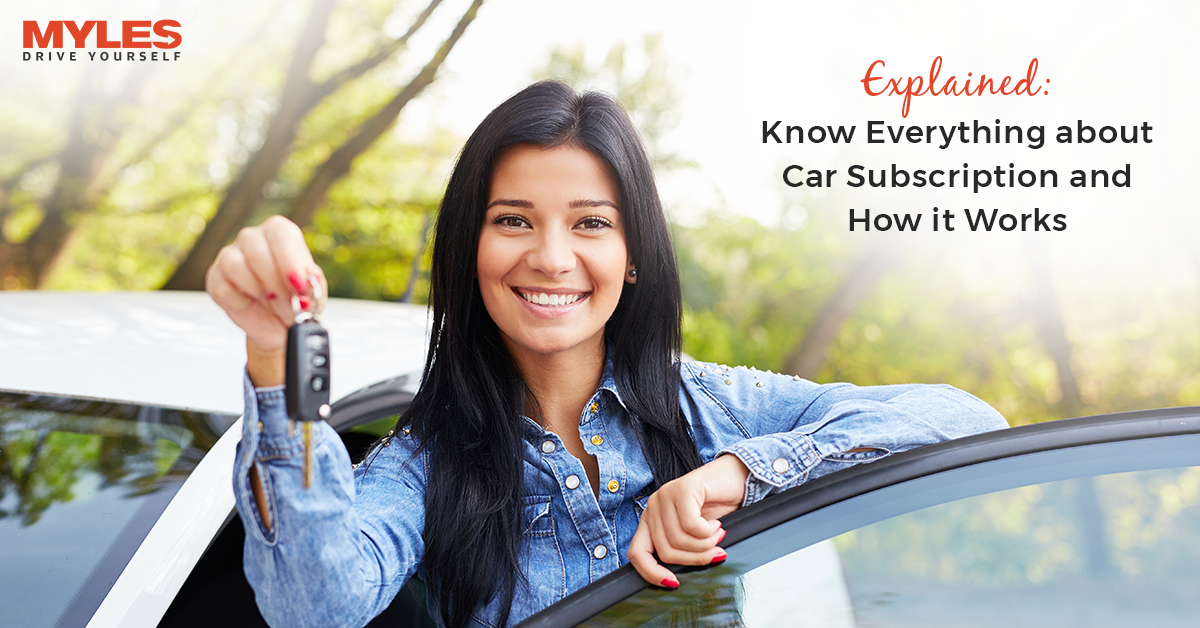 The car rental industry in the Indian market has reached an expected height and indicating to see significant growth in the upcoming years. Renting a car in India is similar to renting a house or an apartment. It is convenient, comes with zero commitment, and no conventional financing is involved, like paying a hefty down payment.
Whether car subscription is gaining popularity immensely with many people opting for it, especially during the pandemic, car ownership in the country is still considered a symbol of status and money.
Let's start from the ground and know about subscribing to a car, eligibility to get a subscription car, and how it works.
What is a Car Subscription?
It is flexible, all-inclusive, comes with zero commitment, and no worry of depreciation value. Subscribing a car is an alternative model to owning a car and leasing. Car Subscription is all-inclusive, offering you a package that fulfils your need to get on the road with ease and flexibility at a monthly fee.
Subscribing a car is becoming a car owner without committing to it for a long run in a set monthly subscription fee. The subscription fee includes charges of insurance, maintenance, roadside breakdown assistance, and more.
Imagine how about getting a new car every three or six months without committing for years. It is a fantasy scenario for many car enthusiasts until the rise of car subscription services. It is beneficial for those who can't afford premium vehicles in one go, but through subscription, they can own a car of their dreams for a flexible tenure.
Subscription Period
You can subscribe to a car for more than one month and remain the chosen model's subscriber. The key benefit of a car subscription is that you don't need to commit all your saving to just buying a car. If you're not happy or want to change the existing model, you can go for a different car model next month. Car Subscription also gives you the option to get a pre-owned car that includes a fleet of vehicles giving you the freedom to own and try out different cars.
Depending on your need, preference, and budget, the monthly subscription charges vary, and some companies stick to particular tenure before which one can't go for a different car.
Subscription Eligibility
Companies that offer car subscription services have different eligibility criteria for people applying for the subscription. To own a subscribed car, the customer needs to facilitate the details of their financial stability and personal information like address, email, phone, and more.
Many car subscription companies added an instant feature of 'Check Eligibility.' It saves a lot of time, and if your details match the criteria, then in few steps, you get your car.
You will be directed to the booking screen, where you choose the preferred car, model, tenure, and make the payment for your subscription. You will get doorstep delivery in few days, depending on the policy of the company. Most of the company take as much as 7 to 15 days to deliver your vehicle from the booking date.
Considering the current scenario, the vehicle will be thoroughly sanitized and re-sanitized at your doorstep. Many companies also give you tracking information to track the entire process, receive regular information, etc.
How does it Work?
Car Subscription is a type of subscription business model where customers pay a monthly fee to use one or more cars as per their needs and requirements. Car Subscription is like owning a vehicle with zero commitment ownership of the car with various benefits.
The tenure to subscribe to a car in most companies comes with 12, 24, 36, 48, and 60 months, where a customer can extend the period, upgrade the vehicle, or buy the same car at the vehicle's current market value.
It is a hassle-free way of owning a car and save you time and money. With a car subscription, you don't need to take a whole day to take it for monthly service or worry about missing the insurance renewal date. Car Subscription is all-inclusive.
Collection and Door-Step-Delivery: Your subscribed car will be collected and delivered to your doorstep before and after the monthly service when it comes to car maintenance. You'll be offered a buffer vehicle during the service duration. You can always collect your car from the partnered service station location as well.
Choose from Fleet of Cars: You have this fantastic option to choose from an extensive range of cars, models, and colours, depending on the availability and the company you choose to get a car on subscription. Also, if you have a specific request, most companies are more than happy to fulfil them for their customers as soon as possible.
Renewal and Upgradation: You can choose your tenure depending on the company's policy and return, upgrade or switch to a new car at the end of the subscription period. Some companies also offer the option of changing or upgrading the model during the tenure.
Insurance: All the vehicles are insured, and the details of the same will be provided to the customer as a part of their all-inclusive subscription package. You need to give few details to own the insurance.
Today, car rental and subscription companies offer you deal on subscribing to a car, and many automakers offer these car subscription services.
Own a car on your terms and make it an asset rather than a liability. A modern you need a modern solution that gets well with your luxury lifestyle without burning your pocket.
Tags:
car on rent
,
car ownership
,
Car Rental
,
car rental in india
,
Car Subscription
,
Myles Zero
,
mylescars
,
Self Drive
,
Subscribe a Car
,
Tax Saving
,
Travel
,
What is Car Subscription
,
Zero Commitment