Covid Cases on the Rise: Stay Safe and Choose a Self-Drive Car to Fulfil your Daily Travel Needs
---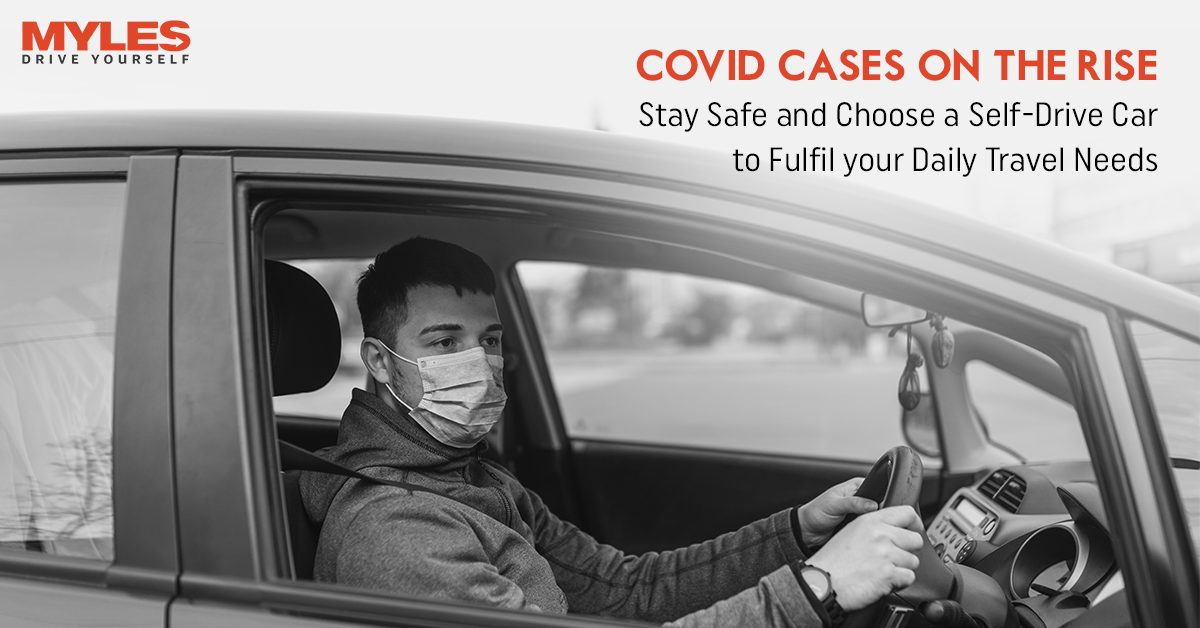 Last week has seen a single-day spike in the cases of COVID-19, setting up a new record. Cases in India are on the rise; the second wave is feared to be intense and longer than the last year's. Many states have declared partial lockdown and night curfews; the fear of a complete lockdown leads people to lock themselves inside their houses.
But many of us can't keep ourselves from stepping out of our homes due to work, serving the public as frontline warriors, or emergency. These certain compulsions or helplessness make us in the crowd, raising the risk of getting infected.
We don't have a hold on certain situations, but staying safe and avoiding crowd up
to some extent is on us.
How? By avoiding the use of public transportation.
Public transit (metro, auto, buses), share rides, cabs, micro-mobility devices, etc., higher the risk of getting infected. Protect yourself and combat the spread of Covid-19 by switching to self-drive cars for your daily travel needs and commute solutions.
Self-Drive to Fulfil your Daily Travel Needs
It's been a year we all are trying to adapt to the new constraints the pandemic introduced to us. With the line of changing times, we also reconsider our traveling choices while staying safe. Following the general preventive measures, we opted for the metro, start using cabs and micro-vehicles, and more.
But the rise in COVID cases makes us switch again to our vehicle instead of commuting through public transport. However, if you do not own a car, then you have the option to book a self-drive car to manage virus-free travel with your loved ones and meet your daily commute needs at an affordable price.
Benefits of Self-Drive Cars to Consider
Minimize Transmission Risk
Public transportation means- crowd and risk of getting infected. Rental cars provide self-drive options, which means no driver and zero contact with people during your commute. It lessens the risk and manages commute as per your convenience, instead of waiting for cabs and might be they cancel on you.
During the current COVID scenario, it is always advised to maintain social distancing. Self-drive enables you to practice most of the preventive measures best possible and offers you and your family an option to choose utmost safety.
Customized Travel Plans
Whether you're choosing self-drive for the daily commute or a weekend getaway or to take that long-awaited trip back home, you get the required package fitting in as per your needs. Even the short trip to a local market or grocery store needs to be risk-free, and owning a self-drive car ensures security.
So go ahead, and choose a self-drive car in Delhi, Kolkata, and other cities around the country from various options and stick to a personal vehicle to minimize transmission risk. The cars are available to you on both self-drive and subscription bases, where you can customize your tenure and KM, depending on your need and budget.
No Time Restriction Boundaries
In a surge of COVID positive cases, the second wave hit the country harder and lead many states to impose restrictions, night curfews, and partial lockdown. With so many regulations, owning a self-drive car available for all kinds of travel plans helps you get through the emergency times without any risk and restriction.
The options are budgeted and come with temporary usage options to manage your finances with ease. Drive with ease during difficult times and keep yourself safe and ready.
Safe and Sanitized
Safety and Sanitization are of utmost concern for travellers these days, and yes, they should be. With self-drive cars or subscribing to a car, you don't have to worry about whether the vehicle you're travelling is appropriately sanitized or not.
Car Rental Companies in Delhi and across the country ensures proper sanitization of their vehicles before handing them over to you. They also offer a mini sanitization kit for safe travel with all essentials. So travel or commute daily with minimal risk of transmission through an infected surface.
Safe and Secure
Personal mobility in today's scenario is not just a matter of luxury but safety. Self-drive car is the easiest way of owning a vehicle at a tailored utilization plan. So if you don't own a car, rent or subscription from car rental companies is the best way to safeguard all your commutes and travel plans.
These services would be beneficial, especially when you have to commute daily, have a pregnant lady, children, elderly or pets at home. Self-drives ensure your safety. Make the right decision and keep your loved ones secure amidst this challenging time of the global pandemic.
Delivered on Time
Book and get your car delivered within 30 minutes, right at your doorstep. So in case you need to take your family member to a doctor urgently, you know you have a safe ride that takes you to your destination in time, every time. Car rental service allows you to see your family during festivals or visit work to attend that important client meeting on time and with utmost comfort and safety.
Self-Drive is a reliable solution, especially for safety, affordability, and saving time and money. Amidst the global pandemic, stay safe and keep your family guarded.
Book your self-drive with Myles, visit: https://bit.ly/3YFzwHc
Tags:
book car rental
,
Budget self-drive
,
car hire
,
Car Rental
,
car rental in bangalore
,
car rental in delhi
,
car rental india
,
Car Rental Service
,
Car Subscription
,
COVID-19. Lockdown
,
mylescars
,
Night Curfew
,
Safe Travel
,
Self Drive
,
selfdriving
,
travel tips
,
travelling