7 Amazing Things to Do in Kerala – God's Own Country
---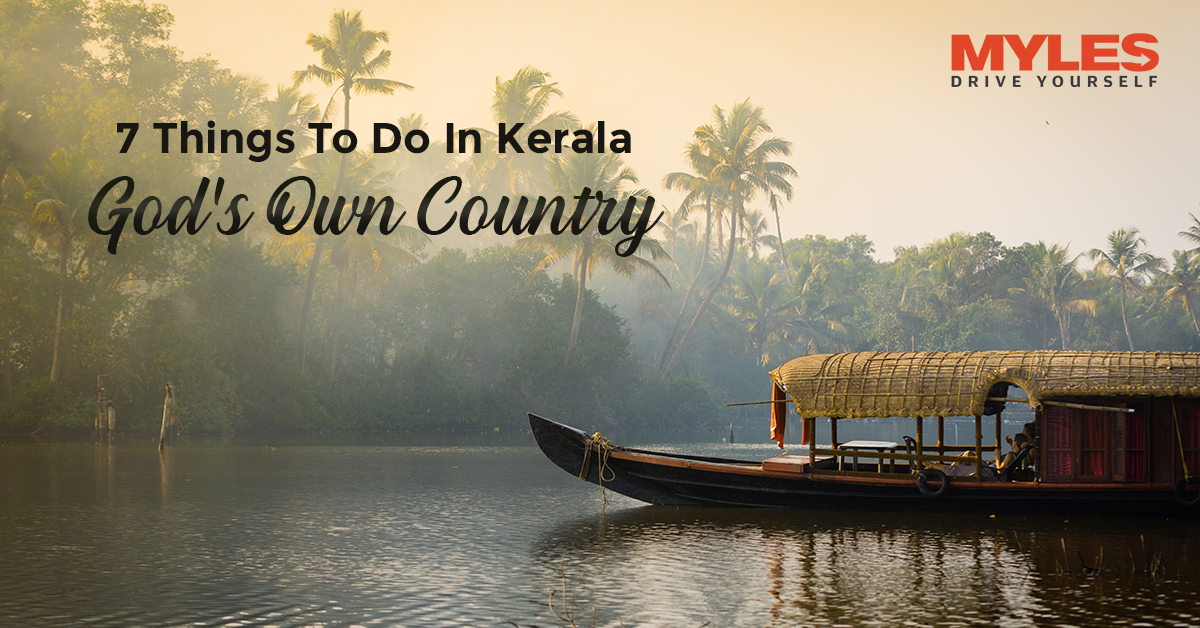 Nestled on India's tropical Malabar Coast, Kerala is undoubtedly one of the most beautiful places to visit in India. Kerala boasts of an expansive coastline, picturesque backwaters, exotic nature, and rich heritage. For years, Kerala has been a popular travel destination for visitors from outside as well as within the country, thanks to its magnificent beauty and unmissable things to do. If you are looking for a peaceful and quiet place down south, then Kerala is the place to be at!
India isn't always the easiest country to travel around, so it is advisable that you rent a car – Myles and make the whole experience, easy and convenient. Often referred to as 'The Garden of Spices' or 'God's Own Country', Kerala is truly marvelous in all its forms. Here, you'll find a fantastic climate, perfect to spend lazy days on Kerala's wonderful beaches, cruising in breathtaking backwaters and enjoying nature walks. This is just a small list of things to do in Kerala.
To give you a better idea of what to do or places to visit in Kerala, here's a detailed list –
Top 7 things to do in Kerala
Houseboat trip in Kerala backwaters
Kerala backwaters comprise serene stretches of lakes, a network of tranquil canals & lagoons situated parallel to the Arabian Sea coast. Cruising in scenic Kerala backwaters should be at the top of your things-to-do-in-Kerala list. Unarguably the most popular of Kerala's attractions, a houseboat trip in Kerala along the snaking network of backwaters is what you should look forward to during your trip here. You are bound to have a great time and an unforgettable experience. Amongst the most frequented locations to depart from on a houseboat trip in Kerala is, Alleppey. The place is now recognized by the name Alappuzha and is best known for houseboat cruises. There are several other places in Kerala that offer a chance to experience a laid-back cruise, but why choose the rest when you can visit the best.
Visit a Kerala tea plantation
Tucked away in the picturesque landscapes of the Western Ghats, you will stumble across the beautiful town of Munnar, popular for its tea plantations. Sprawled over a never-ending canvas of green rolling hills, the tea available here is amongst the freshest tea you'll ever taste.
Kerala tea plantation is a perfect getaway destination to visit with friends and family. During your trip in Kerala, you can delight in the beauty of tea estates, through a walking tour. You will be delighted by the sweet aroma of different types of tea grown here.
Trekking in Munnar
Talking of trekking in India, we only think of heading to the north of India. But surprisingly, there are several places down south that offer amazing treks and trails. During your trip to the hilly-heaven of God's own country, Kerala, make sure you do not miss out on the experience of trekking in Munnar. In addition to the breathtaking tea plantation estates and pleasant weather, the town is also a popular trekking destination in Kerala. There are many adventurous and rewarding treks to experience in Munnar – Chokramudi, Idukki, Chummar, Kannan Devan Hills, Chithirapuram and Lakshmi Hill Trek,
Explore best beaches in Kerala
While Kerala may not be overtly famous for its beaches, the state boasts a long and stunning coastline for beach lovers to embrace. Kerala beaches are some of the best in India and are a perfect alternative to Goa beaches. Some of the must-visit beaches in Kerala are Kovalam Beach, Varkala Beach, Marari Beach, Kannur Beach, Bekal Beach and Cherai Beach.
Enjoy Periyar jungle walk
Periyar is located in the heart of the Western Ghats and is widely famous for its wonderful wildlife sanctuary. Periyar Jungle walk is one of the most popular activities to add on your things to do in Kerala list. During the walk in nature, you can expect to encounter the likes of Asian elephants, countless monkeys and many species of birds.
Explore Fort Kochi
Kochi is a historical city in Kerala. With its bustling port and world-famous Chinese fishing nets, Kochi made its name on the old spice route. It will be difficult to find a way through this place and hence, it is best explored on foot.
This place is a paradise for photographers. Make sure you go to Fort Kochi at sunset to capture amazing shots of the fishing nets and the gorgeous sunset.
Other than photography, you can visit the Jew Town and Mattencherry and the St. Francis Church.
Watch Kathakali in Kerala
Kathakali is Kerala's classical dance form that you must watch during your trip to Kerala if you are a lover of classical dance and theatre. This dance form includes elaborate makeup, bright costumes, and intricate eye, hand and body movements along with attention catching facial expression. You can check out any of these best places to watch a Kathakali performance in Kerala – Folklore Museum, Ernakulam Kathakali Club, Kerala Kathakali Centre, Kairali Kathakali and Rhythms Theatre to Greenix Village.
Enjoy exploring God's Own Country – Kerala and don't forget to include these things to do in Kerala in your to-do list during your travel to this southern state.
If you need a ride for easy maneuvering in the city, don't forget to visit Myles to rent a car.   
Tags:
backwaters
,
cherai beaches
,
fishing nets
,
fort kochi
,
houseboats
,
kathakali
,
kerala
,
kerala travel
,
kochi
,
munnar
,
peryar
,
rent a car
,
rent a car india
,
rent a car kerala
,
tea plantation
,
travel to kerala
,
trekking in munnar