Tracing Mahatma Gandhi's Legacy On Wheels
---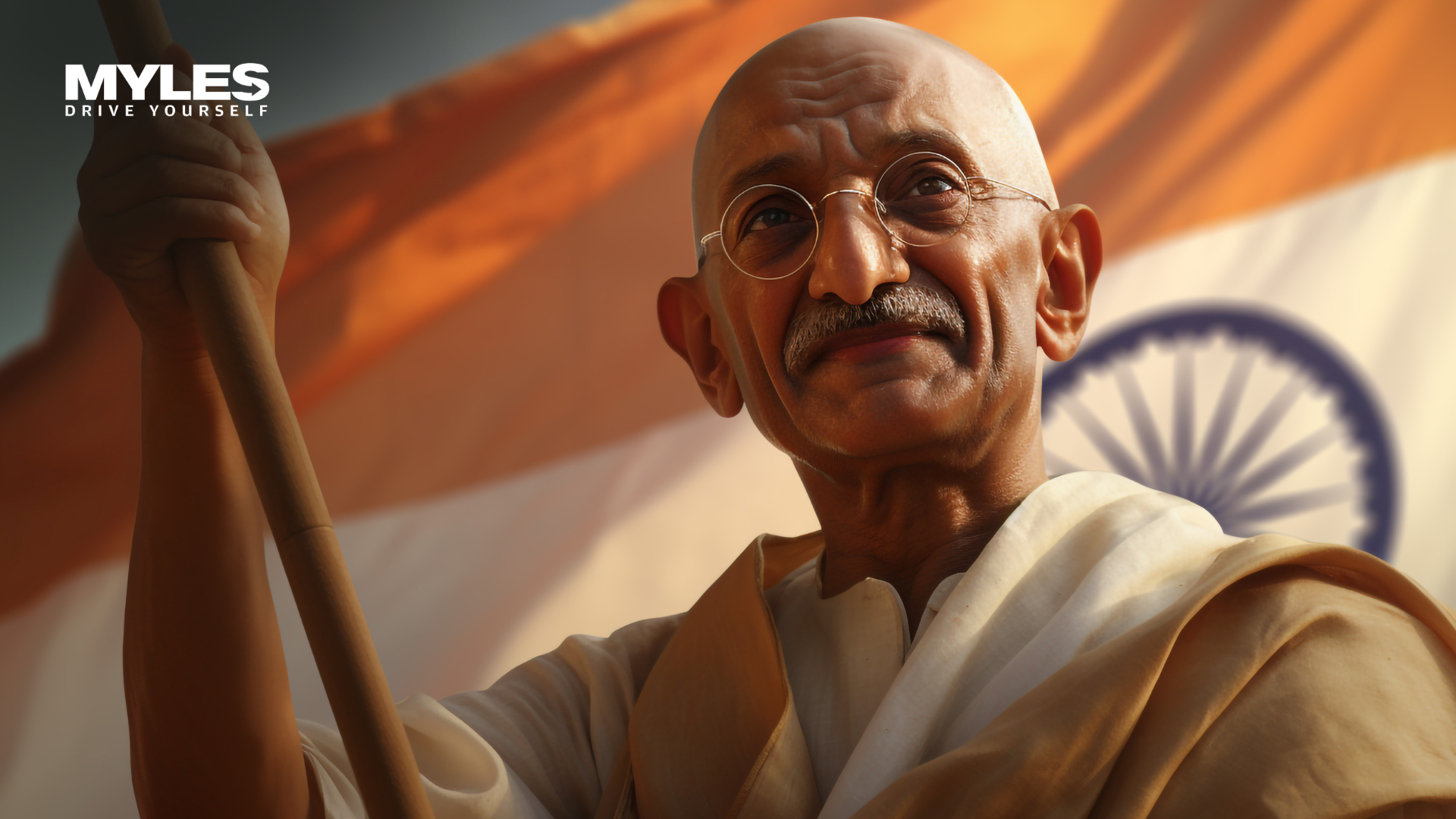 As the nation gears up to commemorate the 154th birth anniversary of our beloved father of the nation, Gandhiji, today we shall not talk about Mahatma Gandhi's indispensable contributions to India's freedom struggle. Since we believe the history books and numerous other illustrious personalities have played their part well. Instead, bear with us as we take this opportunity to apprise you of his poignant global legacy which instigated the world movement of resistance against discrimination through nonviolence on wheels!!
The UN declared October 2 as the International Day of Non-Violence, as Gandhi inspired movements for civil rights and racial discrimination not only in India, but across the world which ultimately changed the course of history. So brace yourself up to trace the footsteps of the man who united an entire nation with his simple teachings of non violence.
Beginning of The India Chapter
From 1915 to 1948, Mahatma Gandhi traveled extensively around India, sparking the fires of revolution and unifying the country for one of the greatest freedom struggles of all times. On January 9, 1915, a crowd gathered to greet Gandhiji and his wife, Kasturba, as their ship, the S.S. Arabia docked in Apollo Bunder, in Bombay (now Mumbai).
"I was filled with joy when, nearing Bombay I sighted the coast," Gandhi wrote in a letter to his relative, Maganlal. It had been almost 22 years when the eager young lawyer had left his home to seek a break in his career, and who returned now was a seasoned Satyagrahi who was revered as one of the greatest leaders of his time.
Porbandar Homecoming
After a brief spell in Bombay, Gandhiji visited his birthplace, Porbandar. As he and his wife deboarded the train, a huge crowd jostled its way towards them. Everyone wanted to know what the man, whose fame had preceded him to the city, looked like. The press of people was such that Gandhiji and Kasturba barely made it to their motor car, which was to take them to his ancestral home, Kirti Mandir. A 200-year-old building, Kirti Mandir complex is the place where he was born in 1869.
Today, it is an altar of sorts for those who follow in Bapu's footsteps and his ideologies. The sprawling square-shaped haveli, with a vast courtyard, an open terrace and iron grid windows, is adorned with memoirs and pictures of young Gandhi. One such portrait is captioned 'Gandhiji at seven' and shows a boisterous jacket-clad boy with a round topi (that later was called the signature Gandhi topi) on his head, a tikka on his forehead and a chain around his neck. There are several pictures of Kasturba Gandhi as well and many of the two sharing lighter moments.
The Rajkot Reunion
Before starting his Satyagraha movement, Gandhi sought to travel the country via railways to understand the integral threads of the great and diverse social fabric of India. As promised to his friend Gopal Krishna Gokhale, a leader of the Indian National Congress, he put himself on a 'probation period' and flagged off his travels from Rajkot, where he had spent his childhood as the son of the Diwan (1881 to 1887 AD).
His residence 'Kaba Gandhi No Delo' is an unmissable heritage site today. One can witness the life of the Mahatma in pictures in the house that have both Hindi and Gujarati captions. The structure of the building has been built in a Saurashtrian style of architecture and boasts arched gateways and courtyards. Many relics like Gandhi's personal belongings and other objects are also housed here. Gandhi's passion for handloom is encouraged in a weaving school here that offers classes in sewing and embroidery to young girls.
Ganga & Gandhi In The Lanes of Varanasi
After Gandhiji's 'probation' ended in 1916, he was invited to Varanasi for the laying of the foundation stone of the Banaras Hindu University (BHU). It is said that the eloquent speech he delivered there, marked the start of his political movement in India.
"It is a matter of deep humiliation and shame for us,' he said, 'that I am compelled this evening under the shadow of this great college, in the sacred city, to address my countrymen in a language that is foreign to me." When the silent city heard these unflinching words, it seemed to hail the start of a revolution, and the arrival of a leader. Today, walking through the campus of the great varsity, one can almost feel the aura of Gandhi lingering.
Later, in 1936, Gandhiji inaugurated a significant landmark in the city – Bharat Mata Mandir. This unique temple worships no gods or goddesses except Bharat Mata (Mother India).
It houses a marble statue of Bharat Mata (Mother India), which is modeled to symbolize India. Its design indicates the goddess of India for all the religious deities, leaders and freedom fighters. It also houses a marble relief geographical map of undivided India, representing plains, mountains and oceans.
Ahmedabad Chronicles
After a brief stay in Santiniketan (West Bengal), where he met Nobel Laureate Rabindranath Tagore, Gandhiji headed to Ahmedabad in 1915. There he founded a small communal settlement on the banks of the Sabarmati river called Sabarmati Ashram, which would be the center of his non-violent struggle against the British.
His aura still lingers here and one can travel back in time to get a sense of his ideology and remarkable life. Documents related to his non-violence movement, including the Dandi March, which began from here, have been put on display at the Gandhi Smarak Sangrahalaya (museum).
There is a library for literature on Gandhi that holds an immense archive of letters written by him, most of them on used paper scraps. The ashram shares its land with Hridaykunj — the quarters where he lived; Vinoba-Mira Kutir, a guest house, a prayer land and a building used as a training center for cottage industries.
By the time the ashram was established Gandhiji had started wearing his signature dhoti and sandals (an outfit he had adopted to mingle well with the poor without his fame getting in the way). Soon, he learnt the art of spinning and weaving and led the production of khadi, which became a pioneer movement.
Gandhigiri In Bombay
From the moment Gandhi arrived in India, through the launch of about six national movements, Bombay remained the epicenter of most of his activities between 1917 and 1934. His base in the city was Mani Bhavan, a modest two-storey building.
In 1955, this historic heritage was converted into a memorial for Mahatma Gandhi and chronicles the story of India's independence. Notably, it witnessed a four-day fast conducted by Mahatma Gandhi back in 1921, to restore peace in Mumbai. It was in Mani Bhavan that Gandhiji started his association with the charkha or the spinning wheel.
Interestingly, the initiations of noted agitations like the Civil Disobedience, Satyagraha, Swadeshi, Khadi and Khilafat movements were started here.
A walk through its exalted corridors takes us back to the political struggles held during the Indian freedom struggle. The photo section in the museum has a lot of information and can be an invaluable guide for those interested in revisiting the history of India.
Delhi Diaries
It was a chilly day in January, and 78-year-old Mahatma Gandhi was walking from Birla House to the lawn where his prayers were held. As he leaned on his two grand nieces for support, he was greeted by a young man dressed in blue trousers and khaki bush jacket. After a brief 'Namaste', the man, who would later be recognised as Nathuram Godse, whipped out his pistol and shot Gandhiji three times at the point-blank range.
The nation mourned the loss of their great leader, and a great samadhi was dedicated to him at Raj Ghat in the national capital. The Father of the Nation was cremated here on January 31, 1948, and today millions visit this site to pay homage to him. Lying on the banks of the Yamuna river, Rajghat is fringed by lush well-manicured lawns that are dotted with trees. The samadhi is a true reflection of the man himself and exudes a simplicity that he came to be associated with.
A brick platform where his body was burned and a black marble platform are surrounded by a marble fence. The words 'Hey Ram', which was the last thing Gandhiji said, have been inscribed on the memorial. An eternal flame stands adjacent to it. Various trees that dot the landscape have been planted by dignitaries like Queen Elizabeth II, former US president Dwight Eisenhower, former Australian Prime Minister Gough Whitman etc., and bear their names on a plaque.
Visitors are required to remove their shoes before paying homage to the leader. A ceremony is held every Friday to mark the day he died. There are two museums nearby, which are dedicated to Gandhiji.
The Beginning Of A Legend
As India preps up to celebrate their Father of the Nation on 2nd October, this Gandhi Jayanti we urge you to take a trip to his humble dwellings, to explore the places where the seeds of Indian Independence were sown. He was a man with ideas so strong which moved the world; a man who united an entire nation; a man with a simple yet an unmistakable understanding of the common man. Though 31st January marked the end of the man, it hailed the beginning of a legend that would last forever.
Did the stories of Bapu inspire you? How do you plan to spend Gandhi Jayanti this year? Plan a trip to these places and trace the footsteps of Bapu with Myles
Tags:
2 October
,
Mahatma Gandhi