Travel India: 11 Best Places to Visit in India in the month of September
---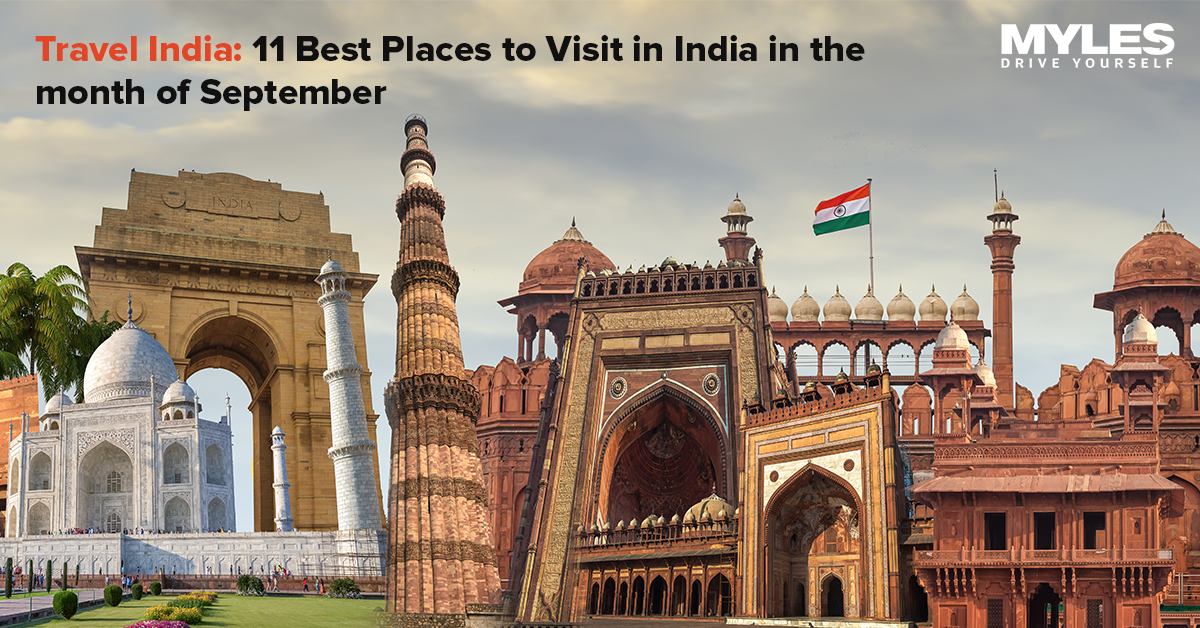 It is that time of the year when your body, mind, and soul seek a rejuvenating retreat from the hassle of daily life. The climate across the country is pleasant and breezy that gives an excellent opportunity to execute your long-awaited travel plans.
Elevate your travelling experience by switching to a road trip getaway and explore the country from North to East and West to South. Book a self-drive car in India and indulge in soul-satiating and adrenaline-pumping activities that make your vacation unforgettable.
Here are 11 cities that offer a wonderful getaway in September month.
Amritsar, Punjab
Nothing is better than visiting the holy city of Punjab; Amritsar is the land of the world-famous shrine Golden Temple. The city offers pleasant weather around this time of the year, with greenery all around and occasional drizzling. Amritsar is the land of martyrs, a place where the history of Independence is written. Book a car rental in Chandigarh and drive to Amritsar.
Places to Explore: Visit the magnificent Golden Temple, Chand Baori, Wagah-Attari Border, Akal Takht, Durgiana Temple, and famous Jallianwala Bagh.
Things to Do: Gobindgarh Fort Tour, Birdwatching at Harike Wetlands, Shopping at Local Bazar or Hall Bazar, Experience the Langar Parsad at Golden Temple, and more.
What to Eat: Savour the Punjabi delicacies at the traditional dhabas and famous restaurants. Try Amritsari kulche, lassi, butter chicken, sarso da saag & makke ki roti, keema kulcha, gajar halwa, jalebi, paya, jalebi, pinni, etc., to name a few.
Kinnaur, Himachal Pradesh
Dotted with snowy peaks, a lush green valley, and tranquillity, Kinnaur is a magical town in the peaceful state of Himachal Pradesh. Fondly called the 'Land of God', Kinnaur is known for its rocky mountainscape where Satluj, Spiti and Baspa River are snaking through it. Hire a budget self-drive car in Chandigarh, Delhi or Manali and drive to this beautiful land in September.
Places to Explore: Visit Reckong Peo, Kalpa, Sarahan, Nako, Ribba, Kothi, Lippa, Namgyal, Nichar, and more.
Things to Do: When you are in Himachal, delve into activities like Trekking, Camping, Fishing, Rock Climbing, Nature Walks, Monastery tours, etc.
What to Eat: Enjoy Himachali delicacies in Kinnaur. Try thupka, bread made of buckwheat, millet and barley, noodles, khatte chane, tudkiya bhath, siddu, palda, metthe chawal, kullu trout fish, chana madra, bhey or spicy lotus stems, aktori, chha gosht, and Himachali Dhaam.
Almora, Uttarakhand
Cradled in the lap of magnificent Himalayas, Almora in Uttarakhand is a sprawling town that offers a laid-back and idyllic vibe. The hill town of Almora is known for its pre-British heritage. It offers pleasant weather throughout the year. So, hire a car rental in Delhi and travel crossing Nainital-Mukteshwar and Almora-Ranikhet.
Places to Explore: Visit Zero Point and witness the stunning view of the valley, Jageshwar, Chitai Temple, Dunagiri, Jalna, Bright End Corner, Kasar Devi, Kartarmal Sun Temple, Binsar, and much more.
Things to Do: Sightseeing, Wildlife Sanctuary Tour, Trekking, Caving, Shop at Thana Bazar, witness Spectacular Sunset View, Stroll through the Village, and Picnic at Kalimath.
What to Eat: Taste the local delicacies of Uttarakhand like singodi sweet, bhang ki chutney, dubuk, bal mithai, aloo ke gutke, phannu, chudkaani, thhatwani, kafuli, etc., to name a few.
Neemrana, Rajasthan
Steep into the royal history, Neemrana in Rajasthan is one of the famous heritage sites known for its luxury, beauty and grandeur. Neemrana is renowned for its fort, offering you a royal vibe. Neemrana Fort Palace is a heritage hotel that is ideal for a luxe weekend getaway from Delhi NCR. Book a self-drive car in Gurgaon and head towards a relaxing escapade.
Places to Explore: Relax at the Neemrana Fort Palace, and visit places like Buddhist Vihara Ruins, The Step-Well, Reclining Lord Hanuman Statue, Kesroli Hill Fort, and more.
Things to Do: Ayurvedic Spa, Massage Therapies, Yoga & Meditation, Vintage Car Tour, Zip-Lining, Camel Ride, etc.
What to Eat: Relish the flavours of Rajasthani cuisine and try Laal maas, gatte ki subzi, papad ki sabazi, bajre ki roti with lasun chutney, pyaaz kachori, dal baati churma, ghevar, chaas, and much more.
Daman, Gujarat
Daman and Diu in Gujarat is the twin-island ideal for a weekend escapade in September. Book a budgeted car rental in Ahmedabad and travel to these places once the Portuguese colonies. Enjoy a relaxing time by the beaches and witness the spectacular sunsets and sunrise views.
Places to Explore: Visit beaches like Nagoa, Simbor & Chakratirth, Naida Caves, Diu Museum, Gangeshwar Temple, INS Khukri Memorial, Panikota Fort, Church of St. Francis of Assisi, Zampa Gateway, and more.
Things to Do: Indulge in adventure activities like parasailing, water skiing, boating, etc., pony riding, camel riding, and much more.
What to Eat: Relish the local cuisine like Gujrati dishes, Goan fish curry and rice, Damanese specialties like fried squid, tiger prawns, chicken xacuti, etc., to name a few.
Mumbai, Maharashtra
Mumbai welcomes tourists across the globe, offering them a pleasant atmosphere almost throughout the year. Plan your travel here in September and enjoy the auspicious and energetic festival of Ganesh Chaturthi, where the city is embellished in the carnival vibe. Book a budgeted car rental in Pune and travel to Mumbai- the city of love and dreams.
Places to Explore: Gateway of India, Elephanta Caves, Marine Drive, Shri Siddhi Vinayak Ganapati Mandir, Haji Ali Dargah, Essel World Amusement Park, Mahim Church, Juhu Beach, Film City, Bandra Fort, Prince of Wales Museum, Maratha Mandir, Mahalaxmi Dhobi Ghat, etc.
Things to Do: Spend a day at Juhu Chaupati, Shop from Colaba Market, Zaveri Bazaar, and more, a long drive at Bandra Worli Sea Links, sightseeing, paragliding, skydiving, fishing, and more.
What to Eat: Try authentic Mumbai food like ragda pattice, faluda, ice gola or kala khatta, akuri on toast, batata vada, the Bombay sandwich, brun maska, bhel puri, roll, etc., to name a few.
Ajanta and Ellora Caves, Maharashtra
The finest example of ancient architecture and rock-cut caves, Ajanta and Ellora caves, are the complex monuments built in the 2nd century BC and 6th century AD. The caves are embellished with stunning sculptures, frescoes, and Buddhist, Hindu, and Jain culture and tradition paintings. Get a car rental in Mumbai and have a memorable road trip.
Places to Explore: Ajanta Caves, Grishneshwar Temple, The Buddhist Caves, Bibi ka Makbara, Jain Caves, Khuldabad, Daualatabad Fort, Aurangabad Caves, etc.
Things to Do: Cave and Temple hopping, Sightseeing, Shop at the open-air markets and if you're visiting in November, enjoy the annual dance and music festival, etc.
What to Eat: Here, you get to try authentic Maharashtrian food like puran poli, vala pav, bhaji, misalpav, sabudana khichadi, poha, upma, sheera, and much more.
Kabini, Karnataka
The place is heaven for nature, and wildlife lovers, Kabini in Karnataka is a forest reserve that is also a house of river and luxury resorts. Drive your way to Kabini from Bangalore and have an exciting start to the month. Spot animals like elephants, jaguars, tigers, black leopards, and varied birds.
Places to Explore: Visit Kabini Dam, relax at Kabini Backwater viewpoint, Rameshwara Temple, explore Nagarhole National Park, etc.
Things to Do: Enjoy bird watching, nature walks, jungle safari, boating on Kabini River, bike riding, city shopping, trekking, elephant safari, and much more.
What to Eat: Try traditional food here like jolada rotti, bisi bele bath, masala dosa, ragi mudde, uppittu, maddur vade, butter milk, filter coffee, Dharwad pedha, belgaavi kunda, kardadantu, etc.
Warangal, Telangana
Warangal is a popular weekend getaway from Hyderabad. It is an important heritage city in Telangana that offers a blissful mix of culture, architecture, nature and history. Book a self-drive car in Hyderabad and visit this beautiful town known for lakes, wildlife sanctuaries, and rock formation.
Places to Explore: Visit Warangal Fort, Thousand Pillar Temple, Kush Mahal, Ramappa Temple, Sammakka Saralamma Temple, and more.
Things to Do: Wildlife Sanctuary Tour, Sightseeing, Temple Visit and more.
What to Eat: The town offers both vegetarian and non-vegetarian delicacies like Hyderabadi Biryani, Laskora Unda, jalebis, gram powder vegetables, pickles, and more.
Dooars, West Bengal
The North Eastern belt of the country offers breathtaking views and tranquillity. Dooars is one such idyllic destination to explore in September. Dooars is a scenic location nestled in the lap of the Eastern Himalayas and known for its rich flora and fauna, several water bodies, tea gardens, and stunning views. The place is popular among nature and adventure lovers.
Places to Explore: Visit Bhutan Ghat, Teesta Barrage, Phuntsholing, Buxa Tiger Reserve, Gorumara National Park, Jaldapara National Park, and much more.
Things to Do: Jeep Safari, Elephant Safari, River Rafting, Bird Watching, Trekking, Camping, etc.
What to Eat: Try authentic and traditional delicacies like momos, bamboo shoots, fish pickle, puri bhaji, fish pakoras, etc.
Lachen, Sikkim
Kick-start your September month by booking a self-drive car in Gangtok and travel to the scenic town of Lachen. In the state of Sikkim, Lachen is replete with stunning landscapes, panoramic vistas, snow-capped peaks, and a quiet environment. Travel to this place and have a rejuvenating escapade from daily life hassle.
Places to Explore: Visit Thangu Valley, Lachen Monastery, Chopta Valley, Shingba Rhododendron Sanctuary, Gurudongmar Lake, etc.
Things to Do: Camping, Trekking, Monastery visits, River Rafting, Bird Watching, Sanctuary Tour, and more.
What to Eat: Relish the authentic cuisine of Sikkim such as thupka, gundruk, sinki, chhupri soup, tama curry, masaurya curry, shimi ko achar, silam ko achar, sidra ko achar, etc.
September month is a beautiful time to explore and travel across the city. The pleasant weather, freshness, and lush greenery elevate your trip and make it more rewarding. Book a self-drive car in India and commence your getaway to these exotic places.
To book your self-drive car for an upcoming road trip or to explore your city, visit https://www.mylescars.com/.
Tags:
2021
,
budget car rental
,
car rental in bangalore
,
car rental in Pune
,
hire in Ahmedabad
,
Myles
,
Myles Cars
,
Myles Self Drive
,
Pandemic
,
Sanitized cat
,
self drive car in Delhi
,
self-drive cars in India
,
September
,
Travel India